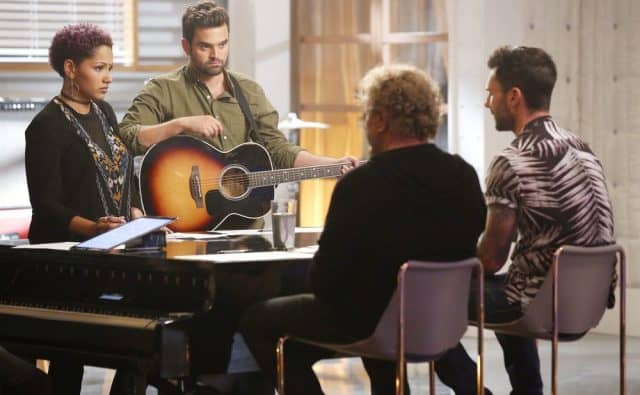 The Voice season 11 final battles were last night and with that the teams are now set for the knockouts! There were only three battles, and the outcomes weren't exactly surprising. However, the music from those battles was great! Let's take a look at those before checking out the new teams and taking a sneak peek at some possible knockout pairings.
The Voice Season 11 Final Battles
Going into these battles Coach Blake Shelton had one steal left. Going with my predictions prior to this week's battles I was betting on it being used for the final battle of coach Adam Levine. That was correct. As for who got stolen…well, I'll go over that when discussing that battle!
The Voice Season 11 Final Battles: Team Blake
Austin Allsup vs. Preston James: "Bad Moon Rising" by Creedence Clearwater Revival.
[youtube https://www.youtube.com/watch?v=UCNOzF7K078?rel=0]
The results of this match up were as predicted. Preston is good, but, just like on his studio recording, he sacrifices pronunciation for a "down-home" country sound. No one actually says that directly though.
Coach Alicia Keys liked his "swag," Coach Miley Cyrus hilariously couldn't bring herself to favor one or the other – although she does mention Austin's youth and what he could learn from Blake. With Austin she saw him as radio ready. Coach Adam Levine says things similar to Miley – only in a shorter amount of time.
The only thing that really hints at the vocals is what Blake says afterwords about why he chose Austin.
Austin has more experience when it comes to performing,and has a better handle on what he's capable of doing as a vocalist, and that's exciting.
I hope off-camera someone talked to Preston about pronouncing his words, because once he has that down he's going to be a huge country music sensation!
Blake's Team for the knockouts: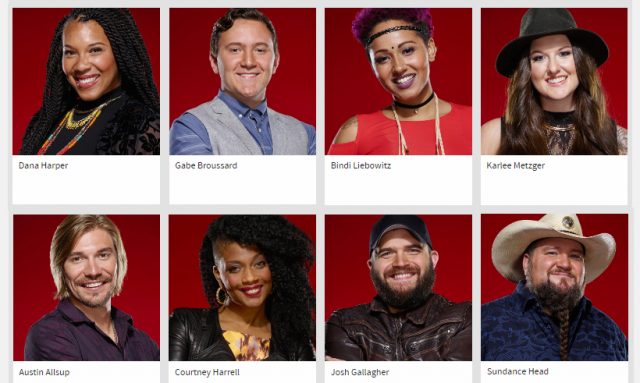 The Voice Season 11 Final Battles: Team Alicia
Gabriel Violett 2016 Battle – vs. Whitney & Shannon: "More Than Words" by Extreme.
[youtube https://www.youtube.com/watch?v=VgMm2q-gBvM?rel=0]
I expected Gabriel to go home, simply because there are several better male pop singers already in competition. The team he'd fit best on would have been team Adam, but he had no more steals. (Hopefully this will help him get more work on Broadway – which is where he started.)
However, Gabriel went off pitch not once, but twice. Alicia said she was happy to see him go for those notes without worrying whether they were right or not, but that probably sealed his fate. With the kind of talent on the show there's no room for that. She wanted him to trust himself more – but he also needed to nail it.
Meanwhile, Whitney & Shannon were pitch-perfect and flawless. Their talent individually is high, but together they're amazing! Alicia would have been crazy not to pick them!
Alicia's team for the knockouts: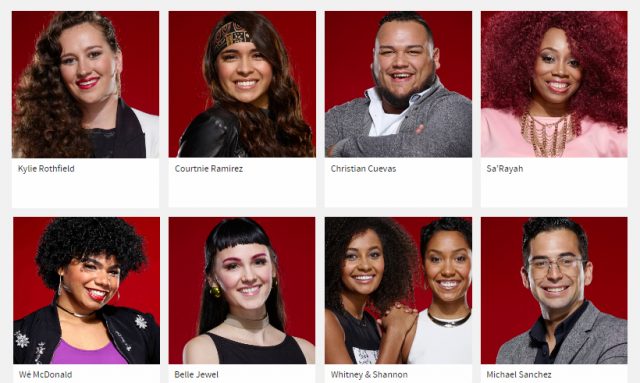 The Voice Season 11 Final Battles: Team Adam
Bindi Liebowitz vs. Brendan Fletcher: "Home" by Marc Broussard
For this battle, it helps to know something about their rehearsal. Adam originally wanted Bindi to harmonize up higher on the choruses. She wasn't vocally comfortable with it – and just couldn't land the notes. Adam was understanding about it and told her she could just do unison. This is the result:
[youtube https://www.youtube.com/watch?v=1wXFdmLLtVk?rel=0]
This is the only battle that honestly felt like a blowout. This song was just in a bad key for Bindi. Every coach noted that the song showcased Brendan until the end where she does some higher harmonies.
That being said, Brendan is rare gem of a singer. Adam likens Bindi to a Rihanna in terms of her vocal range and style. There isn't anyone Brendan really sounds like. There's a bit of Sting and Bono perhaps, but his voice is raspier and deeper in range, giving it a heavy richness that the high baritone and tenor can't do.
From the beginning Adam said Brendan is someone who could win the competition. He clearly still thinks that (so do I) because letting go of Bindi gives a roster with just one woman on it: Simone Gundy. That makes his team pretty unbalanced, and I didn't think he'd want that.
The thing I didn't think about when thinking he'd keep Bindi was the overall show. Miley's team is nearly all women – so Adam's team of mostly men will keep things even. Blake stole Bindi – whom I can see him pairing with Dana Harper for the knockouts. Dana's range goes deep in the lower range, but like Bindi, she doesn't go super high.
Adam's Team for the knockouts: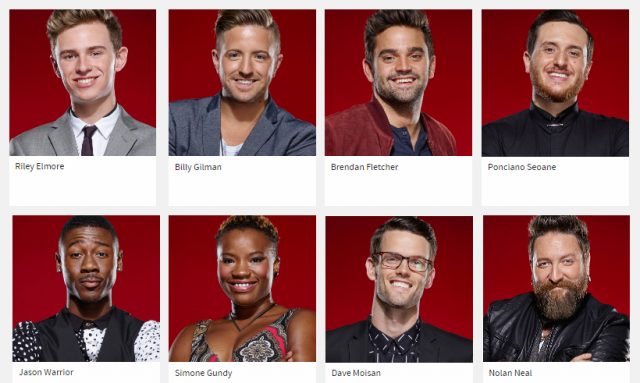 The Voice season 11 final battles: Team Miley
Miley's final battles were on Monday's episode – which you can read about here. This is her team going into the knockouts: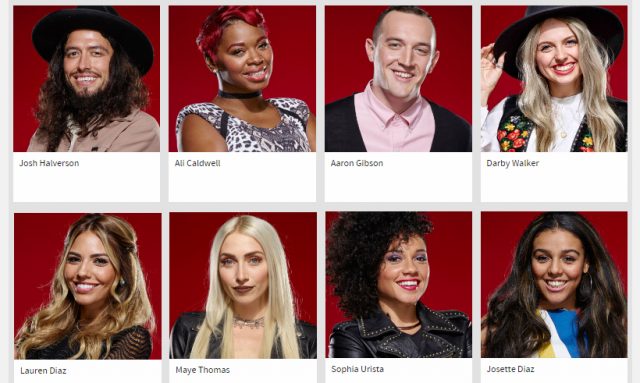 Get ready for The Voice Season 11 Knockouts!
Looking at these teams I say any one of them has at least one potential winner. Some of the eliminations are going to be very difficult to take! The teams are being cut down to five each for the live shows: four of the current team members, plus one steal. Blake's probably got the easiest job. Right now I'd guess it's Austin, Josh, Gabe, and Courtney going to the lives. However, as this promo points out, anything can happen in the knockouts!
[youtube https://www.youtube.com/watch?v=MiHVUeuLlcU?rel=0]
There are a couple of things that make the The Voice knockouts a bit harder to predict. The first is that each artist chooses their own song. This means each performer has to be very in tune with what kind of song will showcase them. A bad song choice can change everything because the coach has to choose based on this one performance.
That's the second complication. The Voice knockouts are like the playoffs in sports: the past record doesn't matter. Remember the 2012 Superbowl? The Patriots came in with a perfect record and lost to the Giants, who'd lost nearly half of their games in the regular season! To get there, they first had to beat the defending Superbowl champs – the Green Bay Packers. No one thought they could do it since Green Bay had the better record.
Like the Giants of 2012, any one of these singers could come out and surprise everyone next week. So, don't forget to tune into NBC's The Voice next Monday, October 31st, at 8pm (ET)!