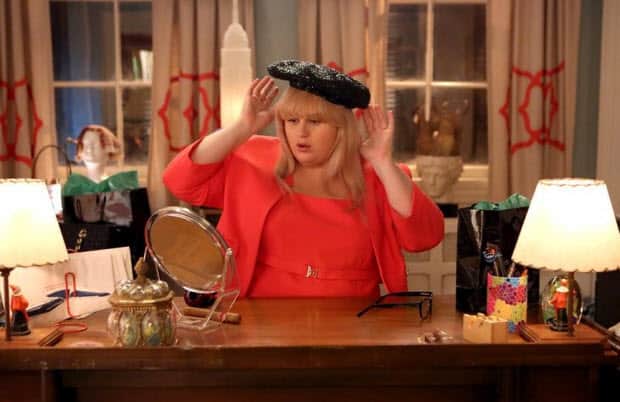 As if Kimmie Boubier, Marika and Helen-Alice weren't awesome enough, they invented the best idea ever for this week's Super Fun Night: cookie prom! Like a number of people who attended their high school prom, the ladies ended up having a crummy prom night experience. When life gave them lemons, the trio went H.A.M. at the store and ate all kinds of cookies like a BOSS! Since then it's been tradition – and who can argue with tradition when it involves cookies?!
Unfortunately, Kimmie just isn't having the best of days: she woke up late due to accidentally setting the wrong time of day on her alarm, she's running late for a big presentation she has to give, and she ends up flying across the hallway on a cart for everyone to see, including her big boss. Oh yeah, did I mention her boss is Danny Tanner (Bob Saget, anyway). And ex-Danny Tanner is not amused by Kimmie's overly fun-loving, youthful ways, telling her bluntly to grow up – advice she takes very seriously and literally. She tweaks her wardrobe, dons glasses, changes her speaking voice and even changes her name to the more sophisticated 'Kimberly.' She also – gasp – says she's over cookie prom, now in its 10th year. WHO ARE YOU and what have you done to Kimmie???
All that lasts, like, a day – but until then she manages to blow off her friends and make them really mad, as well as accidentally leading on the social-climbing Kendall. After an all-out cookie fight, the three make up and are back to being BFFs, but not before Kendall realizes her mistake after attempting to crash Kimmie's supposed cocktail party (but really her cookie prom) and not until Helen Alice takes out one of Kimmie's eyes with a crown she chucks at her head. While in the emergency room, the gals see younger versions of themselves, misfits who were also treated horribly in high school. They tell Kimmie-Marika-Helen-Alice 2.0 that they're from the future and allow their Mini-Mes to pelt their bullies with the cookie bazooka – sweet, sweet revenge!
Other thoughts on the episode:
– The part where Kimmie tells Richard that her friends are even madder than the time she had her prison pen pal stay over and it cut to the three gals hiding in a closet while prison pen pal is losing it made LOL so hard. I may or may have rewinded that part once or twice more!
– I didn't recognize Bob Saget completely, even though I knew it was him. Is it me or is he looking more like Stephen Colbert every day?
– Where can I buy that big cookie bazooka gun? I WANT.
– The closing clips of Kimmie in the elevator with her "Bridesmaids" brother (and real-life roomie) Matt Lucas were hilarious! Can he come back again??
[Photo via Gilles Mingasson/ABC]