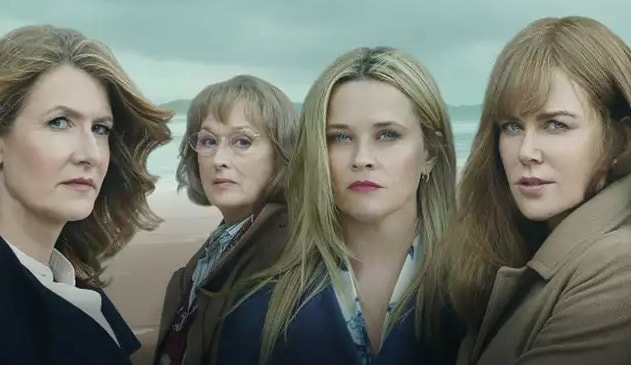 HBO has been on a roll with shows lately, and 2017's Big Little Lies was surely no exception. Based on the bestselling book by author Liane Moriarty, the show had an average viewership of 8.5 million each episode during its first season. Season 2 premiered on June 9, and it's already looking to be another promising season. With the addition of Meryl Streep to an already stellar cast, Big Little Lies has no other way to go but up. Fans have waited long enough for the second season, and theories have definitely added up. Here are five awesome Big Little Lies theories that are going right now.
1. Poster Clue
If you read the book or followed season one closely, you should know exactly what happened by the finale. Spoilers are ahead if you don't know. But Perry died in the hands of Bonnie, Zoë Kravitz's character. The show is all about the art of secrecy and everything that comes along with it. The promotional poster for season 2 shows all the main characters on the show, including the addition of Meryl Streep's character, Mary Louise. Mary Louise happens to be Perry's mother, and her appearance alone could mean so many things for the show's direction. But there's one theory that actually make a ton of sense based on the poster alone. The title lettering of the poster appears to be covering the mouths of the characters–all except Mary Louise's. A covered mouth generally means a sign of secrecy. And according to a Reddit user, this might mean that Mary Louise is going to break the silence on her son's death. This article points out that Mary Louise is bound to find out what happened; and when she does, we will too.
2. Another Murder
This is probably to be expected. If anything, Big Little Lies is a murder-mystery after all. The ladies of Monterrey are more than what they seem to be, and the capability of murder is no longer a speculation–it's now a fact. Sure enough, any one of the ladies could be capable of killing another person. The only question now is who's going to die next and who's going to do the killing. There are a few possible choices. Mary Louise is one option that could fulfill either position. She is the victim's mother, and she might be out for vengeance. However, her story line isn't the only one happening. There are marital issues going on, and infidelity could easily be reason enough to kill or be killed for some. Madeline might be on the ropes this season regarding her secrets, and whether her marriage survives is something to be seen. HBO has already released a statement that relationships will be tested for the coming season. Injury is also impending, and that could easily be translated into someone's death.
3. Celeste's Role
A lot happened to the group in season one, but we can't help but think that Celeste might have gotten some of the worst treatment (Jane's rape notwithstanding). This article from Romper.com talks quite a bit about the theory that Celeste might suffer from PTSD during the show's sophomore season. She did watch her husband get killed by her friend–that's after her husband abused her repeatedly. She also found out that her husband raped her friend Jane and fathered the child that Jane has. That means that her children and Jane's kid are actually related. The show could go either way, turn Celeste into a victim or give her a more active role in the group's redemption. Celeste might also end up becoming the lawyer to eventually defend the group in court. We can pretty much surmise that much of season 2 will be about the investigation into Perry's death. Celeste might easily become a suspect once the cops figure out that it wasn't an accident that killed her husband. So it also might follow that Celeste will be in the defense position quite naturally.
4. Bonnie's Story
We've got one killer in our hands so far, and that's no other than Bonnie. It was certainly a shock to see Bonnie shove Perry down the stairs to his death. But come to think of it, we really don't know much about Bonnie even after an entire season of the show. There's a theory going around that part of season 2 might be dedicated to unfolding some of Bonnie's past, and that this past might be darker than we could imagine. After all, no one could be capable of killing without having a little darkness in them already. We'd even go as far as to say that Bonnie might have already killed someone in her past. It could've been someone very close to her. Either way, we know that the secret is bound to come out one way or another, so we might see Bonnie in trouble at some point.
5. He's Alive
This could possibly be the best fan theory so far. Given everything that happened in season one, Alexander Skarsgård's character Perry was easily one of the most hated characters in the show. You could even say that he probably brought on his own death. So this theory from MSN.com is really fanning some fan emotions currently. The theory purports that Perry is very much alive, and that revenge is soon to overcome Monterey. If this were true, we probably won't see Perry's character emerge until much later on in the season. We also might see Perry and his mom, Mary Louise, team up against the entire group. We might see Perry go after Bonnie, and he'd definitely go after Celeste again if he were to come back. There are so many ways the showrunners could spin this twist. We know that Skarsgård is credited on the show for the second season, but it might just mean he'll be back for flashbacks. Still, on a show like Big Little Lies, we could never put it past the creators to bring a character as ghastly as Perry back on full time.