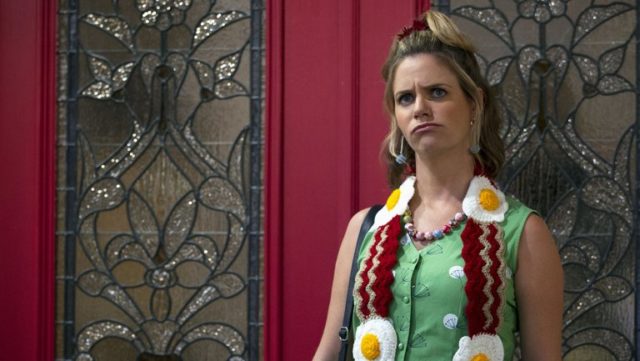 Most people will recognize Andrea Laura Barber as the character Kimmy Gibbler on Full House as well as Fuller House. Seeing as how Fuller House was renewed for a third season in December of 2016, it can be said that Barber has made a successful return to the entertainment industry after spending a long time in other pursuits.
Here are five things that you may or may not have known about Andrea Barber:
Studied in England
After she graduated from La Serna High School in Whittier, CA, Barber attended a private liberal arts college called Whittier College, which is situated in the same city. However, after Barber graduated from Whittier College with an English degree, she went on to complete a Master of Arts program in Women's Studies at the University of York in England. With that said, it should be noted that Barber has a strong connection to her first Alma mater, seeing as how she became an assistant to the director of its Office of International Programs.
Got Started in a Soap Opera
Barber's first role of note was Carrie Brady on Days of Our Lives. However, she was less involved in depicting the standard soap opera shenanigans than most people would expect based on that single fact for the simple reason that both she and her character were children at the time. With that said, it is interesting to note that Barber actually won a couple of Soap Opera Digest Awards for her performance in both 1984 and 1985.
Wasn't All That Interested in the Wardrobe
One time, Barber shared an interesting anecdote from her time as a member of the cast on Full House. In brief, the people who were responsible for the costumes on the sitcom would tell the younger members of the cast to take whatever they wanted from the wardrobe from time to time, which seems like a rather sensible thing to do considering the regular rotation of costumes. Barber stated that most of the time, she would take just a pair of pants, whereas some of her ex-castmates would bring entire armloads of clothing home with them.
Retired from Acting
From 1982 to 1995, Barber appeared in a number of TV movies and TV shows besides her most famous role on Full House. As a result, the stop in her roles from that point on can seem rather sudden, though there is a simple and straightforward answer in the fact that she retired from acting in order to focus on her personal life. It should be mentioned that Barber has both a son and a daughter born in 2004 and 2007 with her ex-husband Jeremy Rytky.
Returned in Funny or Die
At the moment, Barber is most notable for her involvement in Fuller House, but it is interesting to note that she actually got back into acting through her appearance in the episode of Funny or Die called "It's F***in' Late with Dave Coulier" in 2012. There, she reprised her role as Kimmy Gibbler, while her ex-castmate Dave Coulier reprised his role as Joey Gladstone.