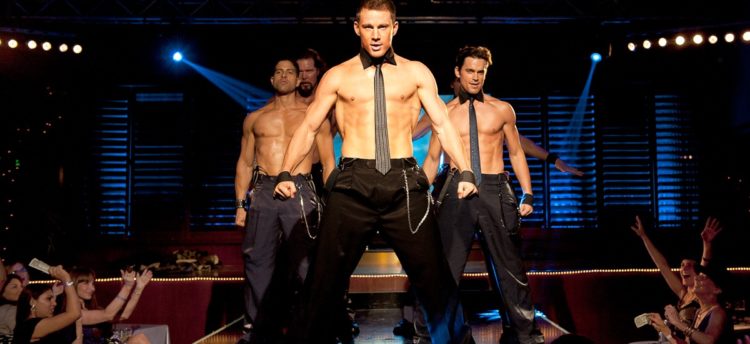 One Hollywood heartthrob who seems to be aging like fine wine is Channing Tatum. The actor first made waves with his electric dance moves, as he starred in one dance drama after the other. He slowly inched his way into blockbuster films and garnered the attention of a wider audience. It did not take long for him to land even bigger and better roles that propelled him to leading man status. Here are five swoon-worthy scenes starring Channing Tatum:
5. Step Up
The first film from the famed romantic dance drama franchise introduced us to Tatum's mad dancing skills. He portrayed the role of Tyler Gage, a hip-hop dancer who grew up in a foster home and who also took part in a life of crime. He takes the blame for a blatant act of vandalism and ends up with a 200-hour sentence of community service in a school. During this time, he meets and falls smitten with Nora Clark, portrayed by Jenna Dewan (Supergirl), a ballet dancer with aspirations of becoming a professional dancer. The scene where Tyler and Nora are at a party was electrifying. They took over the dance floor and impressed the crowd with their badass dance moves. The two characters' chemistry was palpable, and they dance steps most impressive. The film was also much more than a dance drama. It taught us to pursue our passions and to never stop dreaming big. We also enjoyed every second of Tatum's smooth dance moves.
4. She's the Man
Who doesn't love a good chick flick to curl up to during feel-good movie nights? The romantic comedy checks all boxes, as it featured an enticing storyline and an effective ensemble. The story followed the life of Viola Hastings, portrayed by Amanda Bynes (What I Like About You), a teenager who agrees to cover up for her twin brother, Sebastian, and enters his boarding school while pretending to be him. Viola's transformation also had an ulterior motive. She was part of a ladies' soccer team that got cut, so she was set on proving their former coach wrong by beating the current team he was handling. She was a woman on a mission, and one that was no walk in the park. The scene where Duke Orsino, portrayed by Tatum, the boarding school's handsome soccer team captain, attended a Junior League carnival and found Viola manning the kissing booth had us feeling butterflies in our stomach. Little did Duke know that the Sebastian he was roommates with was secretly this Viola, who he eventually falls smitten with.
3. Dear John
Nicholas Sparks does it again! The film adaptation of his romance novel followed the life of John Tyree, portrayed by Tatum, a soldier who falls in love with a woman named Savannah Lynn Curtis, portrayed by Amanda Seyfried (Letters to Juliet). The two characters end up exchanging letters as soon as John is deployed to the war. The chemistry between the two characters was already spot on from the very beginning. We could already feel the sparks flying during the scene where the two first met. John just finished surfing then Savannah's bag accidentally fell into the water. John was a knight in shining armor who showed off his ripped physique while successfully retrieving Savannah's bag at the same time. What a way to make a first impression.
2. Magic Mike
Tatum did not hold back on his dance moves in the comedy drama, which followed the colorful lives of a group of male strippers. Tatum portrayed the role of Mike Lane, an experienced stripper who has already been in the business long enough to know the ropes and train new members. Mike knew that he was one of the best in the field, and had dreams of building an empire of strip clubs. The scene where Mike and his other co-strippers performed the sultry dance routine to the song, It's Raining Men, was a sight to behold. It definitely brought the house down and showcased the snazzy dance steps of the muscular strippers. Tatum eased into the role like a pro, and was the right fit to the growing film franchise.
1. Jupiter Ascending
Apart from his mind-blowing dance skills, Tatum also ventured into other film genres, such as this space opera. He played the role of Caine Wise, a genetically engineered hunter, who is half human and half canine. This gave him the ability to have a powerful sense of smell, which helped him track a certain gene through the universe. He starred alongside Mila Kunis (Bad Moms), who played the role of Jupiter Jones, a woman who Caine finds on Earth to create awareness about the great destiny that awaits her. The storyline was (literally) out of this world that brought us on a unique adventure. The ending scene where the two characters get together, share a sweet kiss, and fly away together felt like a happily ever after to a fairytale that was set on a different dimension. Tatum showed that he could also dabble into sci-fi territory and give life to strong-willed characters like Caine.Jenna Dewan