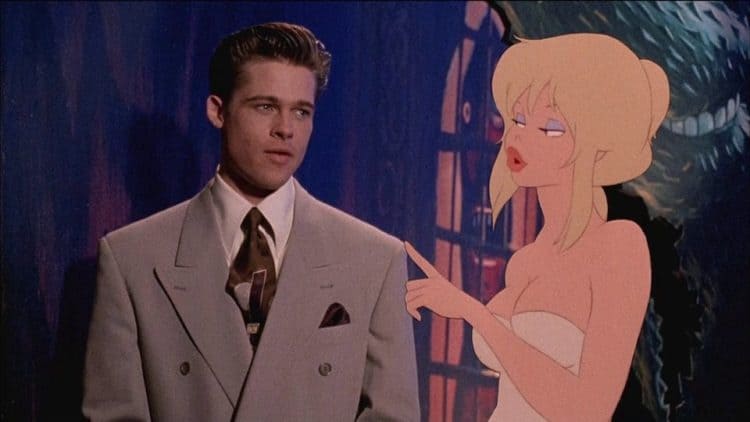 Hollywood has had a fascination with blending animation with live-action almost as long as the two mediums have existed. Whether it came in the form of hand-drawn cells over miniature sets made famous by Max Fleischer, stop motion models made of clay and rubber the way Marcel Delgato and Willis O'Brian created the original King Kong (1933), or actors interacting with cartoon co-stars, directors have come up with creative ways to bring the inanimate to life alongside their living, breathing counterparts. One of the earliest examples of this is in the 1900 film The Enchanted Drawing by J. Stuart Blackton, who is now considered the father of American animation. As the years went on, new innovators of the craft found animation to be an effective way to create special effects. One famous example was to use animated cutaways to make Superman fly in his black and white serials. Soon there was no limit to the lengths people would go to create fun interactions between cartoons and their flesh and blood co-stars.
The most pinnacle example of this technique done to perfection would be Who Framed Roger Rabbit? from 1988, a noir detective comedy about gumshoe Eddie Valiant helping to clear the name of a famous cartoon rabbit who is wanted for murdering a human. The film managed to combine not only live actors with cartoons but assembled characters from multiple studios to appear together on film for the first time. Even today, with the advent of CGI, movies like Space Jam: A New Legacy and Call of The Wild have modernized the tradition. Here are just a few examples you may or may not have known existed where actors and cartoons live in the same world:
Anchors Aweigh (1945)
Normally, Tom and Jerry were just a couple of toons trying to best one another through a series of violently amusing sight gags, but in 1945 MGM, after being turned down by Disney to use Mickey Mouse in the scene, decided to instead go with Jerry Mouse during a dance number with Gene Kelly. Spearheaded by William Hanna and Joseph Barbera, the sequence, now considered the most famous from the film, wasn't without its problems. Early screenings for executives found that Kelly had a reflection and shadow, but Jerry did not. This was remedied and was soon considered one of the most ambitious and technically advanced combinations of live-action and animation for almost twenty years, until Mary Poppins and the penguin dance.
Mary Poppins (1964)
Considered a classic by today's standards, Disney's Mary Poppins set a new bar for actors working with cartoons. In several sequences, characters are swept into a magical realm where Marry Poppins and her pal Bert show the children in her charge the magic of imagination. Riding through an animated countryside on carousel horses leads to one of the most iconic scenes in Disney history, namely Dick Van Dyke cutting a rug with a gaggle of bow-tied penguins while having afternoon tea. Choreographed to perfection, these animated set pieces wow's audiences even today.
The Incredible Mr. Limpet (1964)
Disney wasn't the only company throwing their hat into the live-action/animation crossover game back in the '60s. Warner Bros. had their own property to work from when they acquired the rights to Mr. Limpet written by Theodore Pratt in 1942. The plot revolved around Henry Limpet, played by comedic actor Don Knotts, a shy bookkeeper who loves fish and wishes he could become one. After being denied by the military to help fight in World War II due to bad eyesight and falling into the ocean off the coast of Coney Island, Henry gets his wish. Now an animated fish version of his former self, Henry uses his newfound form to help the U.S. Navy locate and destroy Nazi submarines. The Incredible Mr. Limpet received mixed reviews.
Bedknobs and Broomsticks (1971):
Starring Angela Lansbury, Bedknobs and Broomsticks was in development in the early 1960's while Disney was in negotiations for the rights to Mary Poppins. The film was unfortunately shelved after it was seen as too similar to Poppins and later released in 1971. The film, which takes place in 1940, is about a woman named Miss Price who is learning witchcraft in order to fight the Nazis after the Blitz on London. Agreeing to take care of a group of displaced siblings, she takes them on a magical adventure to an animated land called Naboombu where the characters are greeted by animated animals, an underwater dance contest, and a raucous football match. The film received five Academy Award nominations winning one for Best Visual Effects.
Pete's Dragon (1977):
With animation direction by Don Bluth, Disney came back again with another cartoon/actor hybrid about an abused orphan boy who befriends an animated dragon named Elliott. The film starred several famous actors of the time including Mickey Rooney, Red Buttons, and Shelley Winters. Elliott appeared in the film as a gigantic pear-shaped dragon who could appear and disappear at will, only to be pursued by an evil scientist who wants the creature for experimentation. Musical interludes abound throughout, as in so many Disney films, though many might have forgotten about this one until the remake in 2016 starring Robert Redford and Bryce Dallas Howard. The remake used CGI to create Elliott, giving the feel of the film a slightly different tone than its predecessor.
Cool World (1992):
Skipping ahead a few decades, animator Ralph Bakshi, best known for his more adult take on animation, usually using a technique called rotoscoping (filming a live actor and animation over the footage), made lesser-known cult classics like Fritz the Cat (1972), American Pop (1981), and an animated version of The Lord of The Rings (1978). After a 9-year hiatus, Bakshi came back to direct Cool World, an adult answer to films like Who Framed Roger Rabbit?. The plot revolves around a WWII vet Frank, played by Brad Pitt, who, after a motorcycle accident, is transported into a manic cartoon universe called Cool World. Forced to become a cop, his job is to keep the peace amongst the Doodles who live there. Being the only human, his biggest frustration is that he can't consummate his relationship with his cartoon girlfriend because it is against the law, leaving him a bitter man.
Enter comic book writer Jack Deebs, played by Gabriel Byrne, who is out on parole for killing his wife. While in jail his comic book Cool World (it's never really explained how this works), starring the sexily drawn Holly Wood (Kim Basinger), becomes a success. Somehow, Jack keeps hearing Holly's voice beckoning him to enter the comic world. Once there, he becomes tempted by Holly to have sex and make her into a human, because that is what happens when Doodles diddle humans. Falling for her ruse, Holly and Jack go back to the real world where she tries to merge the two universes, which could cause havoc for the universe. Now it's up to Frank to stop Holly before it's too late.
Considered a flop by most critics, Cool World wasn't the most stylized looking film when it came to the animation, often looking choppy and cheap except for the main character designs. With a budget of $28 million the film only made a paltry 14.1 million in its theatrical run.
Tell us what's wrong with this post? How could we improve it? :)
Let us improve this post!