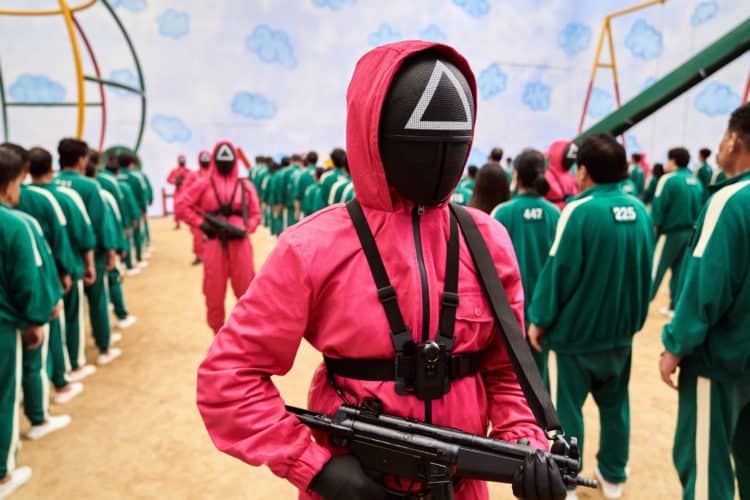 The Squid Game phenomenon has continued to sweep the world by storm. The series' cast members have traveled all the way to Los Angeles to rub elbows with Hollywood's elite, and attend the 2021 LACMA gala. This is great exposure for the cast who fully deserves all the recognition they are getting for their exceptional performances. They have gone on to guest in late night talk shows, and even received compliments from stars, such as Elle Fanning (Maleficent) and Leonardo DiCaprio (The Revenant). It must have surely been a surreal moment for the entire cast and crew, as well as another groundbreaking achievement for the Korean film industry that has consistently been shattering glass ceilings. The internet was abuzz with positive feedback when news of a series renewal was announced. It felt like a wish granted by the Netflix fairy godmother. The finale of the first season still contained a lot of unanswered questions. It's only natural for fans to clamor for more. Here are five storylines we wish will be explored in Squid Game season 2:
5. The father-daughter relationship between Seong Gi-hun and Seong Ga-yeong
Viewers witnessed a tumultuous relationship between Seong Gi-hun, portrayed by Lee Jung-jae (The Housemaid), and Seong Ga-yeong, portrayed by Cho Ah-in (The Fortress), in season 1. Seong Gi-hun was an absentee father, who was not able to provide for his daughter. It also did not help that Seong Ga-yeong, her mother, and stepfather already migrated to the United States. The season 1 finale ended on a bittersweet note, as Seong Gi-hun was seen about to catch a flight to visit his daughter, but who decided otherwise just seconds before boarding the plane, after deciding to stay in Korea to unravel the mystery behind the Squid Game. We hope to see Seong Gi-hun make up for lost time in season 2 by having more bonding moments with his daughter. After all, he did not come out the victor of the Squid Game for nothing.
4. The "death" of Hwang Jun-ho
The big reveal before Hwang Jun-ho, portrayed by Wi Ha-joon (Midnight), was shot was literally a cliffhanger moment. Hwang Jun-ho, a police detective, risked his life by pretending to be one of the guards in the Squid Game, in order to get to the bottom of his brother's disappearance. His mission became moot after he discovered that his brother, portrayed by Lee Byung-hun (The Magnificent Seven), was indeed alive and well, and was revealed to be the masked Front Man of the Squid Game. Before he was even able to react to all this, he was already falling off a cliff after being shot by his own brother. This act of betrayal was puzzling on all fronts, and opened a Pandora's Box of questions. The "death" of Hwang Jun-ho was also open-ended, as there was no scene wherein his dead body was found. Who knows, he might make a reappearance on season 2, and finally get all the answers to his questions. If there is one lesson we have learned from season 1, it is to expect the unexpected.
3. The real identity and journey of the Squid Game's Front Man
The masked Front Man is probably the most mysterious character in the series, even after his real identity was revealed. Hwang Jun-ho's quest for his missing brother might have shed a bit of light on the Front Man's past, but is poses even more questions on how he was able to land his current job as the overseer of the Squid Game. There are always two sides to every story, and it would be interesting to her the Front Man's side in season 2. This might help viewers understand his dark character more, and also unlock the history behind the vicious Squid Game. There must also be an explanation why he enjoys listening to the classic ballad, "Fly Me to The Moon", while the deadly games are being played.
2. The new mastermind behind the games
Now that the real mastermind behind the games, Oh Il-nam, portrayed by Oh Yeong-su (A Little Monk) has already passed away, it would be most interesting to find out who will take his place. It was revealed in season 1 that the Squid Game was created by a bunch of uber wealthy people, who had too much money and time on their hands, and who thought of coming up with a set of games aimed to target debt-ridden people. The intention might have been good, but the execution was just pure evil. The season 1 finale just proved that the games were still ongoing, and that there were still more victims who would still risk everything for a shot at financial stability. It's a harsh reality we live in that is further magnified in each of the games.
1. The new dynamics of the upcoming games
The set of games in season 1 were like something straight out of an amusement park. A regular person would easily be lured by the colorful set-up and whimsical designs. The creative team behind the series really went above and beyond to create a masterpiece that was so visually enticing. It's mind-boggling to imagine how else the series' creative team will be able to top it. The upcoming season is still like a blank canvas, as no one still has any idea how the next season will pan out. Everything, including the storyline, is still under production, and even the cast members are still up in the air. The anticipation is real, and we're ready to go on another explosive rollercoaster ride aboard the Squid Game express.Leonardo DiCaprio
Tell us what's wrong with this post? How could we improve it? :)
Let us improve this post!