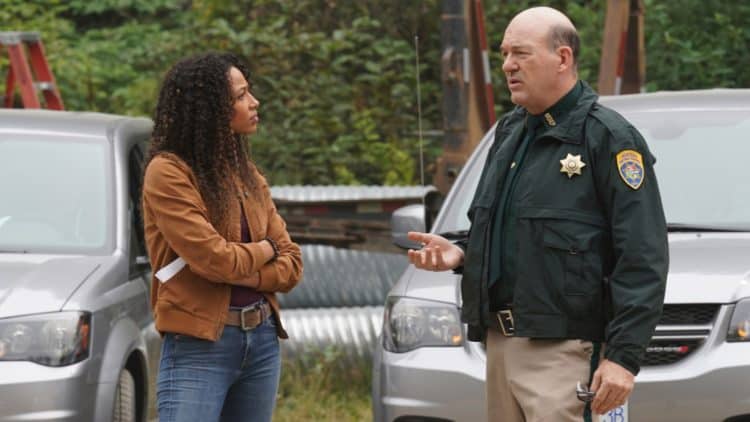 From the moment Big Sky debuted in the fall of 2020, it started taking viewers on a wild ride. From murder to kidnapping, the series kept people on the edge of their seats as they watched two private investigators attempt to rescue three abducted women and apprehend the people who took them. Little did the investigators know, however, they were dealing with a true criminal mastermind who was always one step ahead. Now in its second season, Big Sky seems to still have plenty of tricks up its sleeve. Unfortunately, though, new episodes are released on a weekly basis instead of all at once, so if you're a fan you may find yourself looking for something to watch in between. The good news is that there are several shows out there that you'll probably enjoy if you're into Big Sky. These shows will also keep you on your toes and have you coming back for more. Here are five shows you should watch if you're a fan of Big Sky.
1. In the Dark
Not to be confused with the TV series Into the Dark, In the Dark debuted on The CW in the spring of 2019. The series follows a young blind woman named Murphy (Perry Mattfeld) who stumbles on a dead body while walking her guide dog. After feeling around at the scene, she comes to the conclusion that the body is that of her friend Tyson. Although Tyson is a neighborhood drug dealer, flashbacks show that he is the kind of person who wants better for himself. He and Murphy form a tight bond when he saves her from being mugged in an alley. After discovering the body, Murphy calls the police – and that's where the mystery really begins. When authorities arrive on the scene, the body is no longer there which leads them to question Murphy's story and also causes her to question herself. However, she ultimately decides that she knows the body was Tyson's and she sets out on a quest to find out what happened to him. In the interest of not giving too much away, you'll just have to watch the show yourself to find out what kinds of things Murphy encounters. In the Dark is one of those shows that you'll find yourself getting hooked on quickly. The series is now in its third season which means there are plenty of episodes for you to watch.
2. Truth Be Told
Since Truth Be Told is an Apple TV+ show, it hasn't gotten as much attention as some of the other shows on this list. However, after watching just one episode, you'll probably agree that this series deserves a lot more shine. The show stars Octavia Spencer as an investigative reporter/podcaster named Poppy Parnell. For the first season of her podcast, Poppy dives into the case of a fictional convicted killer named Warren Cave. Although most people believe that Warren is guilty of killing Chuck Buhrman, the father of two of his childhood friends, Warren always maintains his innocence. As Poppy takes a deep look into the crime, she uncovers all sorts of secrets and lies that she never could've imagined. On top of that, things also start to unfold in her personal life that adds another layer of drama to the show. On the surface, Truth Be Told might seem predictable, but in reality, it's full of some great twists and turns. It will truly keep you guessing until the very end which isn't an easy thing for shows to do. In the second season of the show, which was released in 2021, Poppy is back to podcasting but this time she is investigating another case. This time, however, the victim of the crime is a long-time friend of hers who is mysteriously killed during what appears to be a sexual affair with another man. Since the crime hits much closer to home, she will have to work especially hard to stay objective. One of the downsides to watching this show, however, is that it's only available on Apple TV + which means you'll have to have a subscription in order to watch it.
3. Your Honor
If you're a fan of Big Sky then chances are you love drama, suspense, and mystery. Those are three things that Your Honor has plenty of. The show is about a New Orleans-based judge named Michael Desiato (Bryan Cranston) who, by all accounts, is fair and honest. However, Michael ends up putting his morals to the test after his teenage son accidentally hits and kills another teenager while driving a car. Michael decides that he's willing to do anything to protect his son, but that "anything" eventually comes with a price that he isn't willing to pay. Not only is the storyline great, but Bryan Cranston and the rest of the cast put on stellar performances. Rachel Cooke of The New Statesman, wrote, "This series isn't gripping. It's mesmerising – if, that is, you're the kind of person who feels that in life the line between success and a total botch job is precariously thin; that things can go catastrophically wrong at any time…And then, of course, there's Cranston. His performance is a thing to behold. One minute, he's just this bloke: dogged, decent, a bit dull. The next, he's been overtaken by something I can only describe as vulpine. It's amazing, the way he's able to convey a brain that is working feverishly, even as he pretends to all around that everything is absolutely as normal: an actor playing a man who is acting." The good news is that all of the episodes of Your Honor are currently available for streaming. The bad news is that you'll need a Showtime subscription to see them. Although Your Honor was intended to be a one-time mini-series, Showtime has announced that it's been renewed for a second season. According to Deadline, Showtime's president, Gary Levine, said, "We were blown away by Your Honor … by the power of Peter's storytelling, by the depth of Bryan's performance, and by the overwhelming reaction from our subscribers who watched in record numbers. Imagine our delight when we learned that Peter believed he had more story to tell and Bryan felt he had more depths to plumb. So, along with its millions of fans, I am gleefully shouting 'Encore!'"
4. The Sinner
The Sinner premiered on USA in 2017. Like Your Honor, The Sinner was only intended to be a miniseries. However, it's now about to enter its fourth season. The series is centered around a detective named Harry Ambrose (Bill Pullman). Although it's clear that he's very good at his job, he also appears to be somewhat down on his luck in other ways. During the first season, he invests a case in which a woman named Cora Tannetti (Jessica Beal) randomly stabs a man to death during what appeared to be a normal day at the beach. Although there are moments where it feels like the show might take a supernatural turn, it never does. It's a great example of how sometimes the truth really can be stranger than fiction. During the season, Ambrose investigates a case involving a young boy named Julian Walker who ends up in legal trouble after confessing to poisoning a couple. Once again, Harry's investigative skills are put to the test as he searches for the truth. In the third season, Ambrose investigates a car accident. On the surface, this seems like it should be the most cut and dry case ever. However, he ends up uncovering a whole world of dark secrets. The show's fourth season is set to premiere on October 13, 2021. Although new episodes will air on USA, you can find the previous seasons on Netflix which makes this show a little more accessible than some of the others.
5. Cruel Summer
Cruel Summer is the newest show on this list, but it definitely deserves this spot. Just like Big Sky, Cruel Summer takes viewers on a journey where nothing is ever quite like it seems. The series is set in a fictional Texas town and follows the lives of two teenage girls: Kate Wallis (Olivia Holt) and Jeanette Turner (Chiara Aurelia). Kate is the prettiest and most popular girl in school, and Jeanette wants desperately to be her friend. Both of their worlds are turned upside down when Kate mysteriously disappears. It is quickly revealed that she had been held hostage in the home of the high school vice-principal, Martin Harris. The plot thickens when Kate claims that Jeanette actually saw her while she was trapped in the house, but never reported it to authorities. Jeanette, however, denies this, Throughout the season, viewers are torn between which girl to believe. Although Cruel Summer is aimed at a slightly younger audience than Big Sky, it can definitely appeal to a wide range of viewers. There's plenty of mystery and suspense to go around. The series has officially been renewed for a second season although the release date has not yet been announced. Cruel Summer airs on Freeform but can be streamed on Hulu.renewed for a second season
Tell us what's wrong with this post? How could we improve it? :)
Let us improve this post!