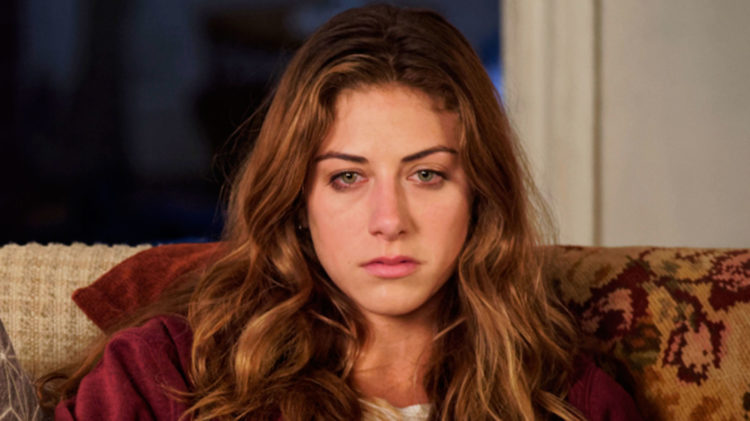 Perry Mattfeld is an American actress who is known for her roles in popular television series including "Escape from Polygamy," "Shameless" and "Wizards of Waverly Place." Her face is familiar to most Americans who've viewed these programs as she's on the list of the most popular celebrities, ranking up there with the likes of Julia Roberts and other well-known celebrities. There is a lot about her that fans are interested in finding out. Here are 10 things about Perry that you probably didn't know but might like to discover.
1. She started her career at age 5 as a dancer
Perry Mattfeld had a good start on her career, but she didn't begin in the entertainment industry as an actress. She was actually a ballet dancer and she spent just a little under a decade performing strictly ballet until she was introduced to other forms of dance. She appeared in "Alex in Wonderland," which was an original theater production in Ms. Allen's World Premiere, the dance instructor's production company. She went on to appear in more than 164 shows in the Los Angeles theater the Grove.
2. Her Father is a lawyer
Perry Mattfeld is the daughter of a distinguished attorney in the Los Angeles Area. Earlier in his career he was a member of several different law firms in the area, and he attended Loyola Law School where he earned his JD degree. He went on to become a Deputy City Attorney, which is quite an accomplishment, and Kenneth Mattfeld was also a naval architect prior to becoming an attorney.
3. Perry is educated
We can tell that Perry's father certainly believed in education and the apple doesn't fall far from the tree. She attended the University of Southern California, which is a top rated school in the United States and hard to get into. She completed her program of study at the University's School of Dramatic Arts. Recently she earned her Bachelor of Arts in Film Theory and her B.F. A. Summa Cum Laude. She graduated from LA Polytechnic Institute prior with a 4.6 GPA.
4. She was a cheerleader
It should really come as no surprise to her fan base, that Perry Mattfeld was a cheerleader. She just has that all American girl look about her. She was a cheerleader when she was studying at the the University of Southern California. She was also featured in Sports Illustrated as Cheerleader of the Week.
5. Perry was also a model
Although Perry's acting career was progressing, it was a bit slow in the beginning so she had to do something to fill in the gaps and pay the bills. She spent some time in the modeling profession, but it was just a side career for her. She modeled after she graduated from USC through a connection that she had made with a fellow student who was also connected.
6. She speaks two languages
Perry Mattfeld is also bilingual. While some of us have trouble with the mastery of just one language, she does great with two. She speaks English and French. This is just one more fascinating fact about Perry that we thought everyone would like to hear about, and there is a lot more that is still to come in our ten interesting facts about the actress.
7. She prepared meticulously for her role as Murphy
Perry didn't leave anything to chance in her preparation for the role of Murphy in the television series "In the Dark." She shared that when she reviewed the character she had an attraction to the role because it was something she had been trained to do in her college work, but there would be much more to learn in preparation. Mattfeld teamed up with the show's blind consultant Laurie Bernstein and trained with her, spending hours watching her go about her daily tasks so she would have a sense of how she moved in her space to understand how she could make Murphy's blindness realistic for the show.
8. She's an Aries
We also discovered that Perry Mattfeld was born on March 29, 1994. This means that she was born under the Aries sign. Aries people are usually fierce, up front and enthusiastic and they can be a bit on the hotheaded side at times, but if you're a friend they can be loyal to a fault. Arians are also known to be passionate and vigorous, which she definitely has demonstrated.
9. She's a multi-millionaire
Perry has been in the entertainment business since she was just 5 years old and she has an impressive resume. As of the 2017-2018 year it was estimated that her personal net wealth was somewhere between $100,000 and $1 million. As of 2019, it took a significant jump and it is now estimated to be at $2 million, and she's made the majority of her fortune as an actress. With her new and successful television series lead role, we expect that her financial bottom line is only going to continue to rise over time.
10. She's in a relationship
For everyone who was wondering about Perry's relationship status, yes, she is currently involved in a romantic relationship. Her current boyfriend is Andrew Right. He is a former baseball pitcher who played on the Cincinnati Reds baseball team. He's retired from the sport and is now a member of the TVG horse racing network that also engages in wagering. It's an online company. The two make a dazzlingly good looking couple and although this is perhaps sad news for some of Perry's more amorous fans, most will like to hear that she is happy in her relationship from what we have seen