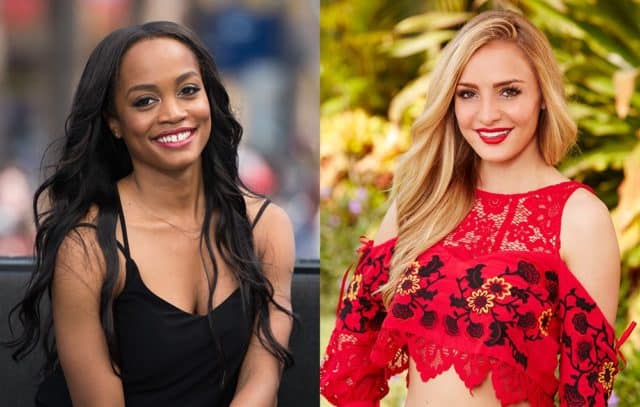 Leah Block is a former contestant on ABC's reality series "The Bachelor" and "Bachelor in Paradise". Although she didn't win the role of fiancée on either of the Bachelor franchise seasons, Leah Block remains in the spotlight. She recently posted tweets regarding the current seasons of "Bachelor in Paradise" and "The Bachelorette". Those who watch the reality dating show will remember that Block was sent home on "The Bachelor" halfway through her date with Ben Higgins because Block was painting fellow contestant and eventually winner Laura Bushnell in a negative light and insinuating Bushnell was not genuine.
Here are 5 things you didn't know about Leah Block.
1. Born in Colorado
Leah Block was born in Denver, Colorado on August 20, 1990. Her father is Henry and she has a brother, Adam. Leah is Jewish. She graduated from Cherry Creek High School and Colorado State University. In college, Leah earned her degree in Apparel Marketing". She describes herself as creative and energetic, hardworking and having a sense of humor.
2. Career
Leah followed her dream of working in apparel sales and worked as a fashion merchandiser from 2009 until 2012. When she was cast on season 20 of "The Bachelor, Leah was working as an Event Coordinator for The Bastion Group, Inc. in Aurora, Colorado. Aside from making a career as a contestant on The Bachelor franchise, Leah writes a blog called Tasty Gainz where she writes about and posts recipes for healthy treats.
3. The Bachelor
Leah was a contestant on 2 of The Bachelor reality shows. She first appeared in "Bachelor in Paradise" Season 3 which aired in the summer of 2016. She didn't win. She was also a contestant on "The Bachelor" Season 20 which premiered in December 2016. Fans called her out on getting lip fillers which she admitted. She vied for the affections and romance with 26 year old software salesman from her native Denver, Ben Higgins. Sadly, Leah was let go during her date night with Ben because he didn't like the way she was criticizing fellow contestant Lindsey Bushnell who eventually won the season. Leah is still good friends with fellow Bachelor contestants Samantha Steffan and Ashely Ianconetti.
4. Criticism of "Bachelor in Paradise"
"Bachelor in Paradise" recently shut down production during Season 4. The show which is filmed in Puerto Vallarta came under scrutiny for alleged misconduct during filming. Apparently some inebriated contestants got physical. Leah Block has chimed on the controversy through her Tweets. Block criticized the producers of the show for encouraging bad behavior. She went on to defend the show's contestants.
5. Controversial Tweet
More recently, Leah Block came under fire for a controversial tweet she sent out. The tweet was a comment about the current season of "The Bachelorette". This season of "The Bachelorette" stars Rachel Lindsey, a 31 year old African American attorney. Rachel Lindsey's season on "The Bachelorette" is unique. She's the first African American Bachelorette and the cast of suitors is diverse and older than the average cast of previous Bachelorettes. Most would agree that this is a great thing for the long running Bachelor/Bachelorette franchise. Rachel Lindsey is a strong, independent woman and it feels to many that the season is more mature than some of the past seasons of the franchise. Leah Block's tweet referred to the season as "Love and Hip Hop" which many found racially insensitive. Block has apologized publicly for the racially insensitive tweet and her own ignorance.