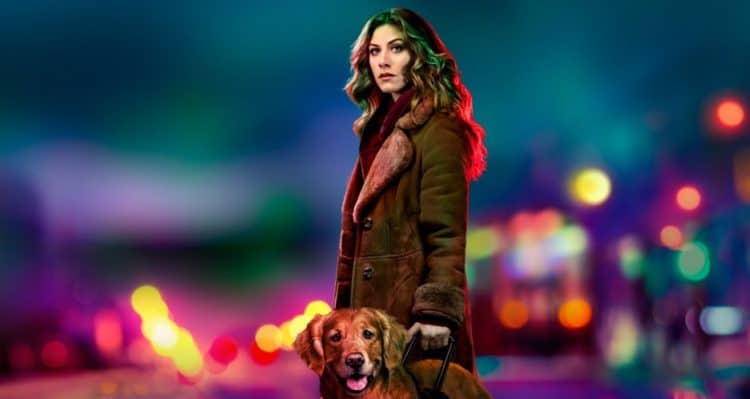 In The Dark is a comedy-drama series that airs on The CW. It follows the life of Murphy, a young blind woman who pushes away almost everyone in her life. One of her only friends is a teenage drug dealer named Tyson. When he goes missing she decides to investigate as she believes he has been killed and his body has been hidden. Ben Stiller is an executive producer on the show and it has been well received by critics. It has recently been renewed for a second season. When the show first aired most of the cast were largely unknown as this was their first major role. The cast is quite extensive, especially when you consider the supporting cast and guest stars as well. More information about the main cast can be found below.
Perry Mattfeld plays the lead role of Murphy, a young blind woman whose personality and behavior means that she does not have many friends. She believes that someone she does count as a friend has been murdered and decides to launch her own investigation. Before she starred in In The Dark she was best known for her role as Mel in Shameless. She started her career in a guest role in Disney's Wizards Of Waverley Place. Her co-star from In The Dark, Casey Deidrick, also had a role in this show. She has been very artistic from an early age, having started dancing when she was five years old.
Rich Sommer
Sommer is probably the most recognizable cast member, having had a lengthy career in both TV and film. He has had lead roles in popular shows such as Mad Men and Glow. His most notable film role was in The Devil Wears Prada where he played Doug, the friend of Anne Hathaway's character. He plays a cop in In The Dark who sympathizes with Murphy because he has a daughter who is blind. He helps her with her investigation into Tyson's death.
Brooke Markham
This is one of the first roles Markham has had where she is considered part of the main cast. She started her acting career in theater roles and also studied at the London Academy Of Music and Dramatic Arts. She was born in Oregon but later moved to Los Angeles with her family and this is where she first became interested in acting. She plays Jess in the show, Murphy's flatmate and one of her only friends.
Casey Deidrick
Deidrick is best known for his role as Chad DeMera in the soap opera Days Of Our Lives. He left this role in 2013 and has had guest roles in a number of shows since this time. Away from acting he is also a singer in a rock band And Still I Rise. He was a very good skateboarder when he was at school and considered doing this professionally before deciding to concentrate on acting after he suffered from a severe concussion. His character Max owns a food truck and is a love interest for Murphy in the show.
Keston John
Keston John has had guest roles in a number of well known TV shows such as 24 and NCIS. He has also done a lot of voiceover work. According to Wikipedia he was one of the first cast members to be announced, alongside Perry Mattfield and Brooke Markham. This is one of the first roles where he has played the same character in several episodes of the same show. His role in In The Dark is that of Darnell Parker, a local gang leader who is the cousin of the boy that Murphy believes has been murdered.
Morgan Krantz
As well as acting in TV shows and movies, Morgan Krantz has also appeared in a number of commercials. Some of these commercials are for well-known brands such as Ford, Apple and McDonalds which is why his face may seem familiar to some people. He started his career by acting on stage with the Moving Arts Theater Company. He plays the character of Felix who works for and eventually ends up buying the seeing-eye dog company that is originally owned by Murphy's father. He also finds himself drawn into the investigation.
Thamela Mpumlwana
Mpumlwana is a young actor who is best known for playing the young T'Kuvma in Star Trek Discovery. However, although people may recognize his name, they wouldn't necessarily be able to place him because of the Klingon makeup that he wears. He was born in Canada and is also known for his work as a voice artist. He is eighteen years old but does look younger than this. His character in In The Dark, Tyson is also eighteen years old. He is Murphy's only friend other than Jess and it is his disappearance and possible murder that Murphy tries to investigate.
Derek Webster
Derek Webster is another actor that has previously acted in the sci-fi genre. One of his earliest roles was as Brown in Stargate and he has also had roles in Star Trek: The Next Generation and Independence Day. More recently, he has starred as Raymond Isler in NCIS: New Orleans. He plays Hank Mason in In The Dark. He is Murphy's adoptive father and gives her a job at Guiding Hope when he still owns it. He is seen as somewhat of a pushover when it comes to his daughter.
Kathleen York
York is an accomplished actress but also a very successful singer and songwriter. She was nominated for an Oscar for the song she wrote and performed for the movie Crash which was titled 'In The Deep'. When she performs as a singer she is usually known as Bird York and she has released two albums under this name. She has guest starred in a number of popular shows such as Castle and True Blood. Her character in In The Dark is Joy Mason, Murphy's adoptive mother. She takes a much stricter line with Murphy than her father and is much more disapproving of her lifestyle.
Tell us what's wrong with this post? How could we improve it? :)
Let us improve this post!