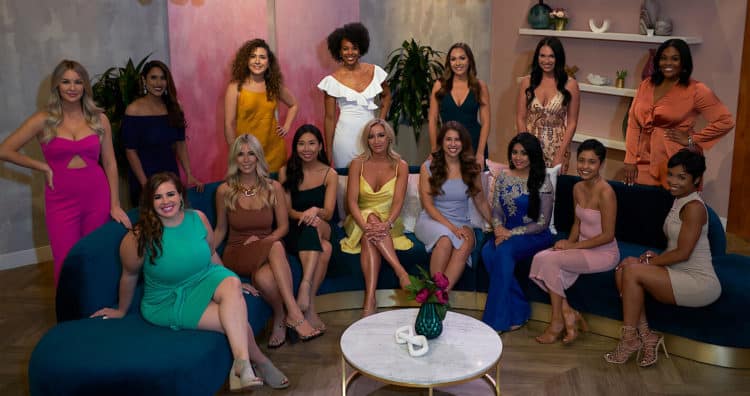 If there were a single word to describe the second season of Love is Blind, it would be 'messy'. The biggest mess of all, perhaps the one that no one saw coming, was Natalie's refusal to marry Shayne. They were the closest we could get to Lauren and Cameron from season one, who served genuineness from the beginning to the end. At first, Shayne was torn between Shaina and Natalie, but when he decided to fully pursue Natalie, he was all in. The pair had small arguments which were nothing to write home about. When it came to family, Shayne's mom was receptive of Natalie. Although her family was a bit skeptical at first, it was pretty certain that they would be supportive. On the wedding day, Natalie's dad won us over when he called his daughter his biggest achievement. As it turned out, a fight between Natalie and Shayne was so bad, that she couldn't face him and lie about her true feelings. We should have seen it coming when Shayne wanted mac n cheese at his wedding, but telling your bride-to-be you hate her a day before you walk down the aisle doesn't guarantee you a wedding ring.
If the word 'jerk' had a face, then Shake would be the perfect fit. How in the world did he go from grabbing Deepti's behind when he first met her, obsessing over her looks, talking about 'I'll make you pregnant' to thinking he was with his aunt the whole time? It's bad enough that Shake was focused on the physical at first, but when he got someone that checked all the boxes, suddenly, the physical didn't click. Deepti dodged a bullet, and she got the biggest win of the season. All along, she was focused on making it work with Shake, while he was so pressed, looking at what he didn't have. Like the prince of Jerks said, it might take him a long time to have someone he's that connected to, so he might as well have tried to make it work. Shake's mom knew better. That she thought Deepti deserved someone who was all in, spoke volumes. Deepti's mom is also a strong pillar for being extremely proud of the choice her daughter made. Poor Shake tried to put on a brave face, but, if character is anything to go by, then Salvador is the better man. No dinner reservation at Nobu can take the place of being a kind human being.
For the many times he played the ukulele, one might have thought Salvador was on the show to look for a record deal. Whether that's true or not, Mallory seemed to enjoy every moment of his serenades. Salvador gave us yet another plot twist this season. From the beginning, he was crazy about Mallory. Though she choose him over Jarrette, at first Mallory thought the physical connection with Sal was off. Later, it turned out that the pair connected well. So well, in fact, that Mallory was considering visits to the pharmacy. As the weeks went by, Sal kept putting in the effort, while Mallory seemed so nonchalant about their new lives. From the outside looking in, it seemed like Sal was more in love than Mallory. If one were to make a bet, the money would be on Mallory calling it quits, since Sal had a case -of- the-ex going on. Perhaps Mallory's lack of effort and the little support from her side of the family pushed Salvador to the wall. All in all, it was a surprise that he was the one that said no.
That Iyanna said yes to marrying Jarrette was a little bit of a shocker. Up until that time, Jarrette had professed his love in words but not in action. Given his conversation with Mallory in Cancun, it was clear that Mallory was Jarrette's first choice. He and Mallory had talked about so many things, including the type of ring she wanted. When Mallory said she was more connected to Sal, Jarrette was obviously heartbroken, although he had to leave the pods with a wife no matter what. Iyanna came in second. She herself did not think that was the way she would be proposed to, but she chose to go along with the cards she'd been dealt. Off of the Mallory situation, Iyanna needed Jarrette to make a couple of changes. He was pretty much used to the bachelor's way of things, and Iyanna was not having it. Did he make any changes? Absolutely not. Truth be told, Iyanna may have just sold herself short, and it's not until the reunion that we'll actually know whether Jarrette is still set on his bad-boy ways. His own friends said the streets would be calling. That said, Iyanna and Jarrette do look cute together.
On his wedding day, Nick's body was giving him all the warning signs. Throughout the season, he wouldn't so much as breathe before Danielle turned it into an argument. Every opportunity for Danielle, even something as simple as eating cake, was an invite into her deep world of insecurities. At some point, it became exhausting. Nick appeared to have a sober mind, and his body seemed to tell him what everyone else was thinking: "Say no!" He decided to marry Danielle anyway. That's one couple whose journey everyone is keen on eyeing because What the hell?
At this point, we've got to give it to Shaina for going with her heart and not dragging things all the way to the altar. Though Kyle had sworn that Shaina was going to be in love with him by the end of the show, she pulled the plug. Even then, it was a little too late since the engagement ring Kyle used meant something to him. Things may have taken a different turn, now that Natalie and Shayne didn't make it.
The Love is Blind reunion is something to look forward to. There are questions on everyone's mind, and only the cast members are in the know. One thing is undeniable though. The second season was all over the place. We never got the ultimate love story. But that's the beauty of reality television, isn't it? No one knows what to expect, and when unexpected twists and turns show up, the reunion is where the tea is spilled. Our cups are ready!
Tell us what's wrong with this post? How could we improve it? :)
Let us improve this post!