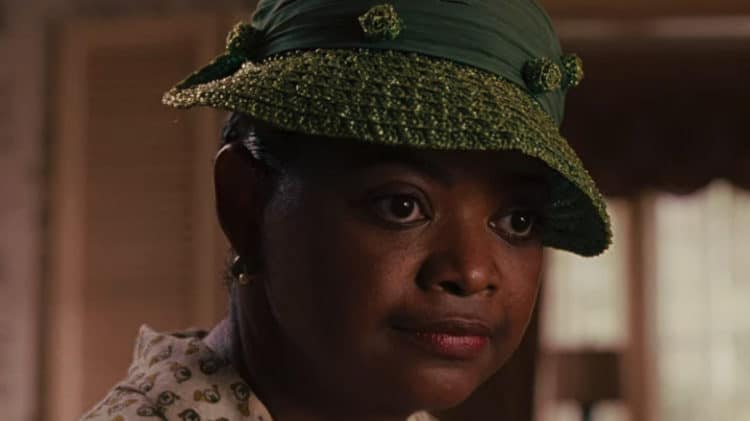 It's true when they say that history is one of life's greatest teachers. The mistakes made in the past can serve as valuable lessons, so as not to be repeated in the future. We also learn from peoples' past experiences and (hopefully) turn out to be better people. The period drama, The Help, which was based on the bestselling novel of the same name by Kathryn Stockett, opened a Pandora's Box of these types of life realizations that could serve as some sort of a guide book by present and future generations to come. The film was set in 1960's Mississippi and followed a wealthy Southern society girl, Skeeter, portrayed by Emma Stone (Easy A), as she returned from college with aspirations of becoming a writer.
She used her homecoming as a chance to work on her dream, and started to interview the African-American women in her neighborhood who worked almost all their lives as maids and nannies of privileged families in the community. Aibileen, portrayed by Viola Davis (How to Get Away with Murder), was one of the first who agreed to share her story, until the time came when more and more African-American women gathered the courage to come forward and finally speak up. It was an eye-opener filled with true-to-life situations and packed with important learnings. Here are five relevant life lessons we realized after re-watching The Help:
5. Respect begets respect
Every person, no matter the race or gender deserves to be treated equally. Respect is not a one-way street, and should be each individual's birthright. The film was set during a time when racism was still rampant, especially in the South. The African-American women in the story had unequal rights, and were segregated from the rest of society. Watching how the privileged extended their empathy and kindness only to people with the same social status was despicable to watch. The African-American women in the film had to go to great lengths just to make ends meet. They spent most of their lives taking care of other peoples' children instead of their own, and for them not to be treated with the respect they very much deserved was such a harrowing thought.
4. Courage is not the absence of fear, but the mastery of it
We witnessed a beautiful and unique friendship between Skeeter and Aibileen in the film. They supported each other's ambitions and encouraged one another to be dream big. Aibileen put her job and reputation on the line when she decided to share her story, and this brave act inspired other women to do the same thing. Sometimes, you just have to take that leap of faith and not think too much about the outcome. Stone's portrayal of Skeeter was also a breath of fresh air in a landscape that was so tone deaf and politically incorrect. She put her talents to good use by using the power of the pen to speak up for the oppressed. Skeeter's actions came with harsh consequences, but she was undeterred. This just shows how one person acting out of good intentions can make a huge difference in society.
3. Being a decent human being is not a hard thing to do
We saw a whole range of different personalities in the film, and one that stood out was Celia, portrayed by Jessica Chastain (The Eyes of Tammy Faye), a new addition to the community, and one who instantly became the talk of the town. It also did not help that Celia was married to the ex-boyfriend of one of the town's top socialites, Hilly, portrayed by Bryce Dallas Howard (Jurassic World). Celia's personality was a world away from the snooty housewives who dominated the small town of Jackson, Mississippi. She was a vulnerable woman who suffered a string of miscarriages, but who still evoked sympathy and kindness to others. This was evident in the way she warmly welcomed Minny, portrayed by Octavia Spencer (Self Made), a maid who was fired for breaking her employer's house rules, into her home. Being a decent human is not hard to accomplish, as long as your actions are paved with good intentions and your heart is in the right place.
2. A few true friends is better than a handful of fake ones
Friendship was also a recurring theme in the film. This was seen between Aibileen and Skeeter, as well as with Aibileen and Minny. Having a true friend and trusty confidante by your side is a big help to weather the bad days and celebrate the good ones. The film was filled with fake personalities who backstabbed others at every chance. It was exhausting to watch, and disheartening to fathom. It's true when they say that there are two types of friends in this world— "real" friends and "deal" friends. The real ones stick with you through thick and thin, while the deal ones are only there for you when they can get something from the friendship, or are just there during the good times. It is up to us what type of friendships we choose to reap in our lives. The film made us realize that nothing is ever certain in life, except for the true friends who have got our backs no matter the situation.
1. Only by speaking up can we create lasting change
Unfortunately, it seems as if racism cannot be completely eradicated from society. There are some instances when the darkness of inequality overshadows the positive changes so many people have pushed for over the years. This should not stop us from continuing to fight for equality and social justice though. Watching from the sidelines will not change anything. We must put our voices to good use, and continue to fight for basic human rights and fairness in society. A lot of our marginalized brothers and sisters still suffer in silence up to this day. We should not stop creating awareness and speaking up when it matters. Only then can real change make a lasting impact.Viola Davis
Tell us what's wrong with this post? How could we improve it? :)
Let us improve this post!