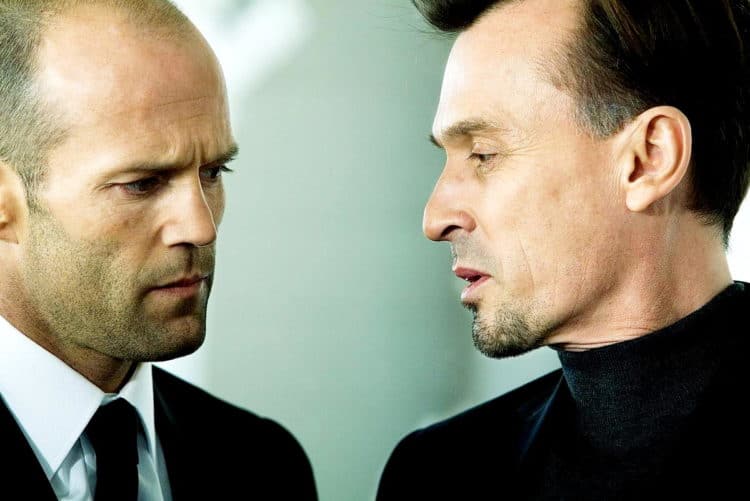 In 2022, The Transporter will celebrate its 20th anniversary. This action-packed thriller has been a favorite of moviegoers for two decades, and there's no sign of it slowing down. The film follows the story of Frank Martin (played by Jason Statham), a professional transporter who is hired to move goods and people across borders without asking any questions. While the character may be fictional, his skills are not. It received mixed reviews during its release, but The Transporter has gone on to become a cult classic.
A review from Lyles' Movie Files wrote: "More than a decade later, no action series has quite managed to capture its blend of silky smooth action thanks to Statham's turn as the debonair hero for the new generation." TheMovieReport.com wrote of the movie: "Every bit the over-the-top action extravaganza it appears to be, and the glee of its knowing preposterousness makes it easy to overlook its general mindlessness." Regardless of what anyone thought of the movie, audiences received the action flick with open arms and allowed it to flourish with two sequels, a reboot, and even a TV series. Here are a few reasons why you should watch The Transporter on its 20th anniversary in 2022.
It built Jason Statham's career from the ground up
The Transporter was Jason Statham's breakout role, and it's easy to see why. He is the perfect mix of charm and intensity, making him the perfect leading man for an action movie. The movie is actually his first leading role. His performance in The Transporter led to roles in other action movies like The Expendables franchise and Fast & Furious Presents: Hobbs & Shaw. Statham admitted that taking on the lead role in this movie was tough work. In an interview with Hollywood.com, he disclosed the preparations he had to go through to be worthy of leading the movie. "I knew what this role would entail beforehand. I knew what was ahead of me. I've been doing martial arts for many years, since a very young age and have been a competitive high diver for 12 years. So I got to use a lot of my own skills. It all came back to me very quickly. You have to focus and dedicate your time." "The scuba diving was pretty difficult, since I had never done that before. On my first dive, took me down into a dark cave. Then he turned off the flashlight and pulled off my mask–just to see what I'd do! In a dark cave under the water. On my first dive. [Laughs] That was a lot of fun." Sadly, Statham has since expressed disinterest in reprising his role in the franchise, according to Slash Film, saying: "You know what? It was obviously a great experience doing those films, and I would have loved to keep doing it. But they wanted me to sign on and do three more films without even seeing a script, and they offered me less money to do three than I'd get paid for one! So it was a business decision. I would have loved to have done it, but you can't really sign on without doing a script, and to sign on for three of them? And to get paid a pittance? I just couldn't see the value in that." Regardless of his business decision, everyone would still remember him as the original Transporter.
It has an outstanding cast
The Transporter features an all-star cast, including Shu Qi, Matt Schulze, and Francois Berleand. They all bring something unique to the table, making the movie that much more enjoyable. The composition of its cast is one of the many reasons why The Transporter is considered a cult classic.
It's written by Luc Besson
Luc Besson is a French filmmaker who is responsible for some of the most popular action movies ever made, including The Fifth Element and The Professional. He knows how to write an action movie, and that's evident in The Transporter. If you're a fan of his work, then you'll definitely enjoy this film. In multiple interviews, Besson has opened up about his process of making the first Transporter movie. In an interview with The BBC, Besson talked about how he came to cast Statham as the leading man in The Transporter: "I know Steve [Chasman]. He came to me and we spoke about Jason and how good he is physical, because of his background in martial arts and boxing. We had lunch together in Paris and after that I came up with an idea for a story and we put it all together."
The action sequences are some of the best ever put to film
The Transporter features some of the most impressive and well-choreographed action sequences ever put to film. From the famous car chase scene in the first movie to the spectacular fight scenes, there is never a dull moment.
It's a perfect example of a B-movie done right
The Transporter is the perfect example of a B-movie done right. It's over-the-top, campy, and ridiculous, but it's also a lot of fun. If you're looking for a movie to watch with friends and have a good time, this is the one for you. If you particularly enjoy movies that aren't too deep and full to the brim with action, The Transporter is the perfect film for you.
It's a great example of an international film
The Transporter is a great example of an international film. It was shot in France and features a French cast and crew. This gives the movie a unique look and feel that you don't see in many American films.
It has a dope soundtrack
The Transporter features a dope soundtrack, featuring some of the hottest hip-hop artists during its release. If you're a fan of music, then you'll definitely enjoy the soundtrack.
It's a timeless action movie
The Transporter is a timeless action movie. It's aged well and is still just as entertaining as it was when it was first released. If you're a fan of action movies, this is one that you need to see.