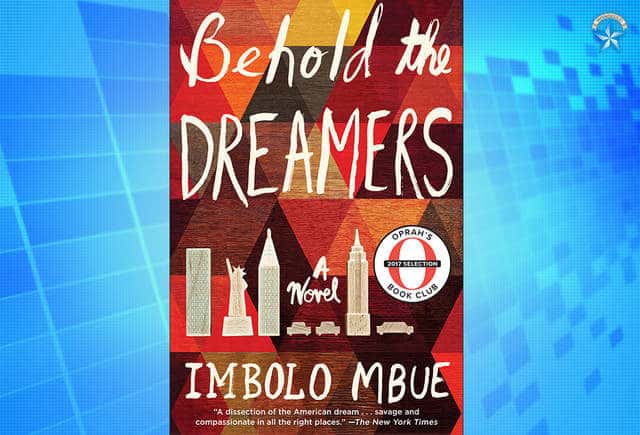 It might be easy for naysayers to assume that Behold the Dreamers has reached a place of success due to the support of Oprah Winfrey. Her philanthropic efforts around the world on behalf of marginalized people is widely respected. But the truth is that this debut novel by Imbolo Mbue has captured something distinct in the reading public, and it is that something which has propelled the book to popularity. Seven figures worth of popularity, in fact, and for Mbue; the 2017 PEN/Faulkner Award. She's the first African author to win this prestigious $15,000 award.
Returning to the theme of philanthropic efforts, it would seem completely appropriate to consider how this amazing novel might be cast for a movie which would harness the vision of the best professionals in the American film industry and the rising talents in Cameroon. In various interviews, Mbue has openly discussed her hopes that her book might someday reach readers in her hometown of Limbe, Cameroon. Though her novel has been widely circulated, as of August 2016, it has yet to be published in Cameroon.
The story has been reviewed as compelling, poignant, inspiring, intriguing and even "bighearted"; the latter by The New York Times Book Review. To dream on a huge scale, in accord with this novel's achievement, here's a dreamer's proposal for creating a movie based on the book:
A Collaborative Plan
Top of the line executives:
Executive Producer: Oprah Winfrey-Extensive producer credits, and certainly invested in the novel. Oprah says the story takes you on a breathless journey…
Director: Ava DuVernay-She has an extensive filmography and directed the recent film A Wrinkle in Time, starring Oprah Winfrey.
Assistant Director: Sahndra Fon Dufe- Cameroon born and CEO of African Pictures International, an Indie production house.
Cast a mix of talented individuals:
Imbolo Mbue should portray Neni. Imbolo is a stunning beauty, extremely articulate, and comfortable in her own skin while speaking with diverse interviewers. She has the character to act in the role and the magnetic personality to engage viewers. She had never written a book, yet had the tenacity to see it through and find a publishing avenue for it. Why not encourage her to add another skill to her considerable arsenal? This is one amazing woman! She holds a B.S. from Rutgers University and an M.A. from Columbia University. A resident of the United States for over a decade, she lives in New York City.
For the role of Liomi, Neni's daughter, how about Quvenzhane' Wallis, who recently was nominated for an Oscar for "Beasts of the Southern Wild"? She was the youngest ever in Oscar history to be nominated for the best actress category.
Nicholas Hoult could play Clark Edwards, the Lehman Brothers investor. Hoult played the Beast in the X-Men films, and his dark-haired good looks might suit the roll well. He's a rising young Hollywood actor to consider.
Dark-haired beauty Emilia Clark could play Cindy Edwards. Clark portrays Daenerys Targaryen in Game of Thrones. Paired with Hoult, the two would make a highly attractive couple, and wouldn't hurt box office revenues either.
Wouldn't it be great to explore the rising stars in Cameroon to audition for the remaining key roles? The film industry there is eager to promote its talent and country. BaretaNews, in an effort to promote the fledgling acting industry in Cameroon, publishes lists and photos of their top actresses and actors. Kamerpedia, the largest Cameroonian encyclopedia of culture, ranks them every six months using Cameroons Entertainment's ranking format for movies released during the time period, and based on Facebook votes. Here are the most recent results:
Top Cameroonian Actresses Courtesy of Kamerpedia:
Solange Yijika
Ade Kelly
Syndy Emade
Solange Ojong
Lucie Memba
Sende Bende
Adela Elad
Christa Eka
Nsang Dilong
Adel Dikana
Ruth Nkweti
Candylaurice Tanyisong
Malvis Ann Mohvu
Top Cameroonian Actors Courtesy of Kamerpedia:
Nkanya Nkwai
Epule Jeff
Cosson Chinepoh
Votias Otia
Alenne Menget
Ivan Namme
Desmond Wyte
Gelam Dickson
Pascal Moma
Valery Val Nchifor
Ala Leo
Libota Maco
Nkwah Kingsley
Neba Godwill
Eystein Young
For the major roles of Jende Jonga (Neni's chauffeur husband), Jende's cousin Winston (who helps him get the job with Edwards), Bubakar (Winston's immigration lawyer), Fatou (Neni's gay friend), Vince and Mighty (the Edwards' sons) and all the rest of the cast, the casting director would have choices in Hollywood and Cameroon. The entire production would become infused with the contrasts of culture contained in the novel.
Mbue herself has described the contrasting expectations, marital strains, financial crisis, racism, and difficulties of making life work as immigrants to America as themes which run throughout her novel. Her characters' differing perspectives give the story life. Selecting people from America and Cameroon to create an artistic movie based on her novel would ultimately benefit many. The legalities of including foreign actors and actresses would be hurdles to jump. But, the movie industry, if any, is expert at making things like that work. Ultimately, those sorts of problems merely mirror those in the novel. Life would imitate art. Why not?