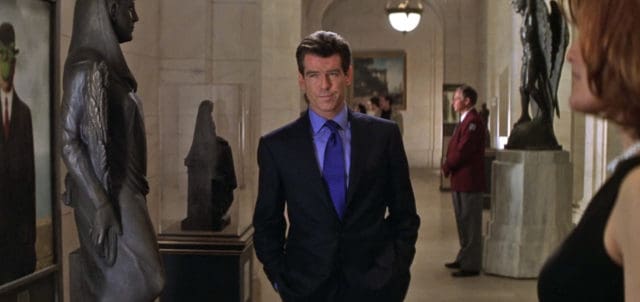 There might be one iconic and legendary role that actor Pierce Brosnan is known for, but he's proven that he has an incredible range when making an appearance on the big screen. As of late he's stuck to TV shows, but in his prime Brosnan was, and still is, a superb actor that has shown that he has enough talent to fit into most any role that is offered to him. Whether he's a favored character, a jerk, or even a villain you can't help but like him in some regard, simply because he plays the part so well.
Here are the top five Pierce Brosnan movie roles of his career:
Thomas Crown – The Thomas Crown Affair
Playing as the titular character, Brosnan is a bit cocky, a little arrogant, but in some ways completely justified in being this way. As Thomas Crown he's a rich, powerful individual that just can't seem to help the compulsion to get out and see what he can get away with. When he steals a priceless piece of art he's hounded by Rene Russo who, inevitably, ends up falling in love with him by the end of the film. Some people might think that being rich and influential might be their life's ambition, but for Thomas Crown it seems to be just another day at the office, or villa, or wherever he wants to go.
Stuart Dunmire – Mrs. Doubtfire
Brosnan isn't always the good guy. Of course in this film he isn't necessarily the bad guy, he's just the guy trying to horn in on Robin Williams' family in a slick and somewhat underhanded way. Some people might think there's no issue with attempting to hook up with a woman when she's just going through a divorce, but Brosnan's character comes off as more than a little opportunistic in this movie. Despite that, he plays it quite well.
Peter Devereaux – The November Man
As far as action goes Brosnan is no slouch, but as he gets older it's kind of easier to picture him in the role of the mentor, such as he's shown in this film, than the main attraction. Yet despite this fact he still manages to light up the screen in a manner that makes viewers nod as he executes one impressive scene after another. Age doesn't seem to matter when you're that smooth and that sophisticated.
Adam Lang – The Ghost Writer
Some films simply have star talent without ever making them the main focus of the film. In this movie it is shown as Brosnan enjoys a prominent position but is still not the star, playing second fiddle to the younger Ewan McGregor. Despite this fact his role is still powerful enough to help drive the main point of the film and play a perfect counterpoint to McGregor's performance.
James Bond – Goldeneye
Some of the brightest stars in the world have put on the suit and tie to play 007, with only a few of them having been the type of success that Brosnan has shown to be. His suave attitude, smooth way with the ladies, and the devil may care attitude have him pegged as one of the greatest James Bond stars of all time. Despite a run with a few less than admirable sequels, Brosnan has managed to shine in the role of the British spy with each line.
Conclusion
It's kind of difficult to find movies where Brosnan isn't as smooth, calm, and collected as he is in most of his films. In truth this is what makes his character most times, largely because he doesn't seem to panic easily, operates expertly under pressure, and is almost always able to recover from any situation.