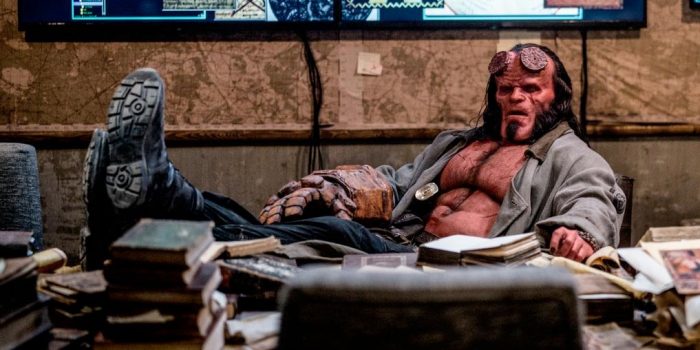 There seems to be a general consensus that the Hellboy reboot was so horrible that it doesn't deserve a sequel, but quite honestly there are those out there that disagree with this notion. It's very true that it didn't make the kind of money that the version with Ron Perlman did, but let's examine a few other factors, shall we? Eddie Makuch from Gamespot is pretty much in agreement with a lot of people that David Harbour's version of the red-skinned devil with the big right hand isn't quite as good as Perlman's, but without calling anyone out it seems that this is an unfair comparison. Not only are both actors entirely different in their approach, but they're also so different in appearance that it begs the question of whether or not people were upset with the attempt at realism over a more comical appearance. When you look at it, Perlman did a great job since he looked and sounded as though he stepped right out of the comics, while Harbour was a more realistic version of what Hellboy might actually be like if he was a real person. The overdone, comical look of the character was great back when Guillermo Del Toro first came out with him and fit the narrative as well as the overall look of the movie, but in this day and age pining for the nostalgic look of that long ago day seems kind of silly. People want realistic movies but at the same time they piss and moan about those that they deem as TOO realistic. The hypocrisy runs deep when it comes to the movies.
Julie Muncy of Gizmodo gives the best reason why a third Hellboy with Perlman never happened and possibly never will, because Del Toro has moved on from it and might never come back. Add to that the fact that Ron Perlman isn't getting younger, and there's really no way that Selma Blair could possibly perform in the same capacity as she did back then, and you've got an instant need for a new cast and a new movie altogether. It's true that this new version of Hellboy didn't make as much money, because heaven forbid something new come out, people might have to actually adapt and evolve to new ideas. But quite honestly, while I'm typically against reboots and remakes, this wasn't nearly as bad as some people want those around them to think. It was a lot bloodier, a lot gorier, and a lot more serious than the first two, no matter the situations that the characters were put in. There was less of a comical feel and more of a truly dangerous edge to this movie that fits a lot more with Hellboy since it brings the seriousness of the situation to bear rather than using every other moment to produce a happy little one-liner or quip that might appease the audience. This movie was in your face and unapologetic in a way that some movies need to be in order to get their point across, that they're here and they're for your entertainment.
Helen Armitage of ScreenRant wrote a while back that even David Harbour says there are no plans for a sequel, but the term 'plans' is highly subjective as many people should know by now. The inclusion of two characters we didn't get to see before, the fact that another character we were hoping to see shows up, kind of, at the end, and a post credit scene seem to indicate that there's plenty of material to go with. Plans are great and all, but they're not meant to be concrete most times since things tend to ebb and flow as they will in Hollywood, and Hellboy needs to be kept on the back burner for a while longer but not shelved where it can collect dust. The Blood Queen might not have been the best idea, or maybe she could have been represented better, but overall the fight scenes in the movie were well done, the dialogue wasn't the worst since listening to Ian McShane is always a great time, and the newly introduced characters were a lot of fun as well. Apart from all that, the cries of the fans that didn't care for it seem to be more pining about the fact that it didn't belong to Guillermo than anything. It's time to stop being petulant about movies and give credit where it's due since this movie wasn't horrible even if it wasn't a blockbuster.
A sequel is deserved if only to further the story that was pushed near the end, to give some form of continuation and open some eyes to why this version can still be entertaining. If nothing else it might introduce a new enemy or two that would that make up for the Blood Queen being kind of 'meh'.