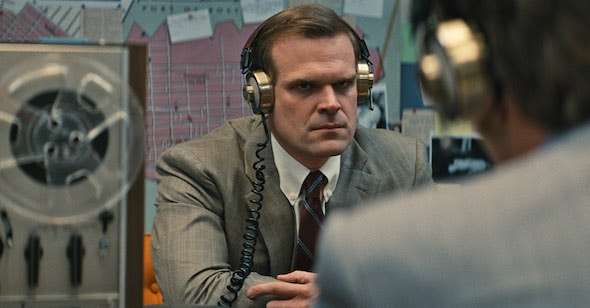 There's something about David Harbour that seems to preclude the type of roles he's asked to take on. He's proven that he can act and that he can do the job well, but there always seems to be that part in the movie that calls for a bigger guy with a block-like face that appears almost menacing in a way even if his character is the kind of guy you'd invite over for dinner. There is something in his demeanor that cries out for a serious role, and luckily he knows how to nail it without question. He's made the transition between TV and film quite well, and has shown that he has what it takes to pull off a character in a series. Sadly, his role on Stranger Things won't be on this list since it's a series and not a standalone film.
Here are five reasons why David Harbour is considered as one of the finest actors today.
5. End of Watch-Van Hauser
He's not really the nicest guy in this film, but he's a cop that knows how to do his job and that has been at it long enough to become more than a little jaded. It's easy to see how some cops might cease to be invigorated by the attempt to serve and protect their fellow citizens. Not everyone they meet up with is willing to deal with them, and some are actively trying to take them out. That kind of job takes a special kind of person to put up with, and it can cause a burnout rate that is unlike any other career.
4. Suicide Squad-Dexter Tolliver
Harbour's role in this film kind of comes and goes within the first act largely because he is one of the suits that make the big decisions but never really get their hands dirty. He brings up the question as to what might happen if beings like Superman are allowed free reign in their world without any accountability. This is what initially brings up the idea of the Suicide Squad, a small band of super-powered individuals that can be placed in check but still depended upon to do the dirty work of the government when needed. As a government sleaze he's quite skilled, which means his acting skills are on par with many others in Hollywood.
3. The Equalizer-Masters
Certain types of people just make my skin crawl, and those that turn on people that once depended upon them are among them. Masters more or less sells out to the Russian mafia as a type of informant and even accompanies one of their top enforcers to muscle out the Irish that have been doing business with the mafia for years. It's bad enough that the top enforcer has been sent to tell the Irish how things are going to go from now on, but Masters just makes the act even worse with his betrayal.
2. A Walk Among The Tombstones-Ray
Remember how I said Harbour looked like a devious character? As Ray he's downright creepy and more than a little intimidating. His size plays a big part of it, but the fact that he is also a very menacing character in the way he speaks and acts is another big part. He barely has to try to seem terrifying, which is a boon to someone in his profession, as it allows him to almost pick and choose the parts he wishes to play.
1. Black Mass-John Morris
This is about the weakest role he's had as of late. This isn't to say that he's a bad actor, not at all. Instead, it's to point out that as John Morris his crisis of conscience when dealing with noted gangster Whitey Bulger makes him an easy target of ridicule and even scorn. His character has little if any place dealing with gangsters, as it seems to make his stomach churn at the mere thought.
David Harbour's career seems to be on the rise, and for good reason. He can play a kind and caring man, but his greatest roles thus far seem to lean towards the serious and even menacing characters he's played.
Save
Tell us what's wrong with this post? How could we improve it? :)
Let us improve this post!