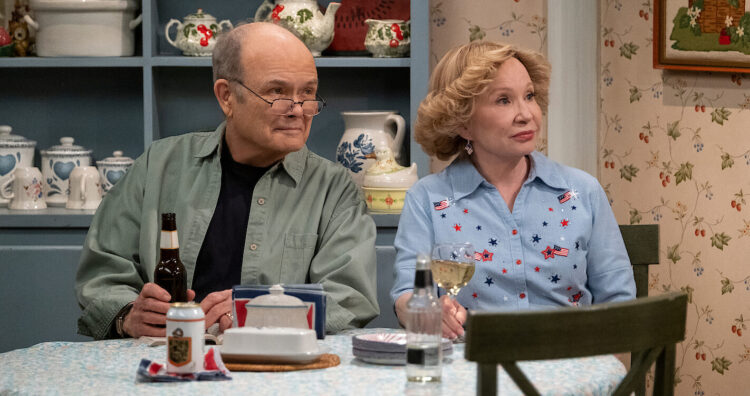 It goes without saying That 70s Show was a big hit during its time and created a fanbase that was loyal even through all the issues that might have come up during the course of the show. At one time it was even seen that another spinoff was attempted, That 80s Show, which didn't do as well as people were hoping it would. But years later, it would appear that we're getting That 90s Show, which is another nostalgic look back at the past that a lot of people are going to start looking at as a worthy successor, or another failure in the making. What could help is the fact that recognizable actors are coming back to this show since it's going to be a direct spinoff apparently. It sounds as though the main stars of the show are going to come back via guest appearances, but that the next generation will be driving the majority of the show along with Red and Kitty, who are also returning. But there's a reason why it might not be that much better of an idea than That 80s Show. Here are five reasons why That 90s Show might not be a good idea.
5. It already sounds like the same story set in the 90s.
There are likely going to be a few differences here and there, but it already sounds like Eric and Donna's daughter, Leia is going to spend a summer with her grandparents, Red and Kitty, and one can only imagine what's going to happen when she hangs out with the neighborhood kids. Given the different decades, there will likely be different discussions and there will be plenty of things to talk about, but it's also fair to say that the general feeling will be about the same. In a way, changing up the formula doesn't sound like something that those in charge would be interested in. But unless something changes, it's just the same old show in a different decade.
4. Does anyone really remember what the 90s were like?
A lot of people have been getting deep into nostalgia for years now since whether one wants to agree or not, the past is preferable in some ways since there were elements of it that were a little easier to handle than they are now. But the only real appeal of a show like this is that they're pulling the elements of the decade out and giving them more of a comedic lean to get a few laughs. But the 90s weren't exactly a tumultuous time in comparison to the 70s, 80s, or 60s. Truthfully, it might have been a better idea to make prequel series and depict Kitty and Red and how they got their start with Eric and his sister.
3. It's going to take a lot to invest in new characters.
Have you ever gone from one show to another and been just as invested in the characters in the next show as you were in the previous one? If you had then you might not invest too deeply. To be fair, some folks don't get too invested and that's their choice since it does make things easier when it comes to switching shows. But for fans that have loved That 70s Show for so long, it's fair to think that it might be a little tough to get into this show without taking their time. Some might be able to do so quickly since the original show has been over and done with for a while, but it remains to be seen how easy it will be.
2. It might lead to new spinoffs.
Leading to new spinoffs isn't that bad of an idea to be fair, but one has to wonder how many different spinoffs might be thought up and how many would actually see any movement. One of the worst things about spinoffs is that eventually, they do end up diluting the original show in a way that makes people forget what the main point of the show is. But really, this idea is more to point out that spinoffs can and sometimes do get a little too out of control. In that case, though, the worry over a spinoff is negated since if things don't go that well, it's bound to get canceled quickly.
1. The show should have been left as it was.
To be fair, the show wasn't bad as it was. But things have to evolve and adapt. That 70s Show was a lot of fun while it was still around and it was the type of show that could have been remembered fondly had the idea for a spinoff ever occurred. It feels naive to say that it shouldn't have happened in the first place, but given how the show went initially and how it ended, it does feel as though it should have been left alone. Who knows, maybe we'll be pleasantly surprised.