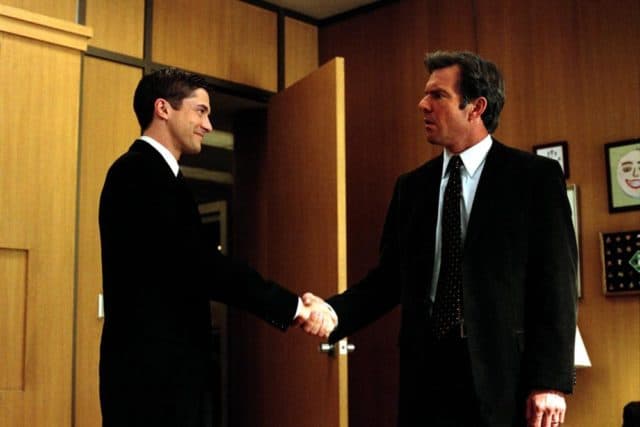 Topher Grace is an American actor who is best-known for playing Eric Forman on That 70s Show for a total of six seasons. Since that time, he has made a number of appearances in both movies and TV shows, but his career has never managed to reclaim the heights that he once achieved in the late 90s to early 00s. However, it is interesting to note that he is set to appear in five separate movies in 2017, though their combined effect on his career remains to be seen.
Whatever Happened to Topher Grace?
As stated, Grace is best-known for playing Eric Forman on That 70s Show. There, he was one of the main members of the cast, which provided his career with a significant boost because said TV show was one of the most popular comedies of its time. As a result, Grace went on to appear in a number of TV shows such as King of the Hill in 2003, Saturday Night Live in 2005, and Robot Chicken in 2005 as well as a number of movies such as Traffic, Mona Lisa Smile, and Win a Date with Tad Hamilton! In particular, it is interesting to note that Grace actually starred in some movies such as P.S. and In Good Company, which brought him a fair amount of positive attention in the form of acting awards.
In time, Grace decided that it was time for him to stop playing Eric Forman on That 70s Show so that he could start focusing on what had seemed to be a promising career in the movies instead. As a result, he left at around the same time as Ashton Kutcher, with the result that the TV show soon came to an end. With that said, it is interesting to note that the two did show up in the series finale, which was set on the final day of the 1970s.
Regardless, Grace's movie career did not turn as expected based on his previous successes. He played Eddie Brock AKA Venom in Spider-Man 3, which was a financial success but met with a mixed response from the critics, who often cited that it attempted to do too much with too little time. Something that becomes much more understandable when one remembers that it had not one, not two, but three separate villains, meaning that none of them got the chance to shine with the limited time that was available to them. However, Grace has not had a particularly notable role since that time, though that is not the same as saying that he has not worked since that time.
For example, Grace appeared in both Valentine's Day and Predators in 2010, which were followed by a slew of roles from 2011 to 2015. Likewise, he has continued appearing in TV shows since Spider-Man 3, with examples ranging from The Simpsons in 2008 to The Muppets in 2015.
Where Is Topher Grace Now?
Grace has five movies scheduled for release in 2017, ranging from War Machine to Delirium. Said movies encompass a wide range of genres, with Grace having important or at least semi-important roles in all of them. With that said, he has been playing movie roles the entire time, so it remains to be seen whether these roles will be the ones to finally bring him back into the spotlight in a big way.
Tell us what's wrong with this post? How could we improve it? :)
Let us improve this post!