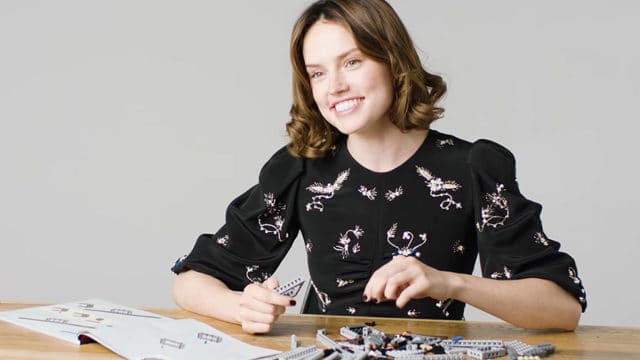 As if you needed another reason to love this woman, Daisy Ridley is now shown putting together the Millennium Falcon while answering Star Wars questions. Now do we believe that she put this thing together in five minutes while taking time out to answer questions? Hmm, not too sure, but it's interesting to think that she could. Honestly I can't help but like this young woman just because she's that good of an actor and one of the new faces of the Star Wars franchise. So yeah, she's awesome, and nothing anyone's going to say is going to change my opinion of that. Plus, have you ever tried to put the LEGO Falcon together? It takes a while unless you're following the instructions step by step and know just what you're doing.
You could argue that just because she has scenes filmed within the Falcon that she doesn't know it top to bottom, but that would be arguing that she's not an attentive person. She might not have a spatial layout of the ship in her head to go on from memory, but the chances are good that she's seen the ship enough times by now to know what it's supposed to look like. Plus I get the feeling that she can handle directions just fine so there's that too.
It's going to be interesting to watch Rey's development in this coming movie and see just how far she'll go to get the answers she needs. It'll also be interesting to see what guidance Luke Skywalker gives her since at some point it seems as though she's going to be facing Snoke and Kylo at once, but with no Luke in sight. Does that mean she learned what she could from him and then left? Will Luke train her and then let her go? It's a lot to take in since a lot of us are in undiscovered country at the moment thanks to Disney. The canon being switched around in this manner has left a lot of Star Wars fans reeling since a lot of us have probably read the books and were hoping that they would be the basis that Disney would use.
The Expanded Universe could have easily included the current characters with some tweaking and adjusting, but apparently Disney needs to flex their muscle and declare everyone else's way wrong while theirs is right. It's produced a great movie so far and looks like it will do the same with The Last Jedi, but the idea of it still rankles a few people. Yes, I'm raising my hand, but only because the universe that was described in the books was just as richly diverse.
What's been done is done though and is now canon, so it's time to move forward with it and enjoy the characters we're getting. I do believe there's a rematch coming in The Last Jedi, or at least some face off that should occur between Kylo and Rey. She did best him after all with no training and no awareness that she even had any Force abilities. He might need to challenge her just to assuage his pride.