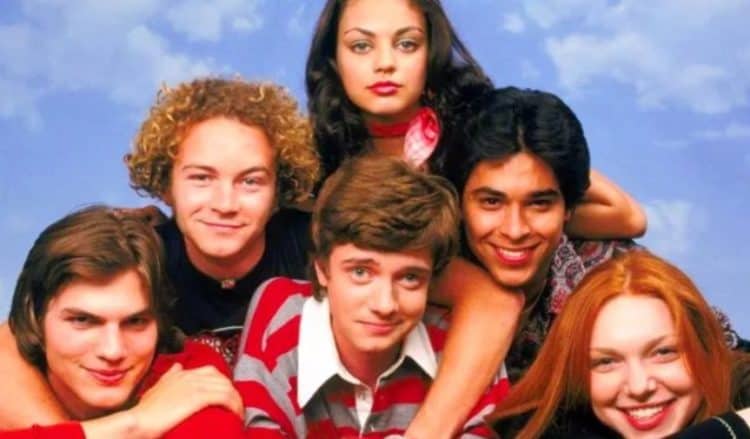 That 70s Show was a popular sitcom that ran on the Fox Network from 1998 until 2006. During the eight seasons and more than 200 episodes of the show, many different characters came and went. Fans basically fell in love with the show itself because it showcased one of the most widely depicted and influential times in American culture, the 1970s. In addition, it was genuinely funny. There were serious moments, to be sure. However, the overwhelming vibe during the sitcom's entire run was humorous, jovially poking fun at some of the things that were commonplace during the 1970s.
About the Show
If you've never seen the show yourself, you might be wondering what it's all about. Imagine a classic 1970s era sitcom like The Brady Bunch, coupled with edgier options such as Modern Family. If the two of them were to have a love child, it would probably look something like what you would see while watching That 70s Show. In short, it was about growing up during an era where virtually anything was in, including protesting, rebelling against parents and of course, smoking plenty of weed. In reality, it's meant to be something of a parody. It often depicts with some level of accuracy the types of lifestyles that people lived during that particular era. However, there is always a bit of sarcasm in the background, which is essentially what makes the show funny. Perhaps you're already a big fan of the show, in which case you don't need anyone to explain to you why it was so popular or why it ran for so long. If you haven't seen it and you're looking for an opportunity to do so, you might be wondering where you can find it online. Surprisingly, it's really not that easy to find it, despite its initial popularity.
It Used to Be on Netflix
It's true that the show used to be on Netflix, but that hasn't been the case since the end of 2020. At that time, the show was removed from Netflix in its entirety with little or no fanfare. This caught many fans unaware, and it also left them wondering where else they could find it. Apparently, the reason it was removed was because it was time to renew the licensing agreement with the studio, something that Netflix ultimately chose not to do. When it was removed from Netflix, it sent some fans into a panic and left others believing wholeheartedly that it would soon be picked up by other streaming services. This makes sense. After all, it's hard to imagine that a show as popular as this one wouldn't be widely available. This is especially true when you consider the sheer number of streaming services that exist these days. You would think that you could find it and virtually anything else you would ever hope to find, no matter how obscure it might be or how long ago it might have originally aired. The truth is, that is not always the case. In fact, there are many times when you simply can't find something on any streaming platform, no matter how hard you try. By the same token, shows don't always make it to DVD. This essentially means that they fall through the cracks and end up in obscurity. In some cases they are never to be seen again. Fortunately, that isn't quite the case with this particular series, although it may feel that way at times.
Where Can You See It?
Even though the show isn't streamed on Netflix any longer, you do still have an option available to you as far as streaming goes. It may not be the one you want, but at the present time, it is the only streaming option available. If you want to see it in digital format, you will have no recourse but to purchase individual episodes on Amazon Prime. It doesn't cost much to purchase the episodes that you're interested in, although it could add up fairly quickly if you really are a dedicated fan who wants to build a collection with each episode in the series. After all, there were approximately 200 episodes, as previously mentioned. Unfortunately, the show is not available through Amazon's streaming platform that is available to all prime customers without paying an additional fee per episode. That may change in the future, but no one knows for sure that the series will become widely available again.
Other Options
There is one other option available to those individuals who either don't have a decent internet connection to stream anything on Amazon or who simply don't want to pay for access to each individual episode in digital format. This is understandable, especially when you consider the fact that basically anything that appears in digital format can potentially be removed at any time with little or no advance warning. Even if you pay for something, it can still be taken down by the service that put it up in the first place. This essentially leaves you with nothing to view and no way to recoup the money that you spent. That's not a big deal if you've only spent a few dollars, but if you've worked to build a library with every episode of this series and you've paid for each episode individually, you could be talking about a rather significant amount of money. Fortunately, you can purchase a box set of the series on DVD, giving you full control of when you want to watch the show without worrying about it just disappearing. Of course, it may be more or less economical to take this route than to pay for each episode on Amazon, depending on where you find the box set and how much you're willing to pay for it.
At the moment, those are essentially your only two options. Who knows, maybe you'll get lucky and find reruns on some television network and you can record those at will. Otherwise, you're left to decide whether it's in your best interest to purchase the box set or buy individual episodes through Amazon. Until something changes and the show is added to more streaming platforms, there isn't much else that you can do.