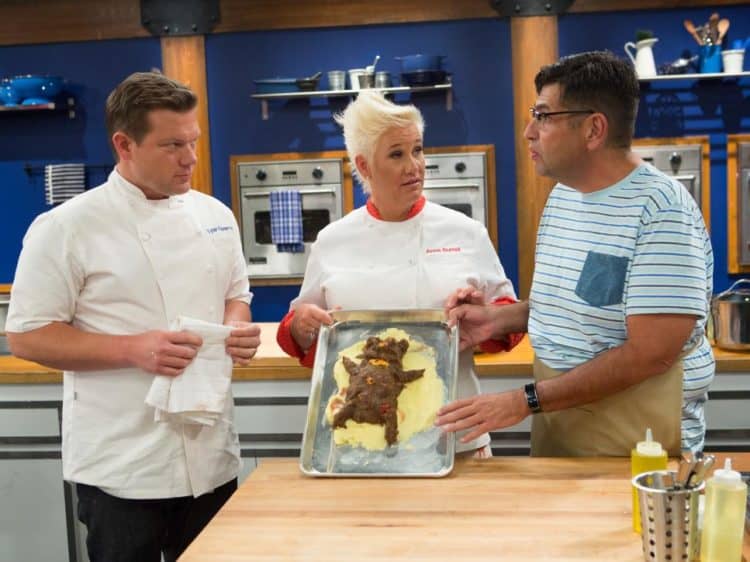 The Food Network is celebrated by foodies throughout the world, for their programs which bring us the best and the worst cooks in America. In fact, they even have a show that is titled "The Worst Cooks in America" and it has a huge fan base. If you haven't tuned in yet, it's a show that teaches us all some valuable life lessons. Bobby Flay and Anne Burrell are two of the top restaurant chefs in New York City and they host a competition which brings the worst cooks in the country together to compete for a $25,000 grand prize if they can master selected cooking skills by themselves and prove that they made the best progress in becoming a good cook. The contestants are divided into two teams with Bobby heading the Blue Team and Anne leading the Red Team. It's an elimination contest that is exciting to watch, and here are five important lessons that the show teaches us.
1. Reflection is key when learning a new skill
Throughout the competition, the contestants reflect upon their skills when they first enter the show. They track their own progress and share what they have learned along the way. Some learn by watching others and some by experimenting and taking a chance. It's vital that one takes stock of their skill level when starting a new venture, and then remains open to learning new things, acknowledging shortcomings and taking steps to improve. It means you have to be willing to stretch your wings and move beyond your comfort level. If what you're doing isn't working the first time, then change it up, but make notes along with way so you can see what you're not doing right and apply a different strategy. It's like that with almost everything that we attempt in life, whether it's cooking or gaining new job skills, or even improving our interactions with others. Reflection is key.
2. Learning a new skill can change your life
We see some of the worst cooks in the country featured as contestants on the show. Their inability to prepare an appetizing, tasty and nutritious meal not only affects them, but it also has an impact on their friends and family who endure their attempts at meal preparation. Learning this one new skill, which is properly preparing a three-course meal can have life-changing implications. The first is that friends and family will have greater respect for your abilities. They won't dread coming over for dinner or lunch if they realize that you actually know what you're doing. Your social life can improve drastically with the addition of this one skill. When you learn how to cook a decent meal, those who once made fun of your efforts have nothing left to say to give you a hard time, that is, unless they want to dredge up the past. On the show, the contestants are such poor cooks that it does evoke an element of humor and some of them are so awful at it that it's impossible to hold back the laughter, so learning how to cook can help your self-esteem when you're no longer the laughing stock of the family.
3. Just a few simple changes can make all the difference
Even the worst cooks can transform a collection of the right ingredients by following a few simple rules. Bad cooks just don't know how to prepare foods in the right way, nor which ingredients to combine for the best results. For example, cooking bacon at a heat that is too high results in charring on the outside and raw centers. Cooking for longer at a lower heat, and turning it at the right time can result in perfect bacon. Perfect hash browns can be accomplished by grating the potatoes then rinsing away most of the starch in a colander with water prior to cooking them over medium-high heat, then flipping them when they're the perfect golden brown color on the bottom. It only takes gaining knowledge about how to prepare a dish perfectly, then applying it to become a good cook. This is a concept that we can apply to other areas of our lives if there are things that we need to improve. Keep the habits that work, and don't throw the baby out with the bathwater, but change the things that don't work, keep trying and never give up.
4. You can learn what not to do on the show
When you're tuning in to "Worst Cooks in America," you might see some of the contestants making the same mistakes that you've made in your attempts at cooking. This is actually a good thing when you see how it can be corrected. The lesson that can be learned here is that you can see the mistakes being made along with the results and then use deductive reasoning to figure out how to do it differently. There's a lot to be said for learning from the mistakes of others.
5. Anyone can learn how to become a good cook
If you're currently the butt of your family's jokes because you've made a few glaring mistakes in meal preparation, welcome to the huge club of awful cooks. This doesn't mean that you cannot improve on your current skill level. There may not be a $25,000 prize at stake, but the gratitude of your friends and family, along with the sense of pride and self-satisfaction you'll achieve from learning how to make great looking meals that actually taste good are some pretty decent rewards. If you're serious about it, you can also learn how to cook but you need to apply yourself and find a good coach. There are also plenty of free resources online, and watching the Food Network can give you some of the best tips and pointers on how to cook like a professional chef.
Tell us what's wrong with this post? How could we improve it? :)
Let us improve this post!