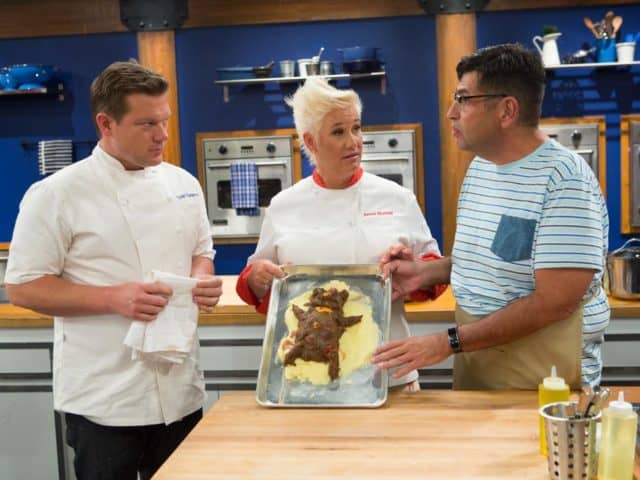 Have you watched Worst Cooks in America yet? Well, if you have, good. If not, here's a little background on the show that's taking the cooks of America by storm. It's a reality TV series on the Food Network that premiered back in January of 2010. On the show, there are 12 to 16 contestants but they actually call them recruits. They have horrible cooking skills and go through culinary boot camp, trying to win a $25,000 cash prize plus a Food Network cooking set. Now, if you have seen it, you may think that you know just about everything there is to know about the show, but here are a few things you might not know:
Bobby Flay Restaurateur
Many have watched Bobby Flay on Worst Cooks in America but did you know that he owns and is the executive chef at a number of restaurants? They include Bar Americain in New York, Mesa Grill in the Bahamas and Las Vegas, Gato in New York, Mohegan Sun in Connecticut, and Bobby Flay Steak in Atlantic City, as well as 19 Bobby's Burger Palaces in 11 states.
Celeb Guest Appearances
Celebrities seem to love appearing on the show. Some of the many celebrities who have appeared on Worst Cooks in America include Barbara Eden from "I Dream of Jeannie", Tommy Davidson from "In Living Color", Mindy Cohn from "Facts of Life", Mike "The Situation" Sorrentino from "Jersey Shore", and Dean Cain from "Supergirl".
Celebrity Chefs
They probably need no introduction but in case you don't know all of their names, they include Rachael Ray, Anne Burrell, and Bobby Flay. Rachael is probably best known for her healthy lines of pet food and her popular cookware line in addition to this show and her own cooking shows. Anne Burrell is best known for her own show that she hosted from 2012 to 2013 called Chef Wanted with Anne Burrell. But, did you know that she was also an instructor until 2007 in New York at the Institute of Culinary Education? And, did you know that Bobby Flay appeared on the hit show "Entourage". He played himself and was dating Ari Gold's estranged wife.
Hollywood Goes to Boot Camp
They're stars on TV, movies, and on the web but definitely not stars in the kitchen. That's why they had to go to Rachael and Anne's Boot Camp. Who are they? Well, none other than the lovely Carmen Electra for starters. And, do you remember Ponch from "Chips"? Yes, that's Erik Estrada going to cooking boot camp, too. Others include the beautiful Vivica A. Fox, social media influencer Perez Hilton, the Emmy-Award winning Carson Kressley, "The Bachelor"s Sean Lowe, Melissa Peterman from "Reba", and more.
Judges
The judges on Worst Cooks in America have included:
Season 1- Beau MacMillan
Season 2- Robert Irvine
Season 3 thru 5- Bobby Flay
Season 6 and 8- Tyler Florence
Season 7 and 9 thru 11- Rachael Ray
Season 1 to present day- Anne Burrell
Here's one very special thing that this show does for anybody who ever felt bad about their own cooking skills (or lack of them). If you're one of those people, just remember this. None of your loved ones ever nominated you as a contestant on the show Worst Cooks in America, so how bad could your cooking possibly be? So, just open a nice bottle of wine, kick back, put your feet up, and start watching the next hilarious episode of Worst Cooks in America. One warning though, and that is that you should definitely not try any of what you see on the show at home.
Tell us what's wrong with this post? How could we improve it? :)
Let us improve this post!