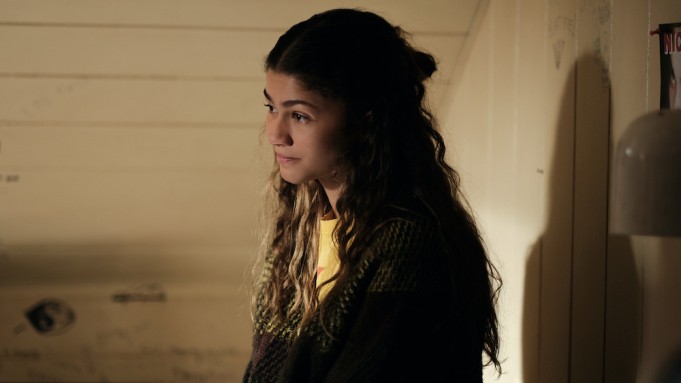 Oh ma'am, I can already hear these comments. Nonetheless, I felt the need to break my (relative) silence on this, since Euphoria has become a crown jewel in HBO's collection of incredible original programming. Don't get me wrong, Euphoria has moments of real genius and authenticity (please see Cal's monologue in Season 2; Eric Dane is ACTING), but I can't help but feel it's not as progressive or representative as the fanbase insists it is. Here's a quick Season 2 Spoiler Warning! I'll also be making some comparisons to HBOMax's genera+ion, so if you haven't seen that, beware potential spoilers. Now, let's get into this drama.
Alright, let's start with my main problem; representation. This show is supposed to take place in a Los Angeles public high school; LA being one of the most ethnically and culturally diverse cities in America. It's akin to NYC, a melting pot of different classes, ethnicities, and cultures. Having said this, all but two of the main cast of this show (Zendaya and Alexa Demie) are white or white-passing. I find it really hard to believe that in LA, in a public high school, there's not a single Asian or dark-skinned Black person in this group of friends. You're telling me that in the second-largest city in America, there's no POC at this high school? Anyways. The lack of POC is really shocking, especially since Sam Levinson just decided that McKay wasn't going to be on the show anymore (even when he had a really interesting and unfinished story arc; more on that later). Not to mention, this show is heralded as one of the most progressive programs on television right now, tackling sexuality, substance abuse, and complicated relationships with a modern lens. It seems like a disservice to present these issues through a white-dominant lens, showcasing an overwhelming majority of white actors. It effects the way that stories are told, removes nuance from storylines that could have benefitted from inclusion and diversity, and leaves POC out of the narrative completely. That's not progressive to me. It's a performative and watered down version of the real and authentic diversity that exists in spaces like the one they are trying to recreate.
In the same vein, let's move on. Jules has been a controversial character for a while now, dividing the fanbase. Beyond the fact that Sam Levinson is trying to force Rue x Jules down our throats (please, let that go, they were so toxic for each other), Jules Vaughn is a very slim portion of the transgender population. She's a conventionally attractive, white, blonde hair, blue-eyed, slim woman who (in my opinion) is cis-passing. Hunter Schafer has been on the modeling scene for years now, and she is extremely talented at that. She can stomp a runway like very few can, and the inclusion of her in high-profile fashion shows is important visibility for trans models. That being said, if you want to tell a story about the difficulties that trans people face, especially young trans people (specifically, high school kids), picking a skinny white woman who is cis-passing maybe isn't the first choice I'd go for. Many young trans people, especially those who haven't been able to have surgical intervention, struggle with not cis-passing. Palatability of trans people is a huge issue right now in society, as most trans people don't fit into the ridiculous box of 'conventionally attractive and cis-passing'. Instead of creating a character that embraces the hardships of being a trans teenager, we get Jules Vaughn. To viewers who don't know much about the trans community, or have reservations about the trans community, Jules is a very comfortable choice for them. I think that the structure of her character is a disservice (not only to trans POC, because that's a whole other thing) to trans teens. Her story is a very small fraction of the trans community, and is oblivious to the problems that many trans teens face in the real world.
In contrast, genera+ion shows a diverse catalogue of characters from all different races, ethnicities, backgrounds, creeds, and classes. Say what you will about genera+ion, it has its issues, but representation isn't one of them. Not only does it tackle all of the aforementioned topics with nuance, it also shows off characters who aren't cis-passing or committed to binary gender (which is ridiculously rare in popular media). Euphoria isn't committing some sin by not including people who aren't cis-passing/binary, this already happens in most other shows that herald themselves as 'progressive'. But let's also not pretend that Jules' storyline is doing wonders for the trans community when its a very limited and white-centric view on trans issues.
Lastly, let's tackle Sam Levinson's writing (specifically, the hot mess that was Season 2). First of all, he completely abandons multiple storylines from Season 1. It's a choice, but I feel like we missed out on some really good arcs. Specifically, McKay's sexual assault arc. As a man of color, there's a lot of meaningful commentary that could've been had about toxic masculinity in the Black community, and him coming to terms with/healing from his sexual assault. This would've been something we really haven't seen before in mainstream/popular media; and it could've shed light on an issue that doesn't get brought up very often. Secondarily, where did Kat's storylines go? We get some weird callback to her cam girl story in Season 2 (for literally 15 seconds), and it's never revisited. As a plus-size woman who was owning her sexuality and exploring the sex work industry, this could have been a progressive and interesting take. Often, when we see sex work in popular media, it's with straight-size individuals. It would've been nice to see a plus-size woman winning in sex work and owning her sexuality (as plus-size women have been made to feel like asexual beings in popular media). And I may not know everything about every community I touched on above, but I am a fat woman. Kat's storyline in Season 1 spoke to me, and provided a lot of contrast to the typical portrayal of fat women and our sexuality (or, lack thereof).
Regardless of how you feel about Euphoria, I can't go without mentioning that it's a modern take on American teens and Gen Z. While it may not be pushing the envelope and offering the progressive narratives it claims, it's still a quality show with some authentic moments (see Zendaya throwing her whole body into a door, that was physically shocking). Let's just not pretend its something its not. There's nothing wrong with following the crowd, and regardless of the authenticity, Euphoria tells stories about young people who are dealing with some real tough stuff; which is always welcome in my book. And if it makes even one person feel less alone, then it's worth watching and keeping production going.Euphoria
Tell us what's wrong with this post? How could we improve it? :)
Let us improve this post!