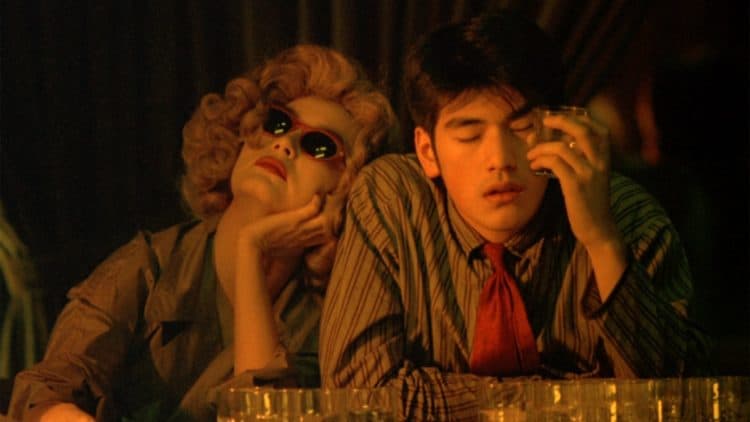 When you think of Hong Kong cinema, there are a few names that immediately come to mind. Namely, Wong Kar-wai. Wong's films have been praised for their unique visual style and for their unconventional portrayal of love. His best-known works are Chungking Express (1994) and In the Mood for Love (2000), both of which were ranked at No. 4 on Sight & Sound's Greatest Films of All Time list in 2002. Wong Kar-wai's cinema is a must see. His films are about life, love, and memories. He captures the essence of the human experience and what it means to be alive. His work is a reminder to treasure the moment and live in the moment. Here are five must-watch movies of Wong Kar-wai that showcase his outstanding work as a director.
Chungking Express
Chungking Express is a 1994 Hong Kong film written and directed by Wong Kar-wai. The film consists of two separate stories of love in the modern, fast-paced world. The first, "Chungking," tells the story of Cop 223 (Tony Leung Chiu-Wai) who falls in love with the mysterious woman he encounters during his nightly rounds at Chungking Mansions. The second, "Express," relates the story of an unrequited love set against the backdrop of one day in Hong Kong. One of Wong Kar-wai's most prominent films, Chungking Express recieved generally positive reviews from critics. Roger Ebert expressed worry that the movie's style might not be relatable to the casual moviegoer: "When Godard was hot, in the 1960s and early 1970s, there was an audience for this style, but in those days, there were still film societies and repertory theaters to build and nourish such audiences. Many of today's younger filmgoers, fed only by the narrow selections at video stores, are not as curious or knowledgeable and may simply be puzzled by "Chungking Express" instead of challenged. It needs to be said, in any event, that a film like this is largely a cerebral experience: You enjoy it because of what you know about film, not because of what it knows about life."
In The Mood For Love
In the Mood for Love is a 2000 romantic drama film written and directed by Wong Kar-wai. The story concerns two people who are vaguely familiar with each other and how their lives become intertwined. It is set in 1960s Hong Kong, at the time of the 1962 riots, which form an important backdrop to the film. The film consists primarily of scenes of daily life, punctuated by brief moments of dialogue, with no action scenes or violence. The soundtrack mainly features music from that era including jazz standards such as "Blue Moon" and George Harrison's solo song "Something." In The Mood For Love often finds itself on lists of greatest movies of all time, sharing the spotlight wiht history-making movies like Orson Welles' Citizen Kane and Akira Kurosawa's Rashomon. The Guardian's Peter Walker wrote that the movie is his favorite: "Deliberately limited in scope, the plot, supposedly worked out over a year of part-improvised filming, is hugely clever, not least for what it leaves out. We never see the cheating spouses, just feel their impact. The few other characters – mahjong-mad landlady Mrs Suen, Chow's buffoonish friend Ah Ping, and Su's philandering boss, feel abrasively coarse against the lead pair's quiet grace. Chow and Su's relationship, in particular, is wonderfully ambiguous."
Fallen Angels
This 1995 film is a darkly romantic crime drama set in Hong Kong. It features two interconnected stories of gangsters in the 1970s and 1990s, with the same two actors playing both roles in different decades. The protagonist is a mobster in love with his boss's girlfriend who was involved in a robbery gone wrong. The film showcases Wong's signature style of shooting lengthy scenes without cutting. He also uses non-linear storytelling which leaves viewers to piece together the story themselves. In an appreciation post by Slant Magazine of Fallen Angels, they wrote about the underlying theme of the movie: For all its youthful stylistic brashness and crisscrossing plots, though, one of the major themes of Fallen Angels is the idea of moving on, or at least trying to do so: moving on from an unfulfilling job, in the case of Leon Lai's assassin-for-hire; moving on from a broken heart, in the case of Michelle Reis's personal assistant; and especially, moving on from a slacker's existence, in the case of Takeshi Kaneshiro's mute He Zhiwu."
Happy Together
Happy Together is a 1997 romantic drama made by Wong Kar-wai. It tells the story of two lovers, played by Tony Leung and Leslie Cheung, who are reunited after years apart, only to find their love has gone stale. The film was shot entirely on location in Hong Kong with a reported budget of US$3 million. In a tribute to the film, Asian Movie Pulse wrote that keeping an open mind is necessary to completely absorb Happy Together. "There are many possible readings for this film, with Wong himself stating that the title refers to one coming to "peace with himself" before looking to the future. However it is interpreted, this is a film that needs to be watched with an active mind, or one is simply left with a plotless romance of make-ups and break-ups."
2046
2046 is a 2004 science fiction film written and directed by Kar-wai. The title refers to the apartment number of the character played by Faye Wong. It is also a pun on the Chinese word for "double" (which sounds like "2046") and the phrase "a long time." The movie is set in three different timelines: one in 1997; one in 2031; and one in 2046. In 1997, we see Chow Mo-wan (Tony Leung) visit a city named Wan Shou Chun (based at Shenzhen). The future scenes show his life after leaving Hong Kong following its handover to China in 1997. He meets Su Li-zhen (Faye Wong), who appears to be from Taiwan, and they spend some time together before she leaves without explanation. We then follow Chow back into his history: his failed love affair with Bai Ling (Zhang Ziyi), who becomes a successful actress, and his relationship with both May (Carina Lau), who does not appear for most of this timeline and later disappears, and Su Li-zhen when they meet again much later on.
Tell us what's wrong with this post? How could we improve it? :)
Let us improve this post!