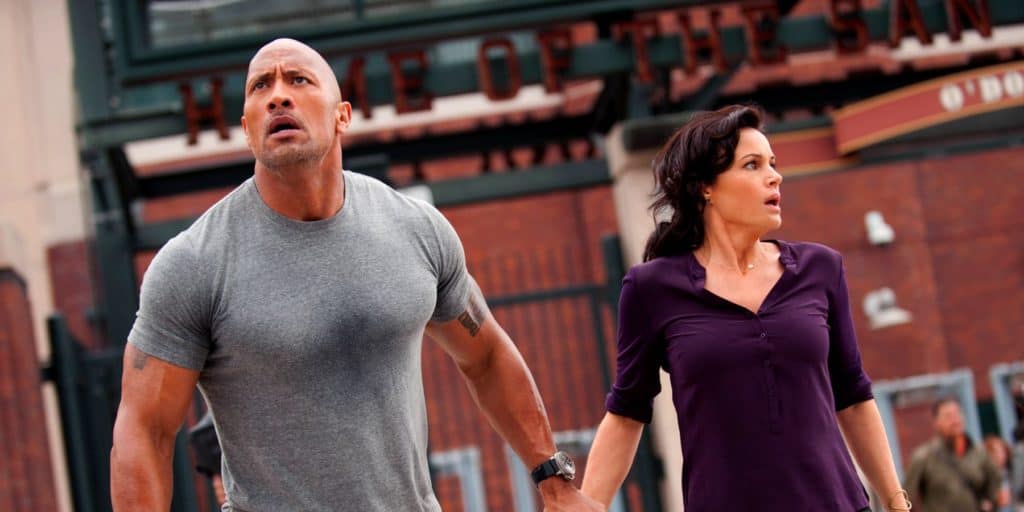 There does and there doesn't appear to be a great way to bring this story to life since one of the most obvious things that people might say is 'okay, the earthquake happened, now what?'. Some people survived, a lot of others didn't, and some of the most amazing but improbable and likely impossible things happened because this action/disaster movie had a script that dictated that those things WOULD happen. It was a way for Dwayne Johnson to bring to life a movie that was banking heavily on his star status and the fact that people do still like disaster movies despite the fact that things like this tend to hit closer to home for some folks than they would actually care to admit. One might think that a movie about a horrific natural tragedy might be enough, but to go back for a sequel almost feels like it could get a little too real since the idea could be that with a sequel one would have to face the devastation and overall despair that people would likely be feeling in the wake of such an incident.
It could feel a little too real if things aren't handled just right, in other words. But that's the benefit of the movies, a person can go, watch, and then be confident in the knowledge that most of what was put on the screen is entirely made up, and their world isn't about to crumble around them. The reality is that that the actual San Andreas fault line is in fact quite long and could cause a number of disasters if anything ever did shift in the wrong way. This is what a lot of those who love to rile people up tend to report on since disaster and danger are a big part of what people enjoy hearing somehow, even if they claim that this isn't the case.
Some might even think that it's perverse to make a movie based on such a possible tragedy, but as it's been proven more than once, people do love tragedy, sometimes more than they love a triumph. But wondering how this is going to happen is kind of just the half of it since while Dwayne Johnson, the biggest star in the movie and the guy that believes that there's a great idea to bring this movie forward, has a lot of faith in it, there is still the idea that a lot of people are going to be wondering just why a sequel is needed. It's bound to be seen as a foolish question no doubt, especially since a lot of people would be willing to sit down just because it's Johnson and possibly his two female costars, Carla Gugino and Alexandra Daddario. But at the same time, playing devil's advocate is necessary since the whole plot and storyline of the movie is something that feels as though it might be excessive, if only because most disaster movies take people up to the point of the disaster and the fallout that's seen months or years after. The thing is, that tends to happen in the same movie, a lot of disaster movies don't tend to make a sequel to explore the world as it sits after the disaster has happened.
Johnson is apparently quite positive that this can happen and that it will be on the way eventually, but there's one thing that is bound to keep it from happening for a while, and that's the fact that scheduling could be an issue. At this time the scheduling conflict has to do with the number of different projects that he has lined up, as well as the fact that getting everyone back that was still there by the end of the movie could be an issue as well. People are busy, that's a fact, and if this does happen it's likely that we won't see this movie until close to the next decade unless something can be done to streamline the process just a bit. There's still the idea that San Andreas 2 probably won't make as much as the original movie simply because for one, sequels don't always surpass the original, and two, the whole idea of a sequel for this movie is, well, not quite as enticing.
To be fair, a lot of disaster movies haven't been that enticing for a long time, and the fact that San Andreas did make its budget back and find success has more to do with Johnson's star power, along with his costars, that anything else. If the sequel does eventually come out and if it is successful then I'll be one of those that will gladly eat my words. But that's a lot of ifs that are being stewed in a great deal of uncertainty. You never know, it could happen.