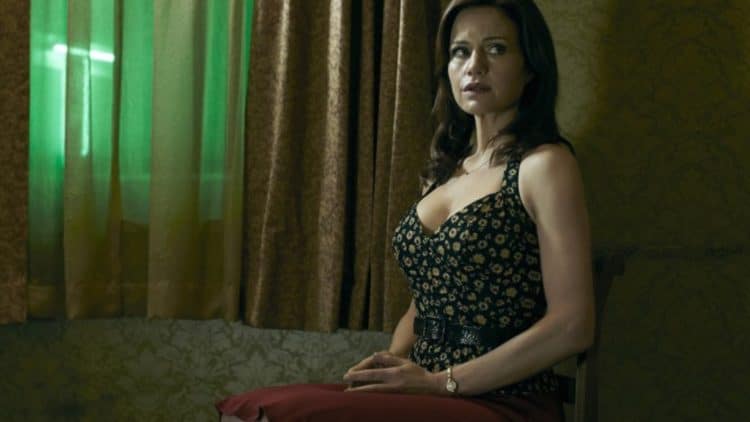 Carla Gugino is honestly one of those individuals that you find yourself getting used to when she shows up for a lengthy period of time or for a movie that's lauded as something special, but then she seems to disappear the moment you really start to like her. That's not entirely accurate since she never really goes anywhere, but she does take on roles in films that will at times kind of hide her from the public simply because they're independent films or because she's more of a bit-player and isn't meant to be seen as much. But when she does come out in a movie she's very noticeable and she's always welcome since she brings a bit of class to the movie she's in largely because she's just that type of person. She's been in roles that have been less than complimentary to her current status but she's always played them up to the best of her ability. In that manner she's someone that you know can be depended on for a role.
Here are a few other things you might not have known about Carla.
10. She had to have a kidney operation when she was just 4 years old.
There's not a lot of information on this but it would seem that such a surgery on a child would be kind of risky since the amount of anesthetic needed would have to be regulated constantly and dialed down quite a bit so as not to send the kid into shock or create some other negative reaction. At least that's what it seems like to those of us that don't have a medical degree.
9. Carla was considered too short to be a runway model.
She did manage to do some modeling but at the same time it seems that she wasn't able to walk the runway due to her height, which is kind of funny considering that the average show seems to feature an elevated runway where people look up, meaning that unless a person was less than three feet tall it shouldn't have been an issue. Ah well, that's modeling.
8. She was valedictorian of her high school.
Carla is a rather smart woman as this would indicate and from what she's said about being mature for her age it could be that she's what would be called and 'old soul', someone that lives in this current era but seems to react to the world around them in a manner that is more suited to a different decade.
7. Carla turned down a role in The Pacifier.
She turned down the chance to be Vin Diesel's love interest, and superior officer if you recall the film, to star in Sin City opposite Mickey Rourke. Given that Sin City was okay, not great, it seems that either way would have been about the same as far as her career goes.
6. She's not really into long, drawn-out projects.
You might think of the term 'hit it and quit it' which is usually sexual and kind of negative in nature, but in this case Carla seems more inclined to do a movie and then move on instead of sticking around for a series or a TV show. Not everyone likes to do the same thing over and over again, no matter if it changes over time.
5. Carla likes being the lead but she also likes being part of an ensemble.
Someone that can fit into a group and still stand out and take the lead is a valuable asset to many movies since they know what is needed for any given picture and won't let their pride get in the way if they need to fade into the background now and again.
4. She admits to being kind of gullible.
Even those that are strong of will and mind can be a bit gullible now and again since just being strong doesn't mean you're wise every second of the day. Those that take advantage of one's gullibility however are usually quite charming or at the very least intelligent enough to see when a person has a gap in their mental defenses.
3. Carla never really wanted to be famous apparently.
She wanted to be an actor, there's no doubt of that, but she loves what she does and in all honesty wanted to be a part of something, she's never been in this to get famous or to be noticed in the traditional way that most are.
2. She puts a high value on her privacy.
This could be why you don't hear about her all that often since some stars do tend to shut themselves in or shut the paparazzi out as much as possible when they're not on camera.
1. Some of her favorite roles to play are in period movies.
Everyone's got their thing, but it would appear that Carla happens to like playing in movies that are more attuned to how she feels about herself and where she belongs, as she's stated more than once that she feels as though she should have been born decades earlier.
She's a fun actress to watch, but it's obvious that she likes to pick her spots when it comes to movies.
Tell us what's wrong with this post? How could we improve it? :)
Let us improve this post!