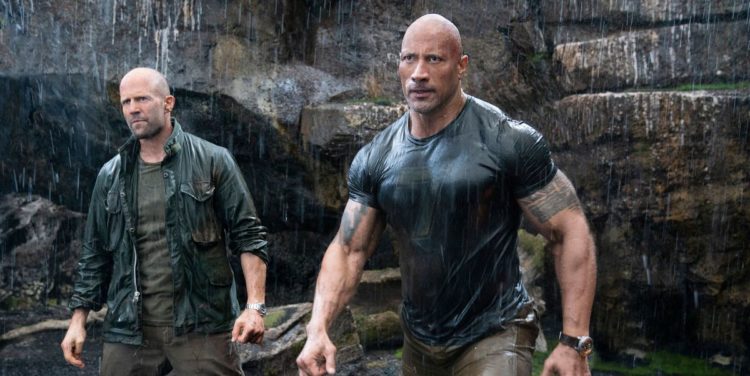 It looks like the ongoing feud between Vin Diesel and Dwayne Johnson is taking a rather strange and unexpected turn. Well, the former has chosen to make the first move and the message he released to the public is seemingly a heartfelt request. What is the request? Oh, nothing important, except maybe patching things up between them so the former WWE superstar can reprise his role as DSS agent Luke Hobbs in the last two Fast & Furious movies. Now let's just back up a minute here, because Dwayne Johnson himself has recently commented on his future with the Fast & Furious movies. According to him, his time in those movies is officially over. I mean, he's technically not done with them, because I'm certain he'll continue making more Hobbs & Shaw movies with Jason Statham. The first one was super ridiculous and loaded with the craziest action scenes and most hilariously corny one-liners. It's an absurdly fun time watching that movie and the ending heavily implied that Hobbs and Shaw will have another adventure together. I hope they do and I will see it. In fact, I think I enjoy watching those two be super-humans more than I enjoy seeing Dominick Toretto take on a small army by himself. I won't lie, F9 really diminished my interest in the next two Fast & Furious movies. I get they've made a reputation by pushing the limit, but F9 just pushed way too far.
In fact, I spent more time rolling my eyes than actually being entertained. Between the cartoony action scenes and the redundant preaching of how important family is, I find myself not feeling very pumped for the last two Fast & Furious movies. You know what would make them win back some of those burnt out fans? Bringing back one of Hollywood's top stars, Dwayne Johnson. I mean, why wouldn't you? He's one of the biggest names in all of Hollywood and he attracts a massive audience. Just think about how the franchise has faired without the presence of Dwayne Johnson. His last Fast & Furious movie was Fate of the Furious back in 2017. By that time, it should be noted he and Vin Diesel weren't exactly on the best terms. To be more specific, both men weren't even allowed to even shoot any scenes together. That didn't really matter, because the movie had enough to keep me entertained. However, the parts that kept me entertained the most were the scenes with Dwayne Johnson in them. Seeing him bicker back and forth with Jason Statham was a hoot. That laid the foundation for Hobbs and Shaw, but it felt like he didn't get a proper sendoff for the Fast & Furious movies.
Now Dwayne Johnson elaborated on why he has no intention of returning for the final Fast & Furious movies. His feud with Vin Diesel was never really resolved in a manner that made both men happy. Dwayne Johnson revealed in a social media post that he and Vin Diesel did have a private conversation about their working relationship. Although he kept the details to a minimum, he revealed that their conversation wasn't exactly a peaceful one, but they both came to the conclusion that they are on completely different ends of the spectrum. They both have different kinds of personalities and hold their work methods to a different standard. That's okay. In the world of any workforce, you're always going to find two high-level people who will never see eye-to-eye on things. That doesn't mean they're unprofessional. At the end of the day, these two men are businessmen and want what's best for their movie. So what does that mean for Dwayne Johnson and his future as Luke Hobbs. We can expect another Hobbs & Shaw movie is likely, but will we see Hobbs fight with Dom? That's less than likely, despite Vin Diesel reaching out to him. Granted, it was a serious message and it felt like Vin Diesel was sincere. He said a lot in it, even bringing up his kids asking about "Uncle Dwayne" and "Pablo", who is actually the deceased Paul Walker. Is that too much? I think some may think that, but I think it all comes down to what everyone in those movies want. They want it all to end on a good note and the Luke Hobbs characters has an arc that needs to be finished.
Maybe Dwayne Johnson can fit into the Fast & Furious finale, but I think he's happier with other projects. And to be honest, I don't think Dwayne Johnson needs to be in the next movies. He's a big name and he enjoys taking on his own projects. Fast & Furious is more under Vin Diesel's banner, so I don't think Dwayne Johnson feels as strongly about making those movies like his own. Now he can change his mind and finally squash his beef with Vin Diesel. That would be a good solution for everyone, but it seems like Fast & Furious needs Dwayne Johnson far more than he needs them. He's got a lot going for him and those movies are still with him since he's doing more Hobbs & Shaw. That's not confirmed yet, but we know it's coming. He's got Black Adam coming out next year and he'll likely stick with that. There's honestly no need for him to return for the last two Fast & Furious movies. Let's just hope the last two movies can do better than F9, which didn't have Dwayne Johnson in them.
Tell us what's wrong with this post? How could we improve it? :)
Let us improve this post!