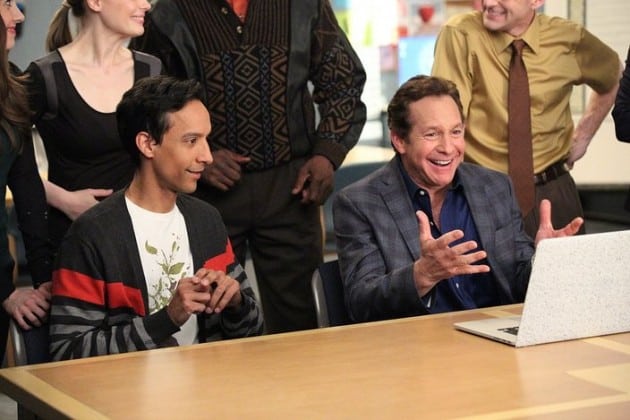 We've reached the eighth episode of the Yahoo revival of the cult favorite, Community, and the only disappointing thing about that is we're past the first half and the end of the season is on the horizon. Will there be a movie next? Will Yahoo give Community the renewals it deserves, but not the ones it needs right now? Only time will tell. In the meantime, I'm perfectly content to pull up Yahoo Screen every Tuesday and laugh for a little while.
This week on Community: Chang's acting career takes off as his deli meat commercial goes viral. As a result, Abed is asked by a producer (Steve Guttenburg) to use minimal footage from a movie he shot with Chang to create a feature film to sell to a distribution company. The result, "Chief Starr and the Raiders of the Galaxy", stars all of the Greendale gang and, for all intents and purposes, is a really horrible movie. However, it has some great moments, and creates a special bond between co-stars. Chang's acting career doesn't end up going as planned.
I had a lot of fun watching this week's Community. It's been awhile since I've been able to see Abed make a movie, and the thought of it absolutely tickled me. It was every bit as ridiculous as I'd hoped. Not to knock Abed as an artist, but…man, that was hilarious. Just when you think maybe Community will run out of ideas, they slap you around with a big fat "nope" in the shape of an Abed film.
Of course, Community has the same things going for it that it always has. There is wit, there is heart, there is an absolutely ridiculous CGI alien played by Garrett. There are wonderful, blink-and-you'll-miss-them references to the Community days of old (like Pierce) and not so old (like Jeff and Abed wrestling in a room full of frisbees/Frankie's steel drum solo in the movie). Honestly, the way they continue to operate this magnificent show just astounds me, but that certainly isn't me complaining. It brings me so much joy. Each episode creates a deeper bond between at least two characters (in this case, Abed and Jeff), and it's always touching with just the right amount of hilarious.
Here are some of my favorite quotes/moments from the episode:
-"HAAAAAM GIRL"- Hopefully the newest viral catchphrase from Ken Jeong
-The new Play-Doh movie directed by Steven Spielberg
-"It's been three weeks. I'm having his car towed."- Dean Pelton RE: Chang's car
-"The Chinese fella right? Whose name is some kind of noise?"- Elroy
–Chief Starr and the Raiders of the Galaxy.
-"Why am I wearing a blouse? It's sci-fi, it doesn't matter"- Jeff
-Jeff's weird vendetta against Chris Pratt.
-Magnitude as Giant Carrot Man, who screams poorly.
-"Pay your rent, or SHUT UP!"- Annie
-"Everyone who's not a human is saying 'yooba dooba."- Jeff
-"I don't feel the force. I'm not allowed to."- Leonard
-Life metaphors created by Annie improvising the "laser ball."
-Randall Park cameo!
Community's sixth season continued strongly with the season's most ridiculous yet hilarious episode yet. I can always use more Chang, but in this episode, they used all ten of his lines SO perfectly. I'm impressed, Community, and I'm not ready for this season to end.
What did you guys think? Did you enjoy this episode as much as I did? Let us know!
Community streams every Tuesday on Yahoo Screen.
[Photo via Yahoo Screen]