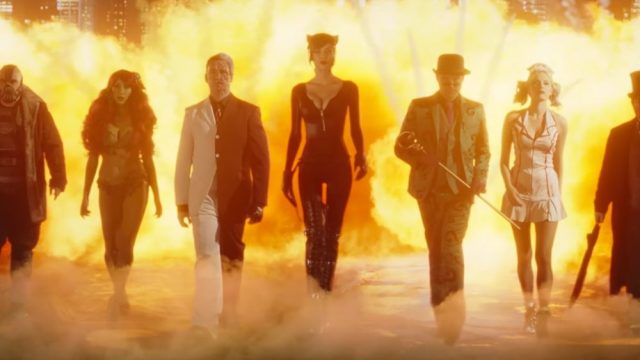 We have to thank the team at Nerdist in advance for this parody video. They just release a solid Taylor Swift Batman parody music video called Bat Blood. It's a fun take on the Batman universe as we see the Dark Knight's rogue gallery of villains team up to take on Batman and his team. The whole song is sung by none other than Catwoman. What's even more awesome is that they spared no expense here. Catwoman is played by none other than the queen of the nerds herself, Leeanna Vamp.
Leeanna is one of the most popular models for horror movies and cosplay on the planet. Here's her bio:
LeeAnna Vamp is the "Ghoul Of Your Dreams" and "Your Best Nightmare". Vamp is a creator and producer of her own projects like the frightfully fun show for all ages called BEST FIENDS FOREVER, as well as STAR WARS GIRLS and others. She is a high fashion model that mixes it up with a very bold unique look and style, and is pursuing her acting career. She's a total nerd at heart growing up loving all the classics from tv, games, toys, fashion and a big fan of the 80's and its's movies. She loves Sci-Fi, Fantasy and Horror genres in TV/ Movies and can be seen at many of the cons, among those she calls "Her people, at her home away from home." As she puts it, "I am a fan and will be a Nerd Forever!" LeeAnna Vamp is the Halloween Goddess of our time and it's fitting since it's her favorite holiday, wishes to live in the Haunted Mansion and that everyday is Halloween. She has a dark side, but can light up any place with her enchanting charisma.

Check out the video below:
https://www.youtube.com/watch?v=rwgdkQUWg6g
Full Cast
Catwoman – LeeAnna Vamp
Batman – Danny Lopez
Harley Quinn – Jackie Moore
Poison Ivy – Milynn Sarley
Joker – Mark Dasinger
Riddler – Freddy Scott
Penguin – Eric Cajuiat
Two-Face – Matt Holbrook
Bane – Brian Compton
Superman – Will Sterling
Batgirl – Courtney Morlock
Oracle – Amanda Shafer
Robin – Victoria Schmidt
Nightwing – Colin Bass
Commissioner Gordon – Jim Marshall
Alfred – Ron Ross