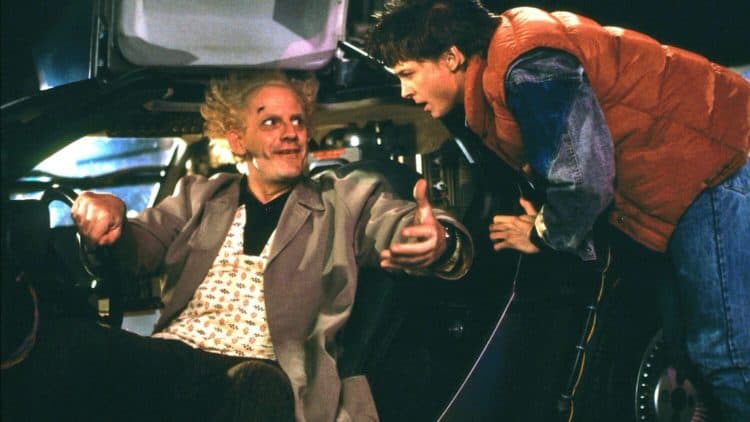 There are a couple of reasons why a Back to the Future reboot or sequel isn't going to be made as people might tell you, and their names are Robert Zemeckis and Bob Gale. These two men are two of the biggest impediments to the possibility of another movie, but they're not the only ones. Another fact is that Michael J. Fox probably wouldn't be able to take on the role of Marty again, while Christopher Lloyd is getting pretty old at this point. Trying to get the rest of the cast back would no doubt be kind of a struggle as well, and even thinking about getting Crispin Glover to play ball would be an exercise in futility, or so one would think at least. But why not bring it back? At this rate, it's not too likely that people would refuse the idea, and while some of us would make the point that the movies are classic enough that they don't need to be given the reboot treatment, there are a couple of actors that would be great for the two most important roles, as it was already made possibly by Deepfake to see what this would be like. The saying 'strike while the iron is hot' would definitely apply to the casting of Tom Holland as Marty and Robert Downey Jr. as Doc Brown. As to who would play everyone else, that's kind of up in the air, but it's not impossible so long as Zemeckis and Gale would finally stop grinning about it and simply let it happen. They had no problem allowing a musical version of the movie to play out, which sounds a bit hypocritical despite the fact that it's not on the big screen, but if they were to give someone their blessing to proceed it would be great.
It's not often that I actually root for a reboot, but when there are actors that can actually make it happen in a way that would make sense, there's always a chance that the reboot could be something special. Casting Holland and RDJ for the main roles would be a stroke of genius, and despite the fact that Lea Thompson, the original Lorraine, wants to direct a big-screen version of the musical, it feels as though, in respect to the movie, that a straight reboot would be far better, with the story being updated to the current era and changed accordingly so that it would fit. Let's be honest here, Doc Brown wouldn't be able to simply steal plutonium, and things would probably be very different for both men since so much has happened since the 80s when the first movie came out. Just imagine if Marty was to go back 50 years in time now to the 1970s, that might change the story up a bit and actually be easy for many to relate to and others to be amazed by since when compared to the 60s and 50s, and even the 80s, the 70s kind of get overlooked now and then. But it would be a great way to reboot the movies since it would push the storyline forward in a way that would involve the current generations and even amuse the older generations that can likely still remember what went on back in that decade. Also, it could give Marty's family a very different dynamic that might prove to be interesting. But the idea of a musical really needs to be put aside at the moment since it just doesn't fit with what a lot of people might expect of the movie. This wasn't made as a Disney movie and as such, music is still a part of it but wasn't such a huge part that it would take over eventually.
It almost feels sacrilegious to push for the reboot of this movie, but at the same time if there exists an acting duo that can make it work then it might be kind of interesting to see what might happen. Pushing the timeline ahead would be a good idea as well since it would reboot the story but make something unique, something different that is still very much related to the original story. From that standpoint, maybe Zemeckis and Gale could finally find it possible to say 'okay' instead of shooting down the idea without hesitation. If Lea Thompson, who has been creating a reputation for herself as a director, went on to take charge of this movie, the big hope is that she wouldn't continue to push for the musical aspect and could possibly find a way to simply turn this into another great version of a great movie that people still love and watch to this day. It's not bound to happen anytime soon, but it would be great if it happened at all.