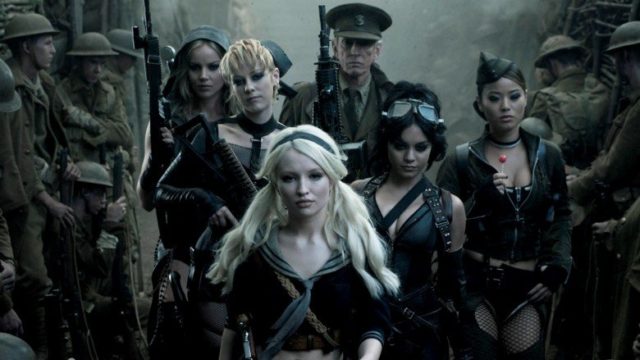 Sometimes fantasy is the only real way to escape a horrid reality. In Sucker Punch the attempts to escape made by Babydoll are translated into fantasies that are as impressive as they are imaginative. From dueling with samurai giants to fire-breathing dragons Babydoll and her companions must find a way to escape their hellish and very real existence through a stunning blend of fantasy and real life circumstances. The ending is a twist to be certain, but the ride to get there is an impressive and imaginative trip. So what happened to these talented actors after the final reel?
Here's what the main cast of Sucker Punch is up to today
7. Oscar Isaac-Blue Jones
The evil orderly/pimp of Sucker Punch went on to become quite famous as he's starred in such hits as Star Wars: The Force Awakens, X-Men: Apocalypse, and even the newly released version of The Mummy. Apart from this however he's led a fairly private life despite his rising fame.
6. Scott Glenn-Wise Man
Glenn was already a noted actor before this part, having starred in films such as BackDraft alongside Kurt Russell and Vertical Horizon where he played yet another part that sees him as the grizzled, wizened old expert. It's a role that he plays well and executes without much trouble, as he's been doing it for years now without fault.
5. Jamie Chung-Amber
Having started out in The Real World and then moved onto projects such as Once Upon A Time where she played the role of Mulan, Chung has indeed come a long way from where she started. She's also voiced the character of Go-Go in Big Hero 6, and will be reprising the role for the TV series.
4. Jena Malone-Rocket
Malone wasn't a newcomer to Hollywood by the time she was enlisted for Sucker Punch. She's been seen in the popular Hatfield & McCoy's since then, and was also a part of The Hunger Games: Catching Fire. Lately however she's been more focused on her duties as a mom and writer.
3. Abbie Cornish-Sweet Pea
Despite having to revamp her profile, Cornish has been on a roll as of late starring with names such as Gerard Butler and Woody Harrelson. She's out to prove that she is worthy of the Hollywood spotlight and has thus far shown that she does in fact have the acting chops for more important and critical roles.
2. Vanessa Hudgens-Blondie
The former Disney star took a huge leap of faith in creating a bad-girl image and hasn't slowed down since. She's still into the musical scene, but has foregone the good girl image for the most part and fully embraced her role as an onscreen tough girl.
1. Emily Browning-Babydoll
Browning is nothing if non-traditional in the Hollywood sense. She enjoys the roles that keep her away from the mainstream, and has kept a very low profile since Sucker Punch. It's rumored that she is in a relationship with someone far less famous than herself and thoroughly enjoys projects that are more complicated in nature and less likely to hit the big screen.
Final Thoughts
Some stars hit the ground running and don' stop while others tend to pull back on the reins a little at times. The cast of Sucker Punch was a very diverse lot that possessed a great deal of experience between them, so it's no real surprise that they've all gone in very different directions.