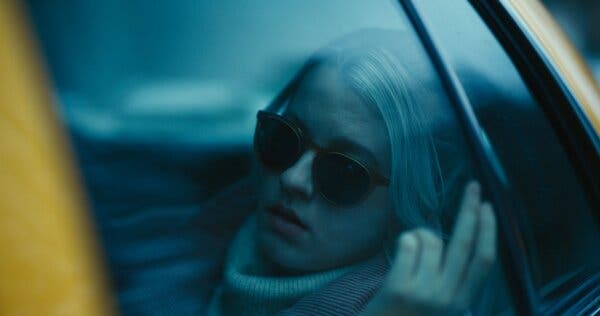 See for Me is a 2021 Canadian thriller film directed by Randall Okita and written by Adam Yorke and Tommy Gushue. The film stars Skyler Davenport as Sophie, who is house-sitting a secluded mansion for a wealthy client. Sophie is visually impaired and uses a smartphone app called See for Me, which connects its users to volunteers to aid them in their actions. A group of criminals breaks into the mansion and she must now rely on her app which connects her to Kelly (Jessica Parker Kennedy), an army veteran. Together they try to survive and fight back against the invasion. Laura Vandervoort, Matthew Gouveia, Emily Piggford, Joe Pingue and Kim Coates also star in the film. The film is a modern take on the 1967 film Wait Until Dark starring Audrey Hepburn as a blind woman terrorized by three thugs. Variety described See for Me as a "Home-invasion thriller that feels like a cult classic in the making." In the same article, they wrote, "It's as though Okita, Yorke, and Gushue made a list of every mistake similar films have made in the past and set to eschew all of them. With the theatrical situation being what it is at the moment, "See for Me" itself seems destined to end up on a more esteemed list: solid genre films that deserve a bigger audience." If you enjoyed watching See for Me, here are five other thriller movies involving home invasions that are worth watching.
Hush
Hush is a 2016 American slasher film directed and edited by Mike Flanagan, starring Kate Siegel, who also co-wrote the film. The cast also includes John Gallagher Jr., Michael Trucco, Samantha Sloyan, and Emilia Graves. The film shares a similar concept to See for Me, featuring a heroine who has a disability as they survive a home invasion. Hush follows a deaf writer who decides to live a solitary life in the woods. Everything changes when she is stalked by a masked killer in her secluded home. The Guardian published a review of the film saying, "It's a sharp, finely tuned thriller that goes down familiar paths but with flair and skill. Flanagan doesn't hold back on the gore, but he doesn't rely on it. He's a rare modern horror director who still prioritizes suspense, and he frames the tense altercations between the pair to maximum effect."
Don't Breathe
Don't Breathe is an American horror-thriller film produced and directed by Fede Álvarez, co-produced by Sam Raimi and Robert Tapert, and co-written by Álvarez and Rodo Sayagues. The film stars Stephen Lang, Jane Levy, Dylan Minnette, and Daniel Zovatto. The film also features a blind protagonist like the film See for me. It follows a group of thieves who break into a house of a blind veteran who recently won a cash settlement following her daughter's death. The group invades his home but tables turn when they discover the blind man keeps dark secrets and they must now find their way to escape the home. The film was nominated in the Critics' Choice Movie Awards for Best Sci-Fi/Horror Movie And Empire Awards for Best Horror. Rolling Stone reviewed the film and wrote, "What makes this so memorably nerve-frying is the way Alvarez and cinematographer Pedro Luque use night-vision and every trick in the book and ones not invented yet to trap us in their vise."
The Invisible Man
The 2020 science fiction film Invisible Man, written and directed by Leigh Whannell, is an adaptation of H. G. Wells's 1897 novel of the same name. The film stars Elisabeth Moss, Oliver Jackson-Cohen Aldis Hodge, Storm Reid, Harriet Dyer, and Michael Dorman. The film follows Cecilia Kass who is recovering from a toxic relationship. However, escaping the toxic relationship was not enough since she believes she is being stalked by her ex-boyfriend Adrian, a tech-mogul who must have found a way to become invisible. The film received positive reviews and Moss was praised for her performance in the film. Vulture wrote an article about the film saying, "The Invisible Man is not as smart as it could have been, but the concept is ingenious even if the execution gets slapdash. And with Moss at the center, it doesn't matter all that much — she sells what's approached as B-movie material with the unwavering dedication of someone starring in a prestige biopic."
Panic Room
Panic Room is a 2002 American thriller film directed by David Fincher and stars Jodie Foster, Kristen Stewart, Forest Whitaker, Jared Leto, and Dwight Yoakam. The film follows Meg and her daughter Sarah who have moved to their new home after a recent divorce. They find themselves trapped in the built-in panic room of the house when their home is invaded by intruders. Foster's performance in the film led her to a Saturn Award nomination for Best Actress. The film has also received positive reviews including a fresh rating from Rotten Tomatoes with the critic consensus saying, "Elevated by David Fincher's directorial talent and Jodie Foster's performance, Panic Room is a well-crafted, above-average thriller."
Wait Until Dark
If you enjoyed watching See for Me, it's a must to watch the original film from which it was adapted. The 1967 American psychological thriller film Wait until Dark was directed by Terence Young and produced by Mel Ferrer, from a screenplay by Robert Carrington and Jane-Howard Carrington. The film stars Audrey Hepburn as a young blind woman who finds herself in danger when a group of criminals invades her home. The film also stars Alan Arkin, Richard Crenna, Jack Weston, Julie Herrod, and Efrem Zimbalist Jr. Audrey Hepburn was nominated for the Academy Award for Best Actress in 1967 and Efrem Zimbalist Jr.was nominated for a Golden Globe in the supporting category for their performances in the film. In an archived article review of the film by the New York Times, they shared how patience is needed when watching the movie as it is a bit slow-paced but the build-up is definitely worth it. They wrote, "And from here on, the tension is terrific and the melodramatic action is wild as the blind woman uses all her courage and ingenuity to foil her assailants and save her life."
Tell us what's wrong with this post? How could we improve it? :)
Let us improve this post!