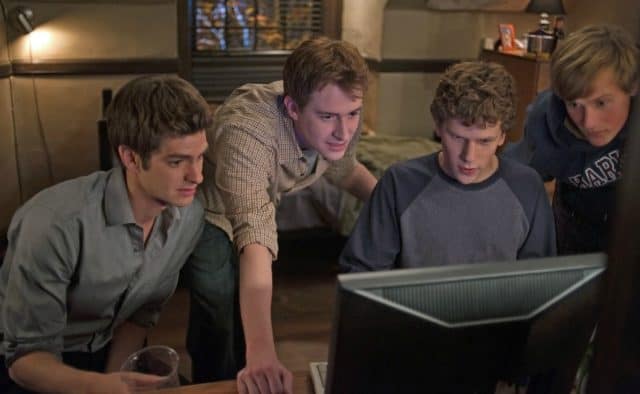 As the cover says, you can't get millions of friends without making a few enemies. I'm paraphrasing of course but the statement is entirely true. Facebook has become a platform where friends and family can keep in touch and even enemies can lash out from time to time so long as they follow the rules. The social media platform hasn't been around for two decades yet and it's become one of the most popular sites to ever exist. It's a way for people to share virtually anything they feel is pertinent and a means by which they can inform others of how their lives are progressing. But it had a much less innocent beginning it would seem.
Here are ten things you might not know about the Social Network.
10. Jesse Eisenberg showed extreme obsessive compulsive tendencies in the movie.
Eisenberg battled with OCD during his younger years and had to overcome it throughout his life. It was hard to channel those tendencies and not get lost again.
9. Natalie Portman gave a lot of insight to the Harvard experience.
Considering that she actually went to Harvard this was highly beneficial. Zuckerberg went to college too but the director wanted no one that was actually tied to Facebook.
8. There was a Bill Gates impersonator in the film.
The funny thing is that people actually thought he was Bill Gates. The guy looked that authentic.
7. Jesse Eisenberg used fencing lessons to get into character.
It makes a good deal of sense. Fencing has a lot to do with strategy and trying to outmaneuver your opponent, much like business in a way.
6. The opening scene took 99 takes.
There's no real explanation for why this took so long. Maybe the actors were having trouble getting into character or maybe the director wanted to see it from different angles.
5. Mark Zuckerberg took a few Facebook employees to see the movie.
Reportedly he didn't think anything but Eisenberg's clothes were that accurate. Of course that's speaking from a different perspective and there's no doubt that if any of it was true he would deny it more or less.
4. A lot of the shots took place at Johns Hopkins University.
Honestly you would have to have gone to either Harvard or Johns Hopkins to know. Or you would have to do a side by side comparison and realize the difference between the two campuses.
3. Shia LeBeouf was almost tapped to play Mark Zuckerberg.
Can you imagine this switch? Eisenberg might have been a little OCD but he's at least a decent actor. Shia LeBeouf looks like he's unrelentingly sad most of the time.
2. There were no Facebook employees in the film.
The director wanted to keep the film as free of any genuine Facebook influences as possible.
1. None of the actors met the people they were playing except for Justin Timberlake.
Even the actors weren't allowed to meet their real life counterparts, but that obviously didn't stop Justin Timberlake. He didn't want them messing with the script.
Everything seems to get really hush hush when it involves social media and new, cutting edge programs.
Save
Tell us what's wrong with this post? How could we improve it? :)
Let us improve this post!