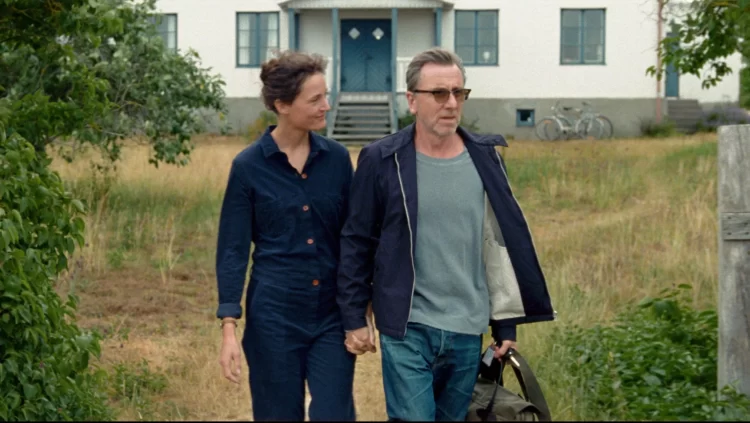 Bergman Island is a 2021 romantic drama film written and directed by Mia Hansen-Løve. It stars Vicky Krieps, Tim Roth, Mia Wasikowska and Anders Danielsen Lie. The film is set on Fårö, an island off the coast of Sweden that was once home to legendary filmmaker Ingmar Bergman. In the film, a writer and a director retreat to the island in order to work on a script but find their creative collaboration overshadowed by their personal attachments. As they grapple with their own artistry and relationships, they begin to mine the life and work of Bergman for inspiration. Bergman Island is a thoughtful and intimate exploration of art, love, and creativity. Hansen-Løve uses the working relationship between the two leads to explore the creative process and the ways in which art can both inspire and destroy relationships. Bergman Island is a beautiful and bittersweet film about the power of cinema to both bring people together and tear them apart.
In a review by The New York Times, they praised the film's direction and music saying, " To her credit, Hansen-Love doesn't turn "Bergman Island" into a self-conscious philosophical puzzle. It unspools with an easy, fresh-air naturalism against a picturesque backdrop that doesn't necessarily conform to anyone's innermost imaginings. The mood, underscored by Robin Williamson's sprightly music, is mainly comical, and the artists — Tony and Chris, at least — seem more playful than tormented, even at difficult moments." When you're done watching Bergman Island and you're looking for similar films that involve themes about marriage, intimacy, and relationship dynamics to elicit various emotions, here are five movies we recommend watching.
Marriage Story
Just like Bergman Island, the 2019 drama film Marriage Story centers on the changing relationship of a couple who also belongs to a similar industry. It is written and directed by Noah Baumbach and stars Scarlett Johansson and Adam Driver as a married couple going through a divorce. Laura Dern, Alan Alda, Ray Liotta, Julie Hagerty, and Merritt Wever also star in supporting roles. The film follows the couple as they navigate the divorce process and deal with the aftermath of their relationship. Marriage Story received critical acclaim, with particular praise for its writing, directing, acting, and overall emotional depth. The film was nominated for several Academy Awards, including Best Picture, and won Best Supporting Actress for Laura Dern's performance. The Guardian wrote a review of the film giving particular praise to the lead performances saying, "Johansson has never been smarter or more charismatic than in this film, and Driver's great Easter Island statue face was never more alluring. Run, don't walk, to any cinema showing this."
Scenes from a Marriage
There's no better way to connect Bergman Island's themes and references than to watch Ingmar Bergman's Scenes from a Marriage. The 1974 film is a compassionate and incisive portrait of a crumbling marriage. Marianne (Liv Ullmann) and Johan (Erland Josephson) have been together for years, and their relationship has reached a point of stagnation. They begin to see each other in a new light, and the cracks in their relationship start to show. Over the course of the film, we see Marianne and Johan grow apart, as they grapple with infidelity, betrayal, and ultimately, divorce. Though it is a bleak portrait of a marriage, Bergman's film is also hopeful. Ultimately, Scenes from a Marriage is a thought-provoking film about the many forms that love can take. In a review published on RogerEbert.com, the film was described as "one of the truest, most luminous love stories ever made." Slant Magazine also reviewed the film and wrote, " The film feels rigorously planned yet has the forcefully spontaneous innovation of improvisational theater. There's nowhere to hide in other words, as Scenes from a Marriage depends on the artists' ability and willingness to plumb deep-seated resentments and exaltations."
Revolutionary Road
Revolutionary Road is a 2008 romantic drama film directed by Sam Mendes. The screenplay, written by Justin Haythe, is an adaptation of the 1961 novel of the same name by Richard Yates. The film stars Leonardo DiCaprio and Kate Winslet, with Michael Shannon, Kathryn Hahn, David Harbour, and Kathy Bates in supporting roles. Set in 1955, the plot follows a young couple living in Connecticut who begin to grow apart due to their inability to reconcile their differences. Revolutionary Road was generally well-received upon release. It has been praised for its strong performances, beautiful cinematography, and its effective examination of marriage and suburban life in 1950s America. The film was nominated for several awards, including three Academy Awards. It ultimately won one for Best Cinematography. In a review by Reelviews, they commended the film's direction and performance saying, "Revolutionary Road is dramatically potent material and, although it poses a number of philosophical questions, it works best as an unsentimental examination of a marriage in crisis. Because the actors are expert, Mendes understands the subject matter, and the source material is so meticulous, we are left emotionally impacted but without a sense of having been manipulated."
Blue Valentine
Another film that narrates the journey of a relationship is the 2010 American romantic drama film Blue Valentine written and directed by Derek Cianfrance. Cianfrance, Cami Delavigne, and Joey Curtis wrote the film, and the band Grizzly Bear scored it. Blue Valentine depicts a married couple, played by Michelle Williams and Ryan Gosling, who have fallen out of love. They spend a fateful weekend together in an attempt to save their relationship. The film premiered in competition at the 26th Sundance Film Festival and was released theatrically on December 31, 2010. It grossed $12 million worldwide and received mixed reviews from critics. IndieWire published a review of the film and wrote, "The film had extensive pre-production work and rehearsals with Gosling and Williams and it shows. The strength of the film and what prevents it from being an overwrought melodrama are the actors' familiarity with each other and how they embody and live within these characters. They get everything right: from the gestures, mannerisms, longing and body language of courtship and love to the silence, tension and confusion of a relationship gone cold."
Annette
The last on our list is a bit more unique adding whimsical elements in narrating similar themes. Annette is a 2021 musical film directed by Leos Carax, in his English-language debut. The film's story and music were written by Ron Mael and Russell Mael of Sparks. The film follows a stand-up comedian (Adam Driver) and his opera singer wife (Marion Cotillard) as they navigate fame, success, and the challenges of raising their daughter. While the film's plot may be somewhat convoluted, its standout elements are its visuals and music. Carax's direction is operatic in scope, and the film's standout set pieces are both grandiose and intimate. Meanwhile, the Maels' songs are both catchy and emotionally resonant, helping to elevate the film's often-absurdist story. In short, Annette is a unique and visually arresting film that is sure to please fans of musicals. Empire wrote a review of the film describing the unique elements of the film and wrote, "The most original film of 2021 Annette is a ride like no other, a spellbinding waltz in a storm. See it for truly hypnotic filmmaking, a clutch of great songs, and Adam Driver at his most magnetic.
Tell us what's wrong with this post? How could we improve it? :)
Let us improve this post!