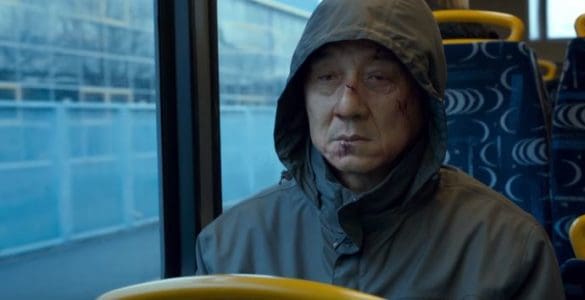 While Jackie Chan has made his mark in Hollywood as one of its most bankable action stars, his best work is arguably directed and produced outside of Tinseltown. Chan's earlier work, most of them done in Hong Kong, created his current image that's so beloved by Western audiences. After more than five decades in the movie industry, Jackie Chan's legacy was finally recognized in 2016 when he received an Honorary Oscar. He was introduced on stage by his former Rush Hour costar Chris Tucker, Michelle Yeoh, and Tom Hanks. You've probably seen his mainstream movies, like the Rush Hour trilogy, The Karate Kid, and The Tuxedo, which are enjoyable films in their own right. But if you want to see the movies that made Jackie Chan the international superstar that he is today, then here are five classic Chan movie recommendations you should add to your list.
Police Story
It's the movie that brought Jackie Chan to international renown. Police Story is a 1985 film that starred Jackie Chan, Brigitte Lin, Maggie Cheung, Chor Yuen, and Charlie Cho. The movie was also directed by Jackie Chan. While the movie only received mixed reviews during its premier, it has since attracted a cult following, gaining him millions of fans around the world. The blockbuster success of the original Police Story also led to it developing a film franchise, the last installment of which premiered in 2013. Police Story is constantly ranked as one of the best action films of all time, with Time Out ranking it at No. 4, besting the Bruce Lee cult classic Enter The Dragon (ranked at No. 5), a movie in which Jackie Chan was a stuntman. Justin Chang's review of the film for Los Angeles Times described Jackie Chan as the "Buster Keaton of kickboxing." "It's the joy of watching Chan, a Buster Keaton of kickboxing, hurling himself into every stunt with total commitment, astounding athleticism and oddly unflappable, shaggy-haired grace. His death-defying exuberance is all the glue these movies need."
Rumble in the Bronx
Another Hong Kong hit starring Jackie Chan, Rumble in The Bronx was directed by the esteemed director Stanley Tong and features actors Anita Mui and Francoise Yip. The movie was set in the Bronx in New York City but was actually shot in Vancouver, Canada. The movie tells the story of a Hong Kong police officerss on vacation in New York, who finds himself having to fight off street gangs and the mob. In an old interview that Jackie Chan did, he expressed concern over the parental rating of Rumble in the Bronx in the United States, saying: "… Rumble in the Bronx in Hong Kong is PG-13. But I don't know why in America they say it's too violent! I think it's because there were more than two expletives in the movie." A review by Roger Ebert of the film took note of Jackie Chan's charm and appeal, which made Rumble in the Bronx successful. "But it's not the stunts themselves that make "Rumble in the Bronx" special. It's Jackie Chan's high spirits and infectious personality. Here's a Chinese man, about 40, who resembles nobody so much as Tom Hayden, and whose nose looks as if it is broken regularly. He's pleasant but not handsome, athletic but not tall, and his acting in this movie is perfunctory; he's waiting for the action like the rest of us."
Armour of God
Armour of God is one of Jackie Chan's most popular classic movies, and there's some notoriety behind the scenes of this film. Armour of God was directed by Jackie Chan. He also stars in the movie, alongside Alan Tam, Lola Forner, and Rosamund Kwan. While Jackie Chan is always known to commit to death-defying stunts in his movies, he came close to dying in this movie due to one botched stunt. The stunt required Chan to jump from an overhang onto a tree branch, but things did not go well for the famed martial artist. "I try to grab every tree–they just keep breaking. Breaking, breaking, breaking, breaking. The, boom, I just hit on the rock. I get up, I thought, 'It's nothing.' I just feel my back's hurt. Then I get up, but everybody pushes me down because my whole body was numb. By the time the numb passed, then I feel my air and I see the blood. We go to the hospital… I almost died," he said, according to CinemaBlend. Armour of God was a box office hit, although The Los Angeles Times was a bit unforgiving with its review of the movie. "Filmed–in 1986–largely in an unidentified Yugoslavia, "Armour of God" is one of those films in which you're never quite sure what's happening or why and are given little reason to care, for its characters are as ill-defined as everything else. With so little that's involving, the obligatory spectacular action sequences don't count for much. "Armour of God," which is mediocre in virtually all aspects, is likely to please only Chan's most uncritical fans."
Drunken Master
Drunken Master is movie classic that belongs to the annals of film history. It's the movie that defined the modern kung fu genre and made Jackie Chan incredibly popular outside Hong Kong. While it's not the movie that necessarily catapulted him to international fame, it made a huge impact on the career of the martial artist. The official IMDb synopsis of the film is as follows: "Wong Fei-Hung (Jackie Chan) is a mischievous, yet righteous young man, but after a series of incidents, his frustrated father has him disciplined by Beggar So (Siu-Tin Yuen), a Master of drunken martial arts."
Wheels on Meals
Last on the list is Wheels on Meals, a martial arts comedy movie starring Jackie Chan and another legendary martial artist, Sammo Hung. Sammo Hung also directed the movie, which features actors Yuen Biao, Lola Forner, Benny Urquidez, and Jose Sancho. The movie features the story of two Chinese friends who operate a small food truck in Barcelona, Spain. They eventually find themselves having to summon their martial arts prowess to protect a pickpocket from a ruthless group of criminals.
Tell us what's wrong with this post? How could we improve it? :)
Let us improve this post!