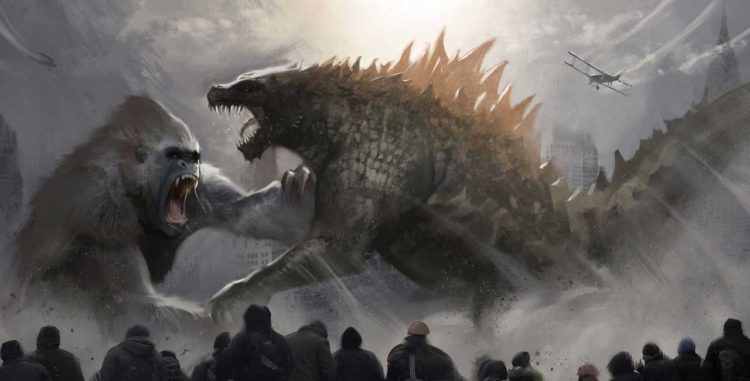 Fans of big monsters fighting in movies will most likely be very anxious for the upcoming and long overdue Godzilla vs. Kong movie se to be released in March of next year. The release of Godzilla back in 2014 began a new cinematic universe intended to expand on the big kaiju monsters we've seen before in past movies, otherwise known as the MonsterVerse. A King Kong vs. Godzilla movie was done a long time ago back in 1962, along with several other spin offs for both characters, so if you haven't heard of either one of these characters or didn't expect them to ever be seen on screen fighting again, you've probably been living under a rock for a while. That being said, the movie is scheduled to be released in exactly four months and yet there is not a single trailer to be viewed. Not only is there no trailer, but not even a short teaser or posters to market a movie that is very close to its scheduled release date. Not having a big trailer isn't really a concern on its own, but the news on this film is seemingly being kept pretty hush-hush. This should understandably cause the anxious fans to raise their eyebrows, granted we're pretty close to the release date, so why is the marketing for this movie so low-key? The reasons may vary, but let's start some speculating and go over why we should and shouldn't be worried.
The prequel to this upcoming monster movie, better known as Godzilla: King of the Monsters was released in May of this year, and the results weren't exactly what fans were hoping for. The film received mixed reviews and had a disappointing box office run, leaving the future of the franchise pretty uncertain. However, Godzilla vs. Kong has no confirmed plans for being delayed because of its predecessor's failure, seemingly making its upcoming release date a sure thing, but if there is still no trailer, is it possible that the movie will indeed be pushed back further? If it is being delayed, then a report confirming it should have surfaced by now, but let's go back even further when the first trailer for Godzilla: King of the Monsters was released. The first official trailer was released back in 2018 at the San Diego Comic-Con, and fans were insanely pumped up for the movie. The problem is the movie was a year away and more trailers and TV spots were being consistently released to us, along with the big money shots that lost their touch by the time we actually got to see the movie. The movie clearly had a problem with too much marketing that made fans feel like they already saw the whole movie in the trailers, and while I'm not saying that was the exact reason why Godzilla: King of the Monsters failed, it's hard to deny that fans were pretty fatigued by the excessive and early marketing. So if that is indeed the case, then is it possible that the marketing for Godzilla vs. Kong is being held back just to avoid that mistake? It would certainly be the smart thing to do and if another box office bomb wants to be avoided, I'd say let us wait a bit longer.
A very important factor we need to consider is the season we are in. With the emergence of big trailers for even closer upcoming movies, including the trailer for The Rise of Skywalker, it's pretty understandable that no trailer for Godzilla vs. Kong would be released with all the competition that is currently being advertised. A movie like The Rise of Skywalker is especially tough to compete with, granted its title as a Star Wars movie, and with The Mandalorian currently airing, the hype is more focused on Star Wars more than pretty much anything. That is one heck of a competition to go head to head with, so why even pick that fight? A good time to release the official trailer or even a teaser would be after the release of The Rise of Skywalker or even in theaters as one of the previews during The Rise of Skywalker's opening weekend. Since The Rise of Skywalker right before Christmas and New Year's Eve, a trailer dropping on one of those dates would make more sense because The Rise of Skywalker will already be in theaters and the Star Wars hype will start to reduce. In short, all the things going on at this time means more advertisement to compete with, so if they can wait a little while longer for things like The Rise of Skywalker to pass, then by all means, take advantage of the marketing game when it's ripe for the taking, not when you have to compete with other holiday blockbusters.
The lack of marketing is certainly enough to make us raise our eyebrows, but it's really not enough to make us worried. With no reports confirming that it's being delayed, it should be safe to assume that Godzilla vs. Kong will be released in March, and while the reasons on why a trailer has yet to released may not be the exact reasons, they are understandable ones. The holiday competition, the early marketing, and the growing anticipation to ramp up the crowd are good enough reasons to believe why we haven't seen an official trailer yet, so if we really want our hopes to stay high, then the best thing we can do right now is be patient.