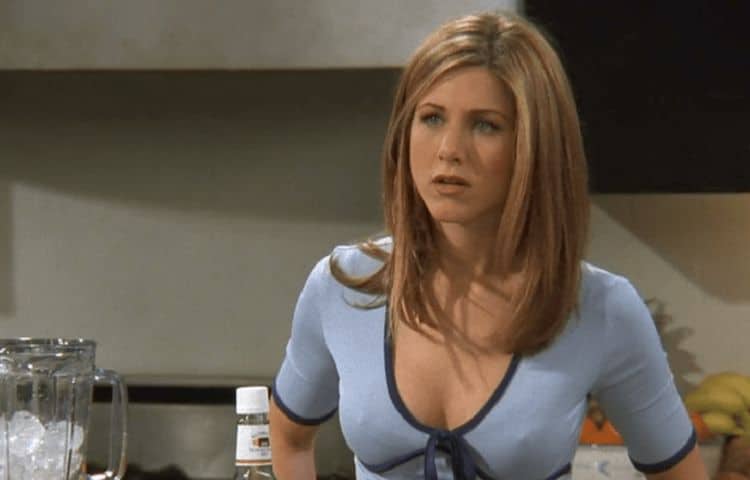 When we first met Rachel Green ( Jennifer Aniston) on the sitcom Friends, she was the spoilt rich girl who could barely stand on her own two feet. She was a confused twenty-something-year-old armed with nothing but the knowledge that she didn't like where she was. Season after season, we watched Rachel evolve into her own woman who took pride in climbing up the fashion corporate ladder, finding (and losing) love, and becoming a mother. She gave us a ton of life lessons. These are the best of them all:
1. It's Never Too Late Try Something Different
We were introduced to Rachel Green as a runaway bride who was seeking something different, even though at the time she had no idea what it was that she wanted. What was clear about Rachel from the beginning was that she did not want to be married to Barry (Mitchell Whitfield). Armed with nothing but the knowledge that she had to try something different, Rachel left all she had known in pursuit of something, anything. To put it in her own words, Rachel told her dad ( Rob Leibman), " It's like all of my life, everyone has always told me, 'You're a shoe…You're a shoe…You're a shoe', and then today I stopped and I said, ' What if I don't want to be a shoe? What if I wanna be a …purse, you know, or a hat?'" Though Rachel's dad did not get the metaphor, she managed to escape her past and take control of her life, even if that meant being cut off financially. Speaking of finances…
2. Nothing Is As Freeing As Having Your Own Money
Rachel, just like her sisters, was a daddy's girl. Dr. Green was a perfectionist who wanted things done his way. He was so disappointed when Rachel left, that he tried to bribe her to come back home. As Rachel tried to find her footing, it took a while to let go of the luxury that came with being her father's daughter. " Come on, you can't live off your parents your whole life," Monica said after learning that Rachel had purchased a pair of boots. Monica was right, but in Rachel's book of survival, after depending on her parents, her husband was next on the list. After Phoebe ( Lisa Kudrow) narrated the bizarre way she stepped out on her own at the age of fourteen, Rachel, who was dumbfounded, finally found the courage to stop surviving on her dad's money. With the help of her friends, she cut all of her credit cards in half. She would later get 'one of those job things' at Central Perk, and work her way up the fashion industry. Rachel later learned that her dad was in fact proud of her.
3. Mean Girls Don't Stay Mean Forever
When she was in high school, Rachel had a mean girl persona. She was in so many people's bad books, including Ross's ( David Schwimmer), who was in love with her. Ross was the co-founder of the 'I hate Rachel' Club, alongside Will ( Brad Pitt). Back then, Will had stacked a couple of pounds and wasn't the eye candy he came to be. Safe to say, he suffered under Rachel and got his revenge through the club. Part of his game plan was starting rumors about Rachel. Will and Ross weren't the only ones who suffered under Rachel. When Ross's monkey Marcel was lost, in came Luisa ( Megan Cavanagh) from animal control, who sat behind Rachel when she was in high school and couldn't so much as say, " Morning, Luisa?" In Ross's words, " You had to be a b*tch is high school. You couldn't just be fat." Rachel's mean past caught up with her and put Ross's pet at risk. However, she was proof that 'mean girls' do not always stay that way by apologizing to Luisa. As much as she was mean in high school, living in the real world had taught Rachel a couple of lessons, one of them being compassion.
4. Rachel Believed In Equality Of The Sexes
Through the seasons, Rachel evolved into this fierce woman who was confident on her own. Just like she left a man she did not want to marry to seek a different life, Rachel would later experience the same butterflies on an all-new beginning: Motherhood. Her growth showed itself when she was ready to hire a male nanny to help with her daughter, Emma ( Cali Sheldon). From the get-go, Sandy ( Freddie Prinze Jr.) was the perfect match. He understood that leaving a baby at home was like parting with a piece of one's heart. Sandy drew Rachel in with his empathetic approach towards babysitting. Although Rachel was totally sold, Ross couldn't fathom the idea of trusting a man with his baby. " So, you're just like…a guy who's a nanny?" Ross asked. Sandy did not take offense. He even offered to change Emma's diapers when she woke up. Ross, who was clearly taken aback by Sandy's warmness, asked Rachel, " What kind of job is that for a man? A nanny? It's like if a woman wanted to be…king?" Rachel made it clear that Sandy was the man for the job because he was smart and qualified.
5. In The Game Of Love, Nice Guys Finish Last
Following her reputation for being the cool girl in high school, Ross did not stand a chance with Rachel. It was common knowledge that he was obsessed with her, but she wouldn't give him the time of day. At the very peak of his long-lasting crush, Ross was ready to take Rachel to prom when her date did not show up. Lucky for him, it was all recorded on a home video, and was the act of kindness that finally landed him the love of his life. Their love wasn't without hiccups. Just like any other love story, it had its loopholes. In between Ross and Rachel being on a break, Ross 'cheating' with another girl, them breaking up and linking up only to break up again, and living as roommates who would see other people, the pair managed to prove that love is always around the corner. And sometimes it takes letting go to find the one, who was right there all along.
Tell us what's wrong with this post? How could we improve it? :)
Let us improve this post!