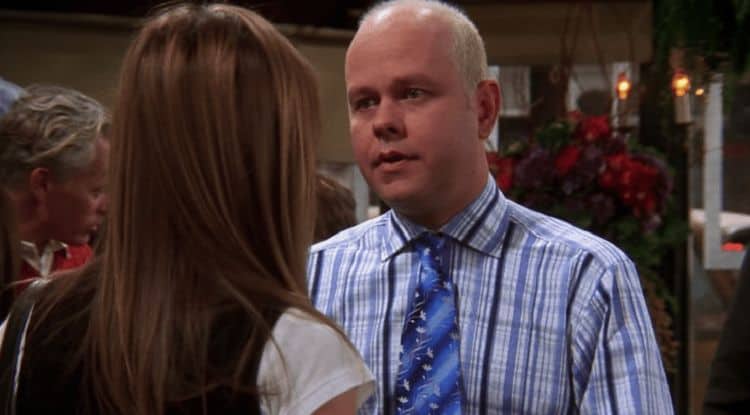 Fans of Friends are in mourning, following the loss of James Michael Tyler, who was in many ways the seventh friend. Tyler was the spice the show needed to keep going, adding sprinkles of joy each time his unrequited love for Rachel (Jennifer Anniston) came to play. For a grown man whose job was to serve coffee, he sure played the part well, allowing Phoebe ( Lisa Kudrow) to sing her off-tune songs at Central Perk, letting Joey have a temporary job when he was short on cash, and being patient with Rachel, who wasn't so good a waitress. Through the seasons, we watched him lean on a softer side when it came to Rachel. Here are the moments he went to extremes for the love of his life:
1. The Time He Outed Ross When They Were' On A Break'
The relationship between Rachel and Ross (David Schwimmer) was complicated at best. First, he loved Rachel from way back and even offered to take her to prom. Years later, they finally got the chance to date, and, just when they had 'a break', as Ross maintained through the seasons, all hell broke loose. Ross got to have one moment with the girl from the copy place, Chloe (Angela Featherstone), who couldn't keep her mouth shut, at least when it came to Isaac ( Maury Ginsberg), who she worked with. Isaac, as Ross found out, had already told his sister, Jasmine (Cynthia Mann), who happened to work with Phoebe. Ross thought he'd covered all bases, but got a rude awakening when he found out that Jasmine's roommate was Gunther. " You did a bad thing." Jasmine told Ross. While Jasmine hadn't told Phoebe anything, her roommate, Gunther, was in the know. Given his love for Rachel, it only made sense that Gunther would tell Rachel. Hysterically, Ross walked into the coffee shop with the hope of at least talking Gunther out of a reveal, but it was too late. " I'm sorry, was I not supposed to?" Gunther said. Ross made a turn to find a disappointed Rachel seated by the window.
2. The Time Rachel Needed A Hug
It wasn't so uncommon a sight for Gunther to break things because of Rachel. For instance, there was a time Rachel was seated in the café, and Gunther was looking for ways to profess his love for her. In his head, he thought, " Say, Rachel, I was wondering if you'd like to go to a movie with me sometime." He played it in his head for a while, until Joshua, Rachel's client, swooped in and gave him a run for his money. A broken Gunther made his way to the back and 'dropped a cup.' The next time Gunther broke cups for Rachel, she was in the café, with none of the friends in sight. Rachel completed a puzzle by herself. Delighted, she got up and shouted, " I did it! I did it all by myself…and there's nobody to hug!" Out of the blue, Gunther rushed from the kitchen, swerved past a couple of customers, and tripped on his way to hug Rachel.
3. The Time Rachel Complained About Being Single
Rachel had an interesting love life. It was how we got to know her in the first place. Who doesn't remember the image of Rachel walking in when Ross was complaining about Carole ( Jane Sibbett) moving out. " I don't want to be single, I just want to be married again," Ross said, and in walked Rachel, fleeing from her soon-to-be husband, Barry ( Mitchell Whitfield). On another rare occasion, Rachel was the one who was single, and she was whining about it in conversation with Chandler. " Hate being alone this time of the year. Next thing I know it will be Valentine's Day, then my birthday, then bang! Before you know it, they're lighting the damn tree again." Rachel complained. " I just want somebody!" Rachel added. Gunther, who was waiting at a table behind her, walked up to Rachel, who was facing the other way. When Rachel further said that she wanted 'a man', Gunther ate humble pie and walked away.
4. The Time He Offered His Apartment
When Rachel knew the baby was coming, it was time to stop living with Joey (Matt LeBlanc). She was hunting for an apartment, but every option seemed too creepy. One person (Joey), had placed an ad for a female roommate who was a 'nonsmoker' and 'non-ugly'. Ross tried to help by securing the apartment of a dying old woman in his building, but in the long run, Rachel and Joey agreed that it'd be okay for her and the baby to stay. Rachel was seated at the coffee shop when Gunther, who'd heard that she was apartment searching, walked up to her. " So, I understand you are looking for a place." Gunther said. " No…no, I'm staying put." Rachel replied. " I was going to offer you my apartment." Gunther told a clueless Rachel, who thought he was going to move out and let her have the apartment instead.
5. The Time He Bought Mrs. Whiskerson
Another time Gunther went all out for Rachel was when she bought Mrs. Whiskerson, a hairless cat. Rachel walked in while Joey and Ross were playing catch. The pair was astonished. "What the hell is that?" Joey asked. Ross couldn't help but ask why the cat was inside out. He further lost it when Rachel revealed that she paid $1000 for the sphynx cat. Mrs. Whiskerson, it turns out, was Rachel's way to remember her grandmother, who had 'one of those', and it was 'the sweetest thing.' " It would sit in my lap and just purr all day long." She insisted. It didn't take a lot of time before Rachel figured out that Mrs. Whiskerson was nothing like her grandmother's cat. It wasn't as sweet, not as cute, and it scratched the hell out of Rachel. Rachel tried to get rid of the cat, but no buyers wanted in. In the end, she finally sold the cat for $1500 to Gunther. It was obvious that Gunther bought it because of his love for Rachel, since he asked Ross, " Hey, so what is this? Some kind of snake or something?"
Tell us what's wrong with this post? How could we improve it? :)
Let us improve this post!