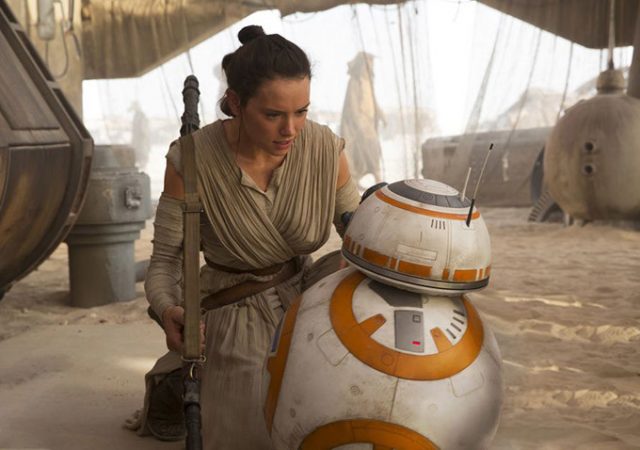 Star Wars has a new home on television. Well, at least the Star Wars films do. Turner revealed on Wednesday that it has licensing agreements with Disney and 20th Century Fox, ensuring that TNT and TBS will be the exclusive cable outlets for anything going on in a galaxy far, far away.
This new deal gives TNT and TBS the cable rights for not only the six films form George Lucas' two trilogies but also to the franchise's most recent film, The Force Awakens (which will hit cable in 2018), and the upcoming spin-off film, Rogue One (which will debut on cable in 2019). Plus, in addition to those two, newer movies, Turner will also have the exclusive rights to the three scheduled films that follow Rogue One, meaning that TNT and TBS will also be the networks that air Episode VIII, Episode IX, and the Han Solo movie when they arrive on cable.
"The Star Wars movies and characters are beloved across generations, captivating audiences and breaking box office records around the globe for nearly four decades," said Deborah K. Bradley, executive VP of networks optimization, content strategy, and commercialization for Turner, in a statement. "Through this deal, TNT and TBS will be the exclusive basic cable home of one of the most iconic, enduring and valuable movie franchises of all time, giving viewers the chance to watch this amazing collection from the very beginning."
In celebration of the new deal, TNT will be airing the first six Star Wars films from Sept. 20 through Sept. 25. Check out the schedule below to find out when your favorite one will be on.
Tuesday, Sept. 20
8 p.m. and 11 p.m. (ET/PT) — The Phantom Menace
Wednesday, Sept. 21
8 p.m. and 11:05 p.m. (ET/PT) — Attack of the Clones
Thursday, Sept. 22
8 p.m. and 11:05 p.m. (ET/PT) — Revenge of the Sith
Friday, Sept. 23
8 p.m. and 10:45 p.m. (ET/PT) — Star Wars: A New Hope
Saturday, Sept. 24
10:45 a.m. (ET/PT) — The Phantom Menace
1:45 p.m. (ET/PT) — Attack of the Clones
4:55 p.m. (ET/PT) — Revenge of the Sith
8 p.m. and 10:45 p.m. (ET/PT) — The Empire Strikes Back
Sunday, Sept. 25
5:15 a.m. The Phantom Menace
8:15 a.m. Attack of the Clones
11:20 a.m. Revenge of the Sith
2:25 p.m. (ET/PT) — Star Wars: A New Hope
5:10 p.m. (ET/PT) — The Empire Strikes Back
8 p.m. and 11 p.m. (ET/PT) — Return of the Jedi
2 a.m. (ET/PT) — The Phantom Menace
[Photo via Lucasfilm]