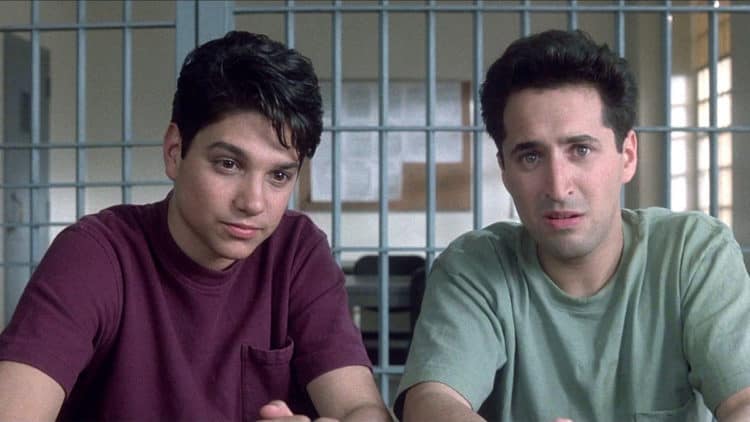 Mitchell Whitfield is an American actor who is best know for his role as Stan Rothenstein in the 1992 film "My Cousin Vinny." That was nearly 30 years ago, and some fans of the show who remember a young Mitchell Whitfield may wonder whatever happened to him? We were curious as well so we looked into his career history to find out what he's been up to since that popular movie of yesteryear. Here is what we learned.
His early years in acting
Whitfield's career as an actor launched in 1983 when he landed the role of Bedwet Mickey in the movie "The First Turn-ON!!" It was a minor part that led to others. There was a gap of 6 years as his next role was in the TV series "Monsters" in a small role for one episode. He also appeared as Curly in the 1990 film "Reversal of Fortune," in 1990, and in the following two years he was cast in the movie "Dogfight" and the television series "Murder She Wrote" the same year as he appeared in "My Cousin Vinny." During the 1990s, Whitfield landed a lot of minor roles which also included a few voice acting gigs. He was cast in "The New WKRP in Cincinnati," "Blossom," "The George Carlin Show," "Duckman: Private Dick/Family Man," "The Angry Beavers," "Diagnosis Murder," and "Love Letters" for guest appearances. He also appeared in the film short "The Big Gig", and "Sgt. Bilko" with Steve Martin.
His big break
In 1995, Mitchell landed the part of Dr. Bruce Hampton in a recurring role on the television series Minor Adjustments" which ran from 1995 through 1996. He was cast in another recurring part in the television series "Head Over Heels" in 1997, but Whitfield was a very familiar face for film and television viewing audiences. He appeared in dozens of movies and television series throughout the 1990s and beyond.
He also does voice work for video games
Mitchell lent his voice to the video game "Skylanders: Trap Team, which was released in 2014. He is also heard in the "Lego Jurassic World video game released in 2015. Whitfield also appeared in a recurring role in the television series "Vampirina" in 2019 as the voice of Demi. He also served as the voice of Humpty Dumpty in the animated television series "Goldie and Bear" from 2015 through 2018. He was also involved as a character in "The Legend of Korra" in 2014. Mitchell has done a lot of voice acting jobs and those who are familiar with his voice may have recognized him, but others may have been left wondering where he went.
He's been extremely busy
There haven't been many gaps in Mitchell Whitfield's acting assignments. He has a total of 54 acting credits in his impressive portfolio, and the genres are all over the board. This points to his versatility as a character and supporting actor. He's one of the massive numbers of actors who are willing to take on smaller parts to contribute to the overall success of the project by providing strong support for the A-liners who take the spotlight.
Whitfield's Birthday
At the age of 55 (as of this writing), Mitchell Whitfield has a lot of good years in the profession ahead of him. He was born on September 8, 1964 in Brooklyn, New York. He's worked hard throughout the years to establish a solid career for himself. With so many small roles, his strategy has made him one of the most well-known supporting actors in the business. This makes it possible for him to more easily land parts, and sometimes they even come to him to ask if he's interested in a part. Although he's been busy with his acting career, he is also a father. He took time out for romance and he is still married to his first and only wife Tracy Lynn Ethington, and the couple has two children together. Mitchell is most commonly recognized as a voice actor because of the significant contributions he has made to this sector of the acting industry.
Mitchell Whitfield has been building a successful career
Whitfield is a veteran of the entertainment industry who has 30 years in his profession. He's not only done his share of film and television work, but he's also spent time on the stage on Broadway. In fact, his acting career officially started on the stage. He appeared in the Neil Simon play "Brighton Beach Memoirs as Eugene, and he also made a stage performance in "Biloxi Blues." Stage acting is tough and it's a great place to get your feet wet because it demands focus and concentration to get your lines right the first time. It's a one-shot deal that is live in front of an audience so there are no re-takes. He's also dabbled in radio. You can hear him on his weekly co-hosting assignment on Sirius XM. He is on the air with Marc Aflalo on the show "Your TechReport."
Final thoughts
Mitchell Whitfield is alive and well, and when it comes to his career in the entertainment industry he has gone somewhere. He's built a solid career and has done very well for himself. His willingness to take on a variety of different small roles has led to some bigger ones. The cumulative outcome has been a stellar resume that is filled with diversity to showcase his talent as a versatile entertainer. Mitchell Whitfield is a hot commodity, but he didn't have to become an A-list star to accomplish a high degree of success in his life. Whitfield is still active in different aspects of the industry, and you never know what he might be up to next. If you haven't seen him or heard about him recently then you haven't been in the right place because he's still going strong.
Tell us what's wrong with this post? How could we improve it? :)
Let us improve this post!