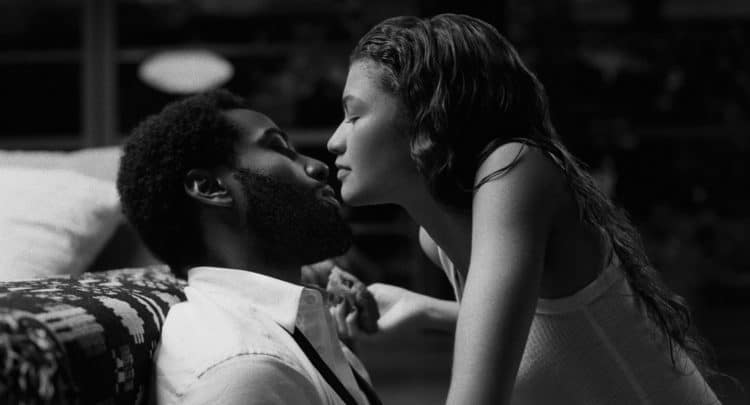 Malcolm and Marie isn't your everyday love story. In fact, it shows the dark side of romantic relationships when it's rooted in codependency and fear. The story follows Malcolm (John David Washington) and his troubled relationship with his long-time girlfriend Marie (Zendaya). The NetFlix drama explores several uncomfortable themes.
1. Drug Addiction
Drug addiction and its effects on romantic relationships are one of the "dangerous" topics explored in Malcolm and Marie. Malcolm is a filmmaker, that is rising to the top for his film about a young black woman who was a drug addict. Marie, Malcolm's significant other is sure that the film was based on her life and her struggles with addiction. As a recovering drug addict, Marie has spent so many years in therapy and she's now more self-aware than ever. She understands her role in Malcolm's life and all she wants is for him to acknowledge that and give her credit for inspiring his latest project especially since he didn't mind thanking everyone else during his acceptance speech. Although Malcolm and Marie speak of Marie's drug addiction as if it's a thing of the past, it seems as if it's something that's very much still an issue. From the dramatics during their screaming bouts, it's clear that they are both under the influence of something. At one point, Marie seemingly drifts off with her eye closed while in the bathtub.
2. Emotional Abuse
In one scene, Malcolm yells, "You're mentally unstable, f*** delusional, " to Marie while eating his dinner. Marie calls him out for his natural ability to insult and belittle while doing something as simple as eating his bowl of mac and cheese. She even outright accuses him of being emotionally abusive. It's apparent that the cracks in their so-called relationship run deep. It's obvious that there is a power imbalance that can partially be contributed to the big age difference between the characters. Malcolm is quick to dismiss Marie's feelings. In one scene, Marie even suggests that he still sees her as that young and fragile girl that needs him for some type of validation. In a sense, Malcolm has always had the "power" in their relationship, and from the way he talks to her, it's clear that he doesn't always use it the right way.
3. Toxic Relationships
In no way, shape, or form can we comfortably refer to Malcolm and Marie as being in love. However, Malcolm and Marie were heavily marketed as a love story. Even the Netflix description references the film as a "tumultuous night that tests the limits of a couple's love." Malcolm and Marie's relationship is toxicity at its finest. In the film, the couple doesn't go more than five minutes without screaming at each other. They throw insults back and forth. They also bring up each other's dark past and Malcolm constantly belittles and gaslight Marie.
4. Infidelity
When Marie doesn't get the validation she needs from Malcolm she sleeps with his friends. In the film, Marie attempts to manipulate Malcolm by telling him that her sleeping with his friends was his fault when in reality she does it to prove a point to him. Marie has concerns of her own when it comes to Malcolm's faithfulness. He believes his relationship with the star of his new film is far from platonic. Malcolm accuses her of being jealous and insecure.
5. Sex and Dysfunction
Malcolm and Marie's sex life is fueled by their dysfunction. At one point, Marie acts as if she's going to perform oral sex to get Malcolm to calm down and to prevent the next issues from turning into a massive blowout. Throughout the film one minute they're getting ready to rip each other's heads off and the next they are passionately kissing. Sex is far from an intimate connection in Marie and Malcolm's relationship. It has become transactional in their relationship and is used as a tool.ZendayaZendaya
Tell us what's wrong with this post? How could we improve it? :)
Let us improve this post!