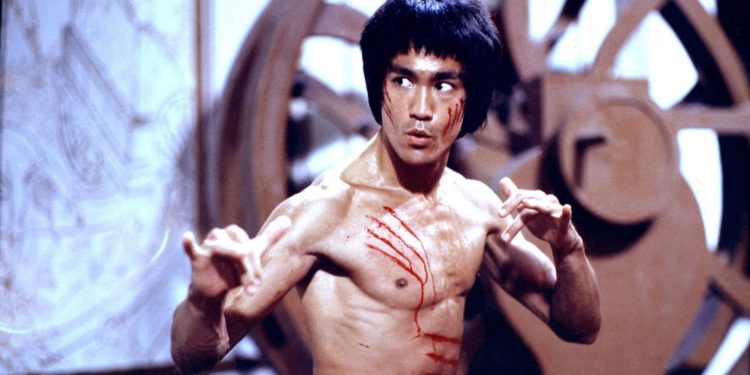 IMDb, the world's leading source of all things film, has released a watchlist in celebration of Asian American and Pacific Islander Heritage Month that features the most highly regarded names in film such as Bruce Lee, Ang Lee, recent Oscar winner Chloé Zhao, Jessica Yu, and so many other fantastic names who have been able to highlight culture and traditions through the medium of film. It's important to acknowledge and celebrate Asian-American and Pacific Islander cultures and traditions now – more than ever – and amplify the voices of those less heard, in order to bring the attention to these absolutely wonderful creators that deserve every bit of it. So, what films are on IMDb's watchlist of the top 60 films in honor of APAHM?
The Way of the Dragon
One of – if not the – most famous Asian martial artists in history is none other than the director of The Way of the Dragon, Bruce Lee. Lee directs and stars in this film in which a man visits his relatives at their restaurant in Italy and has to help them defend against brutal gangsters harassing them.
Crouching Tiger, Hidden Dragon
A young Chinese warrior steals a sword from a famed swordsman and then escapes into a world of romantic adventure with a mysterious man in the frontier of the nation, in this adventure-fantasy from director Ang Lee.
Xiu Xiu: The Sent-Down Girl
Young teen girl Xiu Xiu is sent away to a remote corner of the Sichuan steppes for manual labor in 1975 (sending young people to there was a part of Cultural Revolution in China), in this drama from director Joan Chen.
Ba mùa
An American in Ho Chi Minh City looks for a daughter he fathered during the war, in this drama from director Tony Bui.
The Killing Fields of Dr. Haing S. Ngor
Director Arthur Dong tells the dramatic story about arguably the most recognizable survivor of the Cambodian genocide, a man who became a worldwide ambassador for justice in his homeland, only to be murdered in a Los Angeles Chinatown alley – a case still muddled with conspiracy theories.
Hollywood Chinese
Director Arthur Dong also gives a captivating look at cinema history through the lens of the Chinese American experience.
In the Realms of the Unreal
Director Jessica Yu takes on the documentary of the visionary artist, janitor, and novelist, Henry Darger, in "In the Realms of the Unreal."
Half-Life
As troubling signs of global cataclysms accelerate, a brother and sister react to their father's desertion and the powerful presence of their mother's new boyfriend, in this sci-fi drama from director Jennifer Phang.
The Joy Luck Club
The life histories of four East Asian women and their daughters reflect and guide each other, in this drama from director Wayne Wang.
Mississippi Masala
An ethnic Indian family is expelled from Idi Amin's Uganda in 1972 and lives in Mississippi 17 years later. The dad sues Uganda to get his property back. The grown daughter falls in love with a black man in this romance drama from director Mira Nair.
Children of Invention
Two young children living illegally in a model apartment outside Boston are left to fend for themselves when their hardworking mother disappears, in this drama from director Tze Chun.
Treeless Mountain
In Seoul, Korea, two sisters must look after each other when their mother leaves them to search for their estranged father, in this drama from director So Yong Kim.
Mysterious Skin
A teenage hustler and a young man obsessed with alien abductions cross paths, together discovering a horrible, liberating truth, in this drama by director Gregg Araki.
The Sixth Sense
A boy who communicates with spirits seeks the help of a disheartened child psychologist, in this mystery thriller by famous director M. Night Shyamalan.
Better Luck Tomorrow
A group of over-achieving Asian-American high school seniors enjoy a power trip when they dip into extra-curricular criminal activities, in this crime romance by Justin Lin
Linsanity
Evan Jackson Leong takes up the task of telling the life story of basketball sensation Jeremy Lin in this documentary.
Planet B-Boy
Director Benson Lee takes a look at the history of breakdancing and its vibrant resurgence in urban cultures around the world.
The Debut
A young man struggles with his desire to study art when his family thinks he's headed for premed studies. Conflicts between Filipino traditions and expectations vs. personal dreams in the contemporary world erupt at his sister's debut, in this comedy drama from director Gene Cajayon.
Lumpia with a Vengeance
The LUMPIA-armed hero reappears in Fogtown and teams up with high school student Rachel to prevent a mysterious crime syndicate from destroying their town, and her parents' dream wedding, in this action comedy from director Patricio Ginelsa.
Fame
Director Kevin Tancharoen takes on an updated version of the musical Fame (1980), which centered on the students of the New York Academy of Performing Arts.
Step Up 3D
A tight-knit group of New York City street dancers find themselves pitted against the world's best hip hop dancers in a high-stakes showdown, in this
Bodied
A progressive graduate student finds success and sparks outrage when his interest in battle rap as a thesis subject becomes a competitive obsession, in this music comedy by director Joseph Kahn.
The Carter
Director Adam Bhala Lough takes an in-depth look at Lil' Wayne, who many proclaim as "the greatest rapper alive."
Gook
2 Korean American brothers run a shoe store in LA county. Their friend, black 11 y.o. Kamilla, drops in and helps. This day, the Rodney King verdict ignites the 1992 LA riots, in this drama from director Justin Chon.
The Fast and the Furious: Tokyo Drift
A teenager becomes a major competitor in the world of drift racing after moving in with his father in Tokyo to avoid a jail sentence in America, in this action-thriller by director Justin Lin.
Songs My Brothers Taught Me
With an older brother in jail and living with their single mother on Pine Ridge Reservation, Johnny and his sister Jashuan's lives develop new challenges when their absentee cowboy father suddenly dies, in this drama by Oscar winning director Chloé Zhao.
Yellow Rose
A Filipina teen from a small Texas town fights to pursue her dreams as a country music performer while having to decide between staying with her family or leaving the only home she has known, in this musical drama by Diane Paragas.
Revenge of the Green Dragons
Two best friends rise through the ranks of New York's Chinese underworld in the 1980s, in this action drama from directors Andrew Lau and Andrew Loo.
Sin Nombre
A Honduran young girl and a Mexican gangster are united in a journey across the American border, in this adventure-drama by director Cary Joji Fukunaga.
Short Term 12
Destin Daniel Cretton directs this drama in which a 20-something supervising staff member of a residential treatment facility navigates the troubled waters of that world alongside her co-worker and longtime boyfriend.
Front Cover
When a gay fashion stylist works with a renowned foreign actor, they both embark on a journey of self-discovery, in this film directed by Ray Yeung
Lovesong
So Yong Kim directs this romance drama in which the relationship between two friends deepens during an impromptu road trip.
Charlotte Sometimes
Eric Byler directs this romance drama in which Michael, a young mechanic, is forced to choose between a daring tryst with an alluring stranger and the habitual comfort of his bittersweet obsession: his beautiful young tenant.
100 Days
Henry Chan directs this comedy romance in which a cold hearted telecommunications executive returns to his small island town for his estranged mother's burial, only to learn about the true Taiwanese tradition that mandates him to marry within 100 days so that the parent's spirit can transition peacefully.
Saving Face
Alice Wu directs this comedy-drama-romance in which a Chinese-American lesbian and her traditionalist mother are reluctant to go public with secret loves that clash against cultural expectations.
The Motel
Michael Kang directs this comedy-drama that follows 13-year old Ernest Chin who lives and works at a sleazy hourly-rate motel on a strip of desolate suburban bi-way.
Life of Pi
Ang Lee directs this live-action take on the classic book, Life of Pi, in which a young man who survives a disaster at sea is hurtled into an epic journey of adventure and discovery…with a Bengal tiger.
Meru
Jimmy Chin directs this documentary in which three elite climbers struggle to find their way through obsession and loss as they attempt to climb Mount Meru.
White Bird in a Blizzard
Gregg Araki directs this mystery thriller in which a teenage girl's life is thrown into chaos when her mother disappears.
Destroyer
Karyn Kusama directs this drama in which a police detective reconnects with people from an undercover assignment in her distant past in order to make peace.
Dead Pigs
Cathy Yan directs this comedy-drama in which a bumbling pig farmer, a feisty salon owner, a sensitive busboy, an expat architect, and a disenchanted rich girl converge and collide as thousands of dead pigs float down the river towards Shanghai.
Columbus
Kogonada directs this drama in which a Korean-born man finds himself stuck in Columbus, Indiana, where his architect father is in a coma. He then meets a young woman who wants to stay in Columbus with her mother, a recovering addict, instead of pursuing her dreams.
Bitter Melon
H.P. Mendoza directs this dark comedy in which a Filipino-American family plots to kill an abusive member.
The Housemaid
Derek Nguyen directs this horror-romance in which an orphaned Vietnamese girl is hired to be a housemaid at a haunted rubber plantation in 1953 French Indochina and unexpectedly falls in love with the French landowner.
In the Family
Patrick Wang is at the helm of this 2011 romance-drama. When his partner Cody dies in a car accident, Joey learns that their son, Chip, has been willed to Cody's sister. In his now solitary home life, Joey searches for a solution.
Everything Before Us
Wesley Chan and Philip Wang co-direct this drama in which the Department of Emotional Integrity (DEI) documents all relationship activity.
Kumaré
Vikram Gandhi directs this documentary about a man who impersonates a wise Indian Guru and builds a following in Arizona. At the height of his popularity, the Guru Kumaré must reveal his true identity to his disciples and unveil his greatest teaching of all.
Birds of Prey
After splitting with the Joker, Harley Quinn joins superheroes Black Canary, Huntress and Renee Montoya to save a young girl from an evil crime lord, in this DC film directed by Cathy Yan.
Guava Island
Hiro Murai directs this music comedy in which a young musician (Donald Glover) seeks to hold a festival to liberate the oppressed people of Guava Island, even if only for a day.
Late Night
Nisha Ginatra directs this comedy-drama in which a late night talk show host suspects that she may soon lose her long-running show.
The High Note
Nisha Ganatra also directs this music romance in which a superstar singer and her overworked personal assistant are presented with a choice that could alter the course of their respective careers.
Super Troopers 2
Jay Chandrasekhar both directs and stars in this 2018 sequel to the original Super Troopers.
Searching
Aneesh Chaganty directs this fantastic mystery-thriller that follows a desperate father on a mission to get his teenage daughter back with the help of the internet.
Always Be My Maybe
Nahnatchka Khan directs this rom-com starring Ali Wong, Randall Park, James Saito, and Michelle Buteau.
Plus One
Jeff Chan and Andrew Rhymer direct this comedy about two single friends that agree to be each other's "plus one" at every wedding they've been invited to.
The Farewell
Lulu Wang directs this 2019 film in which a Chinese family discovers their grandmother has only a short while left to live and decides to keep her in the dark and schedule a wedding before she dies.
The Darkest Minds
Jennifer Yuh Nelson directs a world of adults that fear everyone under 18. The film stars Amandia Stenberg, Mandy Moore, Bradley Whitford, and Harris Dickinson.
The Half of It
Alice Yu directs this comedy-romance-drama about a teen in need of some cash who agrees to write a love letter for a jock, becomes his friend, and then falls for his crush. The film stars Leah Lewis, Daniel Diemer, Alexxis Lemire, and Wolfgang Novogratz.
Tigertail
Alan Yang directs this drama following a Taiwanese factory worker who leaves his homeland to seek opportunity in America, starring Tzi Ma, Christine Ko, Hong-Chi Lee, and Queenie Yu-Hsin Fang
Crazy Rich Asians
Jon M. Chu takes the director's helm of this contemporary romantic comedy starring Constance Wu, Henry Golding, Michelle Yeoh, and Gemma Chan.