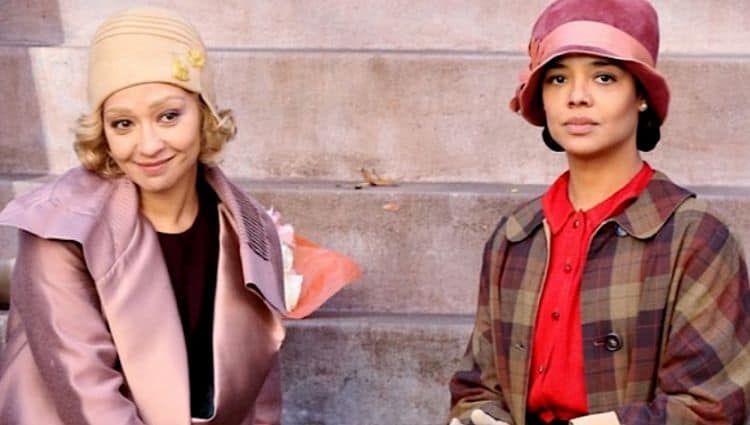 Long-time actress Rebecca Hall has made her directing debut with the Netflix exclusive, Passing, starring Tessa Thompson and Ruth Negga. The 2021 feature goes back to New York City in the 1920s, where the reunion of high school friends exposes the differences in their lives and threatens to uproot their carefully constructed realities. The cast is packed with talented actors and this article will list the top movies involving these performers; Whether they're leads to a worthless nobody named Joe (or Jane). The only exemption from this list are animated features. Let's get started with the first excellent film:
Loving
Most people know Ruth Negga as the fiery Tulip O'Hare on AMC's Preacher; however, the actress has carved a nice resume for herself outside of the popular comic book property. Loving chronicles an interracial couple who must deal with societal standards in the American South down in 1958. Despite the 2017 feature tackling a time period that was less forgiving of racial equality, Loving is still a timely piece that highlights the dynamic of an interracial couple went it comes to family, friends, and the way the world sees them in general. Negga and Joel Edgerton are perfect as Richard and Mildred Loving, as there's a nice and authentic feel to their relationship thanks to the chemistry of the two leads along with the sensitive direction from Jeff Nicolas. A strong period piece that explores its racial themes in a compelling manner.
Moonlight
There's plenty of films showcasing the struggling of one's sexuality; however, it's a rarity in movies that a black man's journey of self-discovery is documented. Moonlight follows the life of Chiron, a young black man growing up in the tough streets of Miami. Three important chapters of his life highlights the young man's growth and battles of masculinity. Despite sexuality being more accepting in modern times, Moonlight expertly explores these struggles within the black community that feels raw, authentic, and honest. The audience is able to connect with Chiron because of how well written his character is. He's simply a young kid who doesn't truly understand his place in the world. Chiron deals with a mother who addicted to drugs. A community that views him as weak due to not being the stereotypical masculine black guy. It helps that Barry Jenkins squeezes out tremendous performances from all his actors. Every version of Chiron carries the weight and burden of their pass struggles, and that's noticeable due to the performances of Alex R. Hibbert, Ashton Sanders, and Trevante Rhodes. A must-see film that doesn't just have a timely message, but it's a gorgeous feature due to the impeccable direction of Barry Jenkins.
Creed
This spinoff to the classic Rocky series follows Adonis Johnson, son of Apollo Creed, who died in Rocky IV due to Ivan Drago. Like his father, Adonis aspires to be a boxer and gets the help from Rocky Balboa. The retired champion sees a lot of potential in the troubled kid; however, the true test for Adonis is whether he has the true heart of a fighter like his father. Creed manages to revive the Rocky franchise, which was on life support. Creed won't wins any awards for originality since it closely follows the Rocky formula; however, the sharp script does manage to introduce new elements into the world of Rocky and it brings out the best in Michael B. Jordan and Sylvester Stallone, and creates a likeable duo who's easy to root for. A strong start to a new franchise.
Selma
The legendary of Dr. Martin Luther King Jr. lives on through Ava DuVernay's Oscar nominated feature about the historical figure who led a march from Selma to Montgomery, and their efforts that resulted in President Lyndon Johnson signing the Voting Rights Act of 1965. Selma powerfully conveys the fascinating story of Dr. Martin Luther King Jr. and does an amazing job of showcasing the historical figure in an engrossing manner. Smartly written, carefully crafted, with excellent performances across the board, Selma expertly documents an important moment in history that never feels fake or glamorized in a Hollywood manner.
Detroit
Another taut and exciting thriller that never holds back on the subject of racial equality in the justice system. Detroit highlights one tragic night in the summer of 1967, where a reported gunshot sees the Detroit Police, the Michigan State Police, and The Michigan Army National Guard seize control of the situation at Algiers Motel. From there, the interrogation turns into the murder of three unarmed black men and a brutal beating of several others. Kathryn Bigelow follows up the excellent Hurt Locker by packing the key events with incredible tension and details, which is heighten due to the strong performances across the board. By the time the credits roll, Detroit will likely piss you off (in a good way), but there's no denying the entertainment value that comes along with it.
Tell us what's wrong with this post? How could we improve it? :)
Let us improve this post!