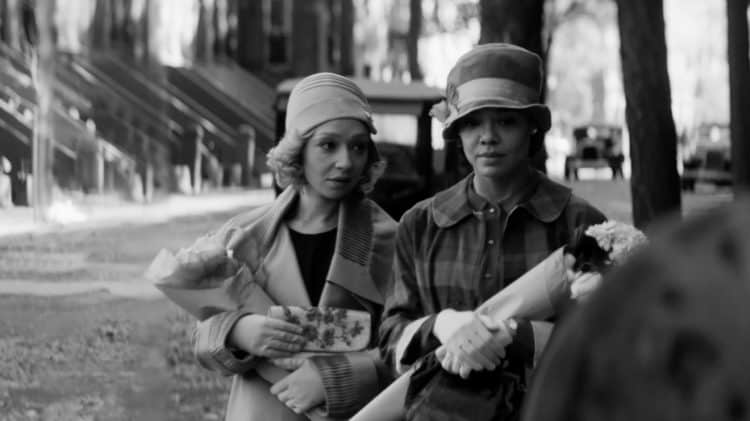 The concept of passing has been a part of the Black American community for hundreds of years. The term passing applies to very fair-skinned people with Black lineage who are able to move through society being perceived as white. At different points in history, passing was simply a means for survival for Black people who would've otherwise been treated poorly. The new Netflix movie, Passing, explores this in an interesting way through the lenses of two women – one who chooses to pass and another who doesn't. This complicates their relationship, and the truth threatens to derail their lives. Keep reading to learn 10 things you didn't know about the Netflix movie Passing.
1. The Movie Was Filmed In New York
Just because a movie is set in a certain place doesn't mean that it's actually filmed there. However, Passing was set and filmed in New York City. Filming was done in different locations throughout the city and it really helps give the movie a very authentic feeling.
2. The Movie Is Based On A Book
Passing isn't based on a true story, but it is based on a novel. The book Passing was written by Nella Larsen and released in 1929. Nella released two novels and several short stories over the course of her life. Although her work didn't necessarily make her famous during her lifetime, her work was revisited in later decades and became an important part of Harlem Renaissance history.
3. The Movie Isn't Just About Race
On the surface, Passing is a story about race. However, like any good story – it has many layers. The film also explores other themes such as romance, sexuality, and class. From start to finish, Passing takes viewers on a journey through a variety of experiences.
4. Tessa Thompson Was Nervous About Taking On A Role In The Movie
Tessa Thompson is arguably one of the most talented actresses of her generation. Over the years, she has proven that she can play any kind of character. However, when the opportunity for passing came along, she admits that she felt "terrified". During an interview with Cinema Daily, Thompson said, "I guess I like being terrified. In the sense that I like to, when I am approaching work, there's something that is central to the thing that I'm not sure that I can do. In this case, it had to do with being in the character and also that there was this — so much is expressed…"
5. The Movie Existed Before Netflix Came Along
Many people have already started to consider Passing a Netflix original movie, but that actually isn't the case. The film initially premiered at the 2021 Sundance Film Festival. Not long after the film was shown, Netflix acquired the rights for an estimated $15 million.
6. Music Plays An Important Role In The Movie
Since the movie is set during the Harlem Renaissance, it's only right that music has a significant role. Jazz can be heard throughout the film. Although music isn't necessarily central to the plot, it provides a beautiful backdrop for some of the movie's most memorable scenes.
7. The Film's Director Has A Personal History With Passing
Passing was written, directed, and produced by Rebecca Hall, a woman whose family has its own experiences with passing. Rebecca was born and raised in England to an American mother, opera singer Maria Ewing, and a British father. Although she was raised as white, she actually has Black ancestry on her mother's side. However, her maternal grandfather passed as white for much of his life.
8. The Movie Was Announced Back In 2018
Even though Passing was released in 2021, the movie has actually been in the works for quite some time. The movie was originally announced in 2018. However, Rebecca Hall had actually been working on the movie for a decade before that. After seeing the script, Ruth Negga agreed to be part of the project.
9. The Move Has A 4:3 Aspect Ratio
One of the things that viewers will immediately notice about Passing is the way the movie looks. The film is entirely black and white and uses a 4:3 aspect ratio. Many have commented that these were excellent choices and perfectly fit the tone of the project.
10. Benedict Cumberbatch Was Supposed To Be In The Movie
Making a movie isn't cheap, and Rebecca Hall ran into some issues trying to secure enough money to complete the project. Her goal was to have a $10 million budget, but she was still short $500,000 about a month before filming was set to begin. She was able to apply for two grants to obtain the rest of the money, but cuts still had to be made. Benedict Cumberbatch was originally supposed to play Hugh Wentworth, but had to be replaced by a local actor due to finances.
Tell us what's wrong with this post? How could we improve it? :)
Let us improve this post!