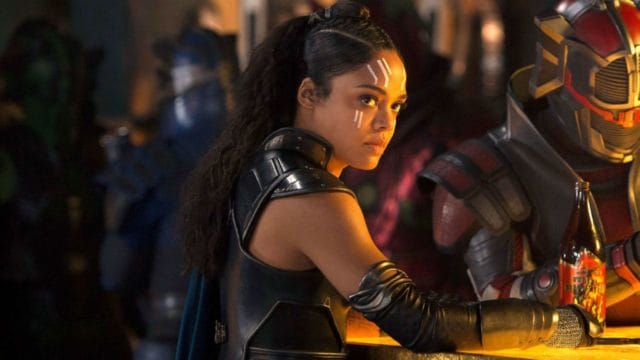 Tessa Thompson is an actress and musician who was born in Los Angeles on October 3, 1983. She first performed professionally on the stage in 2002 in a production of 'The Tempest' for the Los Angeles Women's Shakespeare Company. In 2005, she made her television debut appearing as a bootlegging lesbian from the 1930s in an episode of the CBS series 'Cold Case'. Her first movie was 'When a Stranger Calls' in 2006 in which she played Scarlet. She has now gone on to establish a successful career in both television and film. She is probably best-known for playing Charlotte Hale in 'Westworld', an HBO series, and as Nyla Rose in the movie 'For Colored Girls'.
Here are five things you didn't know about Tessa Thompson.
5. She Was in 'Copper'
Between 2012 and 2013, Tessa Thompson appeared as a main character, Sarah Freeman, in the series 'Copper'. She was in 19 episodes of the BBC America period drama series. The series also starred Tom Weston-Jones, Kyle Schmidt, Anastasia Griffith, Franka Potente, and Ato Essandoh. It was created Tom by Fontana and Will Rokos.
4. She Currently Has a Jam-Packed Schedule
Tessa Thompson has become an in-demand actress and has currently got a jam-packed schedule as she has worked on several movies at the same time. She is playing Valkyrie in the 2017 film 'Thor: Ragnarok' and she will resume this role in the 2018 movie 'Avengers: Infinity War'. Both films are in post-production. She also has roles in the 2018 movies 'Annihilation' and 'Sorry to Bother You'. In 'Annihilation' she will play the Surveyor. This science fiction thriller film also stars Natalie Portman, Jennifer Jason Leigh, Gina Rodriguez, and Tuva Novotny. 'Sorry to Bother You' is a comedy fantasy sci-fi that is written and directed by Boots Riley. It also stars Lakeith Stanfield, Armie Hammer, and Steven Yeun.
3. She is an Award-Winner
Throughout her career, Tessa Thompson has been nominated for six awards and of these, she has won four. She won her first award in 2009 at the American Black Film Festival when she was awarded the Best Actor Award for her role in 'Mississippi Damned'. In 2011, she won the Black Reel Award for Best Breakthrough Performance for 'For Colored Girls'. For her role in 'Dear White People', she won the 2014 Gotham Award for Breakthrough Actor. Tessa Thompson's most recent award was from the African-American Film Critics Association for Best Supporting Actress. This was for her role in the movie 'Creed'.
2. She Was in a Music Video
Although she is best-known for her work in television and film, Tessa Thompson has also appeared in a music video. She was Monica Geller in the music video for the Jay-Z song 'Moonlight'. This song was released in 2017.
1. Her Father is Marc Anthony Thompson
Tessa Thompson's father is Mark Anthony Thompson who is a singer and musician. He is a member of the New-York-based music collective 'Chocolate Genius, Inc.'. Marc Anthony Thompson released two solo albums before creating this group. Chocolate Genius Ltd. has released five albums together. The most recent was 'Truth vs. Beauty' in 2016.
It's easy to see that Tessa Thompson is in high demand as of now, and it's easy to imagine why.