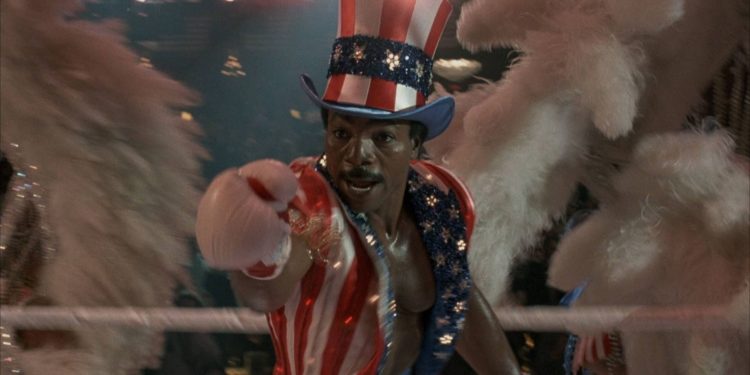 Everyone knows how inspirational the story of Rocky Balboa is, but what about his initial main rival, Apollo Creed? Whenever we hear that Rocky theme music, we just want to glide outside and go for a run. It's one of the most inspirational movies, if not, the most inspirational movie ever, for many reasons. The story of Rocky is about the lowest underdog getting his chance to do what he's always wanted to do. In this case, what he wanted to do was be a professional boxer. Sounds a little cliche, but in Rocky's case, what he really wanted to do was not to win the title, but to go the distance. If he could do just that, then he'll prove to himself and everyone else that he is capable of greatness. Of course, the only thing standing in his way is the reigning, defending, heavyweight boxing champion of the world, Apollo Creed. He's the King of Sting, the Master of Disaster, The Dancing Destroyer, and a litany of other things, which he won't let you forget. From the start, the champion came off as a likable guy, but as you would expect from most boxing champions, he had a bit of an ego. He showed this before, during, and especially after his first fight with Rocky, but without even realizing it, he inadvertently created an inspiration.
We all know how that story played out. Rocky went on to defeat many tough opponents in the ring, even avenging Apollo Creed's death when he defeated Ivan Drago in Rocky IV. But Apollo's story didn't end with his death. His legacy was carried on by his illegitimate son Adonis "Donnie" Creed. Who better to train the son of the legend than Rocky himself? The legacy of the Creeds will only move forward, since Donnie has a daughter now and we'll see more of him in Creed 3. No Rocky this time apparently, but I think Donnie can carry the movie on his own. I'm just wondering if we'll see Donnie interact with the other children of Apollo Creed. Before he had his affair with Donnie's mother, he had two children with his wife, Mary Anne Creed. I'd like to see the illegitimate son interact with his two half-siblings. They'd have to be older than him by now, so with the third Creed movie approaching, I think it's the perfect time to have a little Creed family reunion. Would it be a happy one? Probably not, but that would make for an intriguing conflict.
I can't wait for the next Creed movie, but you know what else is coming out? The director's cut of Rocky IV. That is actually one of my favorite Rocky movies, but it's also hard to watch because seeing Apollo Creed die in that terrible fashion was heartbreaking. You want to know why? It's because Apollo Creed is the real hero of the Rocky movies. Yes, there you go, I said it. But before you Rocky lovers try to challenge me to a boxing match, just hear me out. I have made a bold claim, but it's one that is very well warranted. Let's go back to where it all began. What was Rocky Balboa doing before he stepped into the ring with Apollo Creed? He was an amateur boxer with an unimpressive record and worked as an unwilling enforcer to a loan shark just to make ends meet. From Rocky's point of view, he was at a dead end with little hope of moving forward. But then, a miracle happened. Rocky is magnanimously offered the chance to fight for the world heavyweight title by the heavyweight champion himself, Apollo Creed.
Now why does Apollo do this? Well, aside from the fact that he practically cleaned out his whole division, he thought it would be fitting to fight a hungry journeyman for the fan spectacle. The fact that Rocky was also an Italian-American intrigued Apollo even more, since he wanted to schedule the fight on the Fourth of July. Fighting the Italian Stallion on America's birthday makes sense, right? And as Apollo pointed out, an Italian guy discovered America, so fighting one of his descendants on America's 200th birthday makes sense. Now this is Apollo's logic, but you know what? He still gave Rocky his shot. We know how the first fight turned out, and the cocky Apollo Creed bit off far more than he could chew with Rocky. Now this is where things get interesting between these two men. After the first fight, Rocky was trying very hard to leave boxing behind him and start a life with the pregnant Adrian. However, Apollo Creed was the one who kept demanding the rematch and continuously taunted Rocky to accept it. The taunting of Apollo is what drove Rocky back to fighting and even drove Mickey to train him harder than ever. And when that second fight happened, Apollo pushed Rocky far beyond his limits, which ended in a victory for Rocky and Apollo losing his title.
Rocky had a successful reign as a champion until Clubber Lang came around. After losing that fight, it was Apollo Creed who came to him and brought him back to the fight. Or, to put it more accurately, gave him that eye of the tiger once again. Heck, he even turned him into a different kind of boxer in order to combat Clubber's brawler style. So first, he gives Rocky both of his title shots, then helps him win it back after he loses it. To be more precise, he helps Rocky regain his confidence and makes him train harder than Mickey did. And then Rocky IV happened, where the beloved Apollo Creed met his demise at the hands of Ivan Drago. Why did he have to die? I guess it's because Rocky needed a good reason to fight again. He's fought tough guys before, but the towering Ivan Drago? I don't think he would've done that if Drago hadn't killed Apollo in the ring. Again, and even in death, Apollo Creed gave Rocky the motivation he needed to defeat the stronger opponent. It was more than just winning a fight and avenging the death of his friend. By beating Drago, Rocky made a point to the Soviet Union that they don't have to be rivals, despite the fact that they come from different parts of the world. All of these things happened because of his rival-turned-friend, Apollo Creed.
And after Apollo's last appearance, what came afterwards was Rocky V. And as we all know, that's the worst Rocky movie. Coincidence? Okay, maybe not, but what happened after Rocky V? The two Creed movies, where Rocky once again regains his confidence because of Apollo's illegitimate son, Donnie. He was diagnosed with cancer in Creed, and Donnie pushed him to fight it. In Creed 2, Rocky was hesitant to contact his estranged son, but Donnie, like his father, was there to push Rocky in the right direction. Needless to say, Rocky owes everything to Apollo Creed. If he didn't decide to give him his shot at the title, Rocky never would have been able to achieve his dream. It proves that everyone needs the right people helping them in their time of need. More importantly, it proves that the right help can come from anywhere. Oh, and who is Apollo Creed based on? The one and only Muhammed Ali. How can we not appreciate a character who resembles the greatest of all time so accurately? Eye of the tiger, baby.