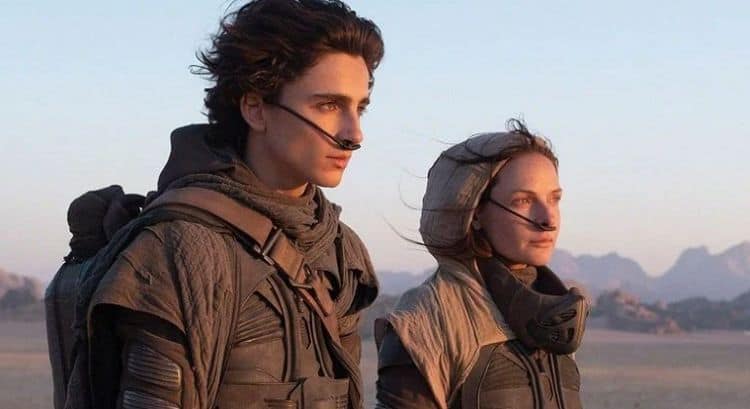 The epic Dune franchise is finally being adapted for the big screen. Even though the first movie, Dune part one, is being released in October, the sequel is already in the works. However, Dune part 2 will only go ahead if the first film is a hit with both fans and critics. Here is all we know so far about Denis Villeneuve's Dune Part 2.
The Dune Franchise
Dune is easily the most anticipated movie of 2021, aside from the new Marvel films everyone keeps talking about. It is a sci-fi, fantasy film starring Timothee Chalamet in the lead role as Paul Atreides and Zendaya as Chani Kynes. Chani belongs to the Fremen, who are a native spiritual group on the planet of Arrakis. Paul, heir to the House of Atreides, and his family are sent to lead the desert planet. It contains a precious element, Melange, which is the root cause of the war. Melange is used to make Spice, which allows humans to unlock superhuman abilities.
Soon after their arrival, Paul's father is betrayed by his rival House of Harkonen and flees. After, Paul and his mother, Jessica, hideout from a terrifying sandworm where they meet members of the Fremen clan. One of them is Chani, who Paul has been having visions about. It is a thrilling story about a young boy's heroic journey to save humanity alongside his star-crossed love. Paul and Chani's love story will be the foundation of both Dune films. So while Dune part one might focus more on world-building, the sequel will be more about their relationship. The Dune movies are based on award-winning novels by sci-fi author Frank Herbert whose rights to the author's series in 2016 were bought by Legendary Entertainment. Other actors on the film's cast are Rebecca Ferguson, Oscar Isaac, Josh Brolin, Dave Bautista.
Why Was The Dune Film Split?
Due to the vast number of books in the Dune franchise, Villeneuve split the movie into two films, Dune: Part One and Dune Part 2. He explained his reason being Herbert's world was too complex to fit into one film. Legendary Entertainment will produce both movies of the Dune franchise while Warner Bros is still expected to distribute.
What Might Be Dune 2's Plot?
According to GamesRadar, Denis Villeneuve revealed that he is already writing the script for the second Dune movie. He also added that it would focus more on Zendaya's character, Chani Kynes. Unlike part one of Dune, Timothee Chalamet's character would play a supporting role while Chani will be the protagonist. If you haven't read any of the Dune books, beware of spoilers ahead! The first Dune movie was based on the first half of book one of the Dune series. So part two will continue Paul's rise to the throne. Dune part two might also tell some elements from the second book, Dune Messiah, since it is mainly about China. It is set 12 years after the first book's events, so there might be a considerable time jump if the 2021 film ends with Paul and Chani together. In Dune Messiah, Paul has ascended to the throne as emperor and is a messiah to the people of Fremen. Even though his main agenda is to guide humanity to prosperity, many try to dethrone him.
Denis has said the second installment would explore Chani's role in the Fremen. Going by the events in the second Dune book, Chani will become Paul's official concubine. Using his powers, Paul foresees Chani's death during childbirth, so he does all he can to prevent it from happening. Another possible feature of the second film will be how her people survive in the land, using water as their currency. Thus, the film's second part might be where Chani meets her end if Villeneuve's version fully follows Frank Herbert's novels. In it, Zendeya's character goes ahead to conceive and soon dies after childbirth. Paul is left to raise their twin children, Leto and Ghanima. So Dune 2 might have a sad ending for our main characters.
Dune 2 Cast and Crew.
Award-winning writer Eric Roth will not return to work on Dune 2. The 76-year old writer told Collider, the second movie would take too long to complete and that he was done. Roth had already written an outline for the Dune sequel but was open to working on other projects because of his age. He has worked as a writer on movies like Forrest Gump and A Star is Born. The other writer on the film, Jon Spaihts, will be returning for Dune 2. The director, the producer, and the writer of the film, Denis Villeneuve, has worked on other epic movies like Arrival and Blade Runner 2049. If the Dune trailer is anything to go by, Dune 2 will continue the epic story of war and betrayal. Other notable actors who might return for the sequel apart from Zendaya include Jason Momoa as Duncan Idaho.
Dune 2 Possible Release Date.
The Dune part one movie will be released on HBO Max on 3 September 2021. The filming of the first film took one year, from March to July 2019. If it does well, Dune 2 might wrap up filming sometime in 2022 or 2023. Fans can expect a Dune 2 release date anytime from then. Warner Bros is yet to confirm anything about Dune 2 . However, if the movie's writers and directors have already given out a ton of information about it, it has a 99% chance of happening. So yes, for anyone who's asking, there will be a Dune 2.