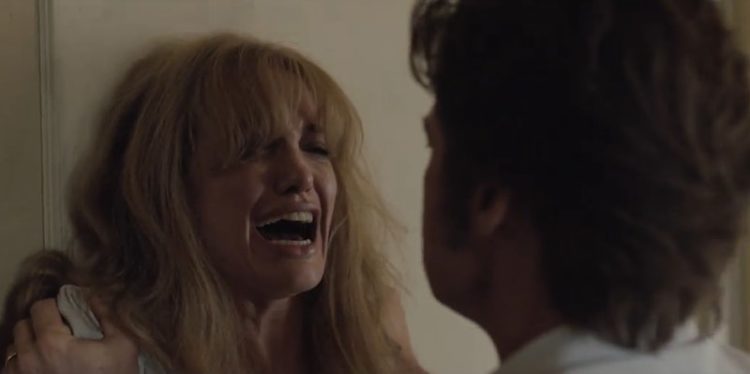 Angelina Jolie has long been an actress who uses her fame and influence for good. Her active involvement in charitable organizations like UNICEF and UNHCR has given a voice to many worthy causes. In addition to her humanitarian work, Jolie has built an impressive career filled with blockbuster films and unforgettable performances. From action-packed thrillers to heart-wrenching dramas, Jolie has done it all. Here are her five most tear-jerking scenes, in no particular order:
1. A Mighty Heart: A Grieving Wife's Painful Journey
Based on a memoir, this emotional drama follows the kidnapping of Wall Street Journal reporter Daniel Pearl, played by Dan Futterman (The Birdcage). Jolie takes on the crucial role of Daniel's wife, Mariane, who also wrote the memoir. The film is a detailed account of the kidnapping incident, which ends tragically. The scene where Mariane learns of her husband's death is almost too painful to watch. Jolie's masterful handling of this heavy scene makes us feel as if we're right there with her, experiencing her heartache.
2. Girl, Interrupted: A Chilling Portrayal of Mental Health Struggles
This 1990s psychological drama explores mental health issues and follows Susanna Kaysen, played by Winona Ryder (Stranger Things), a young woman who spends time in a psychiatric hospital after attempting suicide. Jolie plays Lisa Rowe, a long-time patient of the hospital. Susanna and Lisa form a close bond, but their personal demons eventually drive them apart. The scene where Lisa mentally tortures Susanna is difficult to watch. Jolie's chilling performance is one of the reasons this film has become a cult classic.
3. By the Sea: A Broken Woman's Struggle for Stability
Jolie not only starred in this romantic drama but also wrote and directed it. She appears alongside her then real-life partner, Brad Pitt (Inglourious Basterds). The film follows the tumultuous marriage of writer Roland (Pitt) and former dancer Vanessa (Jolie). The couple tries to rebuild their relationship by vacationing in a small coastal town. The confrontation scene where Vanessa reveals her infertility explains her self-destructive behavior and the crumbling of their marriage. Jolie expertly conveys the emotions of a broken woman desperate for a stable family life.
4. Changeling: A Mother's Unwavering Determination
This mystery crime drama is every parent's worst nightmare. Jolie plays Christine Collins, a mother whose son goes missing. She tirelessly searches for him, following every lead despite numerous dead ends. When a boy claiming to be her son appears, the scene where Christine tries to convince the police officer that he isn't her child is gut-wrenching. Jolie's portrayal of a desperate mother willing to do anything to be reunited with her son highlights the selflessness and bravery of a parent challenging a flawed system that disregards women.
5. Maleficent: A Heartbreaking Betrayal
This dark fantasy adventure delves into the backstory of Maleficent, played by Jolie, the infamous wicked fairy godmother from Disney's Sleeping Beauty. The film offers a fresh perspective on the character, revealing her as a fairy with a pure heart who fiercely protects her forest kingdom. The scene where Maleficent loses her wings after being betrayed by Stefan, the future king and father of Aurora/Sleeping Beauty, changes her life forever. The loss of her wings symbolizes the loss of her freedom, turning her bitter and vengeful. Jolie's powerful portrayal allows us to see Maleficent in a new light.
Tell us what's wrong with this post? How could we improve it? :)
Let us improve this post!