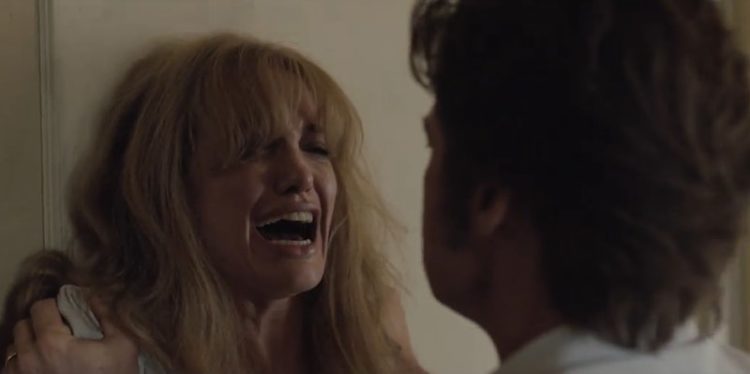 Angelina Jolie is one of the actresses who has made a shining example of putting one's fame and influence into good use. Her active involvement in charitable organizations, such as UNICEF and UNHCR has opened the doors for a lot of causes to be heard. Apart from her humanitarian works, Jolie has also established a stellar career filled with blockbuster films and memorable portrayals. Name the genre, and Jolie has most probably done it. We love her action-packed movies, as much as her tearjerkers that show her wide acting range. Here is a list of her five best crying scenes, in no particular order:
5. A Mighty Heart
The heartfelt drama was based on a memoir that followed the kidnapping of Wall Street Journal reporter Daniel Pearl, portrayed by Dan Futterman (The Birdcage) in the film. Jolie played the vital role of Daniel's wife, Mariane, who also penned the memoir. The entire film was a detailed account of the kidnapping incident, which unfortunately had a tragic end. The scene where Mariane was informed of the terrible news that her husband did not make it out alive was too painful to watch. Jolie handled the heavy scene like a pro, which made us feel as if we were with her throughout this terrible journey.
4. Girl, Interrupted
The film was one of the hottest psychological dramas of the 1990's. It explored mental health issues, and followed Susanna Kaysen, portrayed by Winona Ryder (Stranger Things), a young woman who spent time in a psychiatric hospital after an attempted suicide. Jolie played the role of Lisa Rowe, a long-time patience of the hospital. Susanna and Lisa form a close bond and quickly become two peas in a pod. This does not last for long as their own personal demons get in the way. The scene wherein Susanna was mentally tortured by Lisa was a difficult one to fathom. Mental health issues are no walk in the park, and its victims need all the patience and attention. Jolie's performance was chilling, memorable, and one of the reasons why the film has become a cult classic.
3. By the Sea
Jolie was also the writer and director of the romantic drama, where she starred alongside her then real-life partner, Brad Pitt (Inglourious Basterds). The film followed the tumultuous marriage of a writer named Roland, portrayed by Pitt and Vanessa, portrayed by Jolie, who was a former dancer. The two attempted to rebuild their broken relationship by taking a vacation in a small coastal town. The confrontation scene where Vanessa revealed to Roland that she was barren explained her self-sabotaging ways that were the reason behind their crumbling marriage. Vanessa grew jealous and insecure of other couples who had it better, and tried to ruin their happy marriages as well. Jolie was able to convey the emotions of a broken woman who just wanted nothing but a stable family life
2. Changeling
The mystery crime drama is every mother's worst nightmare. Jolie portrayed the role of Christine Collins, a mother whose son suddenly goes missing one day. She went on an endless search, chasing every possible lead even after encountering one dead end after another. A few months after, a boy claiming to be Christine's son suddenly showed up at her doorstep. The scene where Christine tried to convince the police officer that the boy was not her real son was gut-wrenching, especially for a parent who has suffered an immense loss. She was desperate for answers, and was ready to give up everything just be reunited with her boy. The film showed the selflessness of a mother, as well as the bravery of Christine who did everything in her power to challenge the flawed system that gave little regard to women.
1. Maleficent
The dark fantasy adventure featured the back story of Maleficent, portrayed by Jolie, who is known for being the wicked fairy godmother in Disney's Sleeping Beauty. The film made us understand Maleficent more, and gave us a different perspective from the story we all grew up with. Maleficent was a fairy who lived in a castle in the forest kingdom. She had a pure heart and was a fierce protector of her surroundings. The scene where Maleficent lost her wings after the betrayal of Stefan, the future king and father of Aurora/Sleeping Beauty, changed the course of her life for good. The loss of her wings meant losing her absolute freedom. This had a crippling effect on Maleficent, and caused her to become bitter and vicious. Jolie was effective in her portrayal, which allowed us to see Maleficent in a different light.